The beauty of farmhouse décor is that it's simple, and elegant. The simplicity of farmhouse decor commands a clutter-free space, making it ideal for small spaces. Here are 6 ways to create a farmhouse kitchen even in a small house.
1. Organize small containers in a cupboard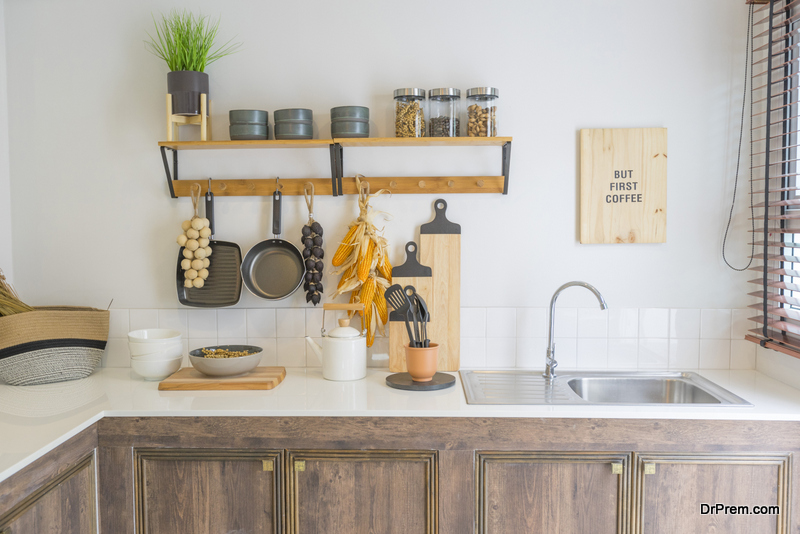 Ideally, a farmhouse kitchen will have large, custom-labeled canisters of flour, sugar, salt, etc. on the counter rather than tiny mismatched jars from the store. Keep the majority of your spices and dry goods organized in a cupboard rather than on your sink. To create a farmhouse feel, store a few frequently used items in large containers on the counter topped with a fun chalkboard-style label.
You don't need a large family to benefit from using large storage containers for ingredients you use often. You'll save money and your kitchen will be clutter-free.
2. Get butcher block countertops
Nothing says 'farmhouse' like butcher block countertops. Wood plays a central role in the farmhouse style. Made with a variety of beautiful hard woods in several finishes, butcher block countertops will go a long way to give your kitchen a farmhouse feel. They're simple and inexpensive, yet elegant.
If you've always wanted to replace your countertops, skip the tile and go straight to wood. In addition to the aesthetics, the thickness and durability of butcher block countertops makes it possible to prepare food directly on your counters.
3. Search for handmade farmhouse décor online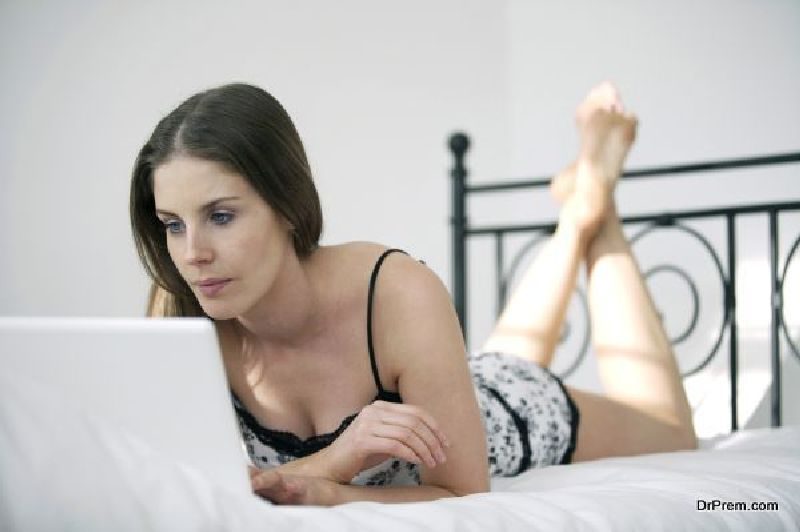 You can find farmhouse décor just about anywhere, but you'll never get the selection you'll find online. When you have specific needs – like a gas stovetop cover – you're better off searching on Etsy.
Browse around and see what people are selling. Etsy requires that all items be either vintage or handmade so you're going to find some awesome pieces of work. For instance, there are dining room signs, wall décor shaped like large utensils, custom cookie jars, and wooden blocks painted with farm animals.
4. Use wood décor generously
Without cluttering your walls and counters, use as much wood as possible. Farmhouse décor is often made from reclaimed wood or wood that has been painted or finished to look antique. Wood might be used as a frame, a backing, or as the entire piece of décor.
Skip the shiny metal décor – your existing kitchen appliances should provide enough texture contrast.
If you can do some remodeling, go for some large wooden plank floors. If you don't have the time or funds for a large floor project, don't worry. You don't need to replace your kitchen floor. You can buy faux wood laminate to place over your existing floor.
5. Use open shelving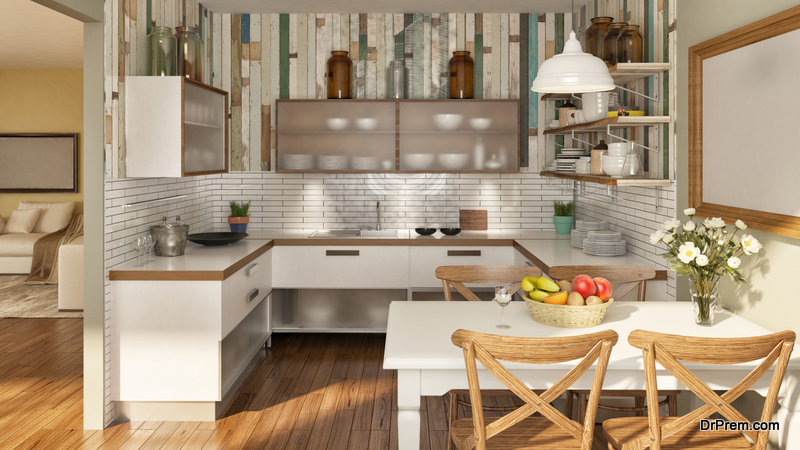 Don't just rip your cabinet doors off – go all the way and replace your cabinets with open shelving. You'll instantly transform your kitchen into a space that feels like it gets plenty of use. Why else would your dishes be so readily available?
The key to making open shelving work is to have beautiful dishes that stack perfectly. In a unique way, your dishes will become part of your kitchen décor. Do your best to match your dishes to the wall and shelving, but don't be afraid to get colorful. Some of the coolest farmhouse dishes have brightly colored designs that make people smile.
6. Personalize your farmhouse kitchen
No kitchen is complete without a personalized touch. Personalizing a farmhouse kitchen is easy because the style automatically includes heaps of personalization. For example, you can hire a woodworker to create a custom wall hanging with a phrase your family loves. You can use chalkboard paint to create customized décor. Blank labels are also huge with farmhouse décor, so you can label everything in your kitchen in your own handwriting.
If you have kids, do an art project where they get to paint a piece of wood that you'll hang in the kitchen. They'll be proud to contribute to the kitchen and it will be a memory they'll cherish forever.
Ready, set – decorate
You won't regret decorating your kitchen farmhouse-style. With an organized approach, your kitchen will feel spacious and inviting, and you'll enjoy being in the kitchen even when you're doing dishes. Your family will enjoy contributing to the decorating process and you'll make memories you'll never forget.
Article Submitted By Community Writer