Decorating your home is a quintessential part of every Christmas. When it comes to decorating the front door, you need to make sure that you choose a decoration that welcomes the festive spirit into your home. Most would opt for a traditional wreath for the front door, there are plenty of other creative ideas to consider. Think of the path less traveled to create a unique welcome for your guests. Accordingly, here are some décor ideas that can make your home's front door look more appealing and welcoming this Christmas.
Modernistic green décor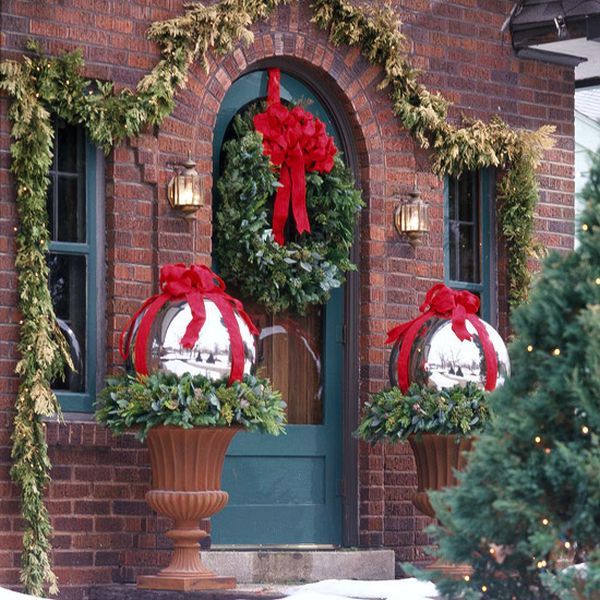 Consider adding some contemporary elements to your traditional wreath in order to give it a more modernistic look. For instance, you can combine fresh green applies with pheasant feathers to form a garland and hang it on the front door. Opt for monochromatic colors that would enhance the overall look more.
Gift boxes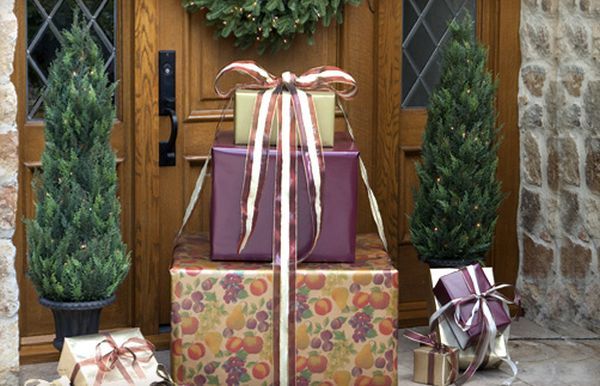 Consider making a topiary with unused gift boxes. A modern take on the classic topiary, you can make use of unused gift boxes to make columns or topiaries, and line them near the front door, porch and steps. Simply pile the boxes one above the other. Paste the edges so that they don't topple off. And top them off with a tower. If you have a footed urn, place the stack on it for a whimsical twist. You can also consider gluing smaller sized gift boxes to a wreath and hang it on the front door.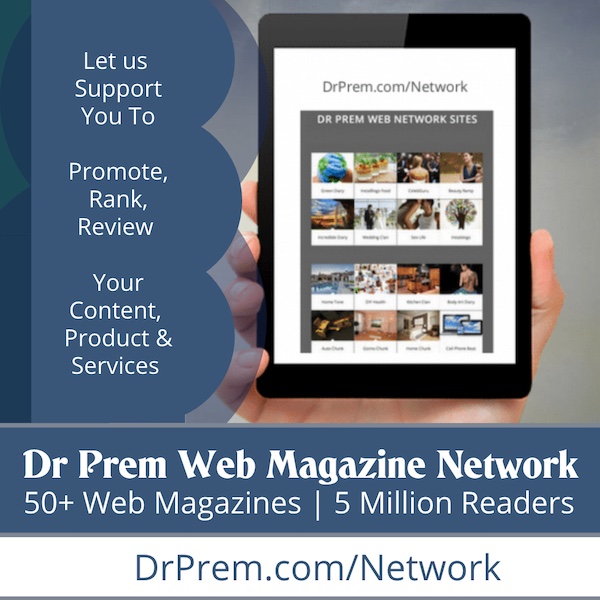 Personal fancies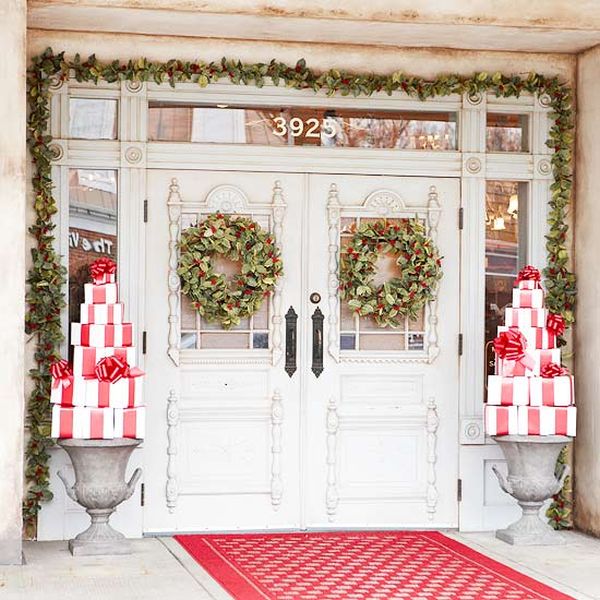 What better way to let your loved ones know about your favorite hobbies and past times than decorating your front door with a collection of personal collectibles! For instance, if you love collecting postcards, you can attach some of the more colorful ones on a wreath and hang it on the front door. This way, anyone and everyone entering your home will definitely come to know about your penchant for post cards and send you more in the future. Opt for bright colored cards that stand out against the door and wreath to give an overall festive look.
Frame treatments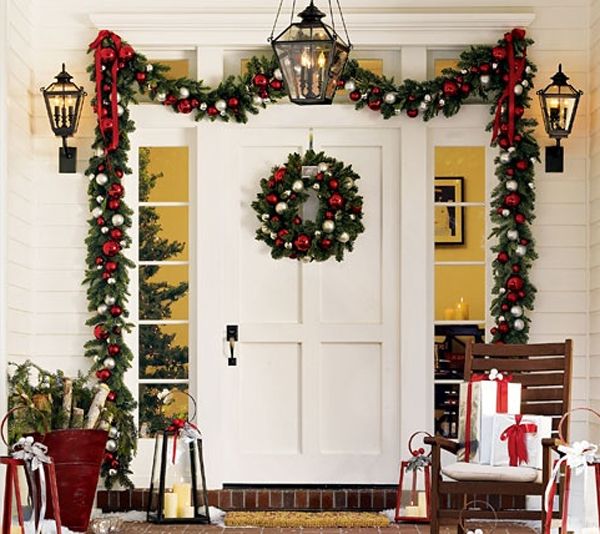 If you have some old picture/photo frames lying around in your home, consider using them to decorate your front door. Paint the old frames in bright colors and tie ribbons around them to create a personalized look. Frames with extra detailing like sculptural lines will work better as they will provide extra visual depth to the decoration. You can choose to place identical frames on the door for a contemporary look, or opt to vary shapes, colors and sizes.
Initials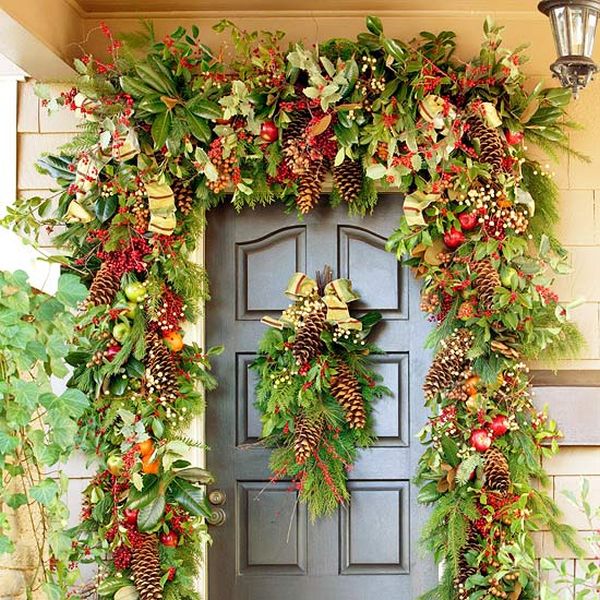 How about a one of a kind door décor appeal by simply choosing to hang your initials on the front door? In addition to showing off your family pride, this custom monogram look will win hearts for sure. You can opt to make your own custom monogram using wood or any other material. Choosing a designer would leave you with more choices for colors, sizes and fonts though.
Illuminate the area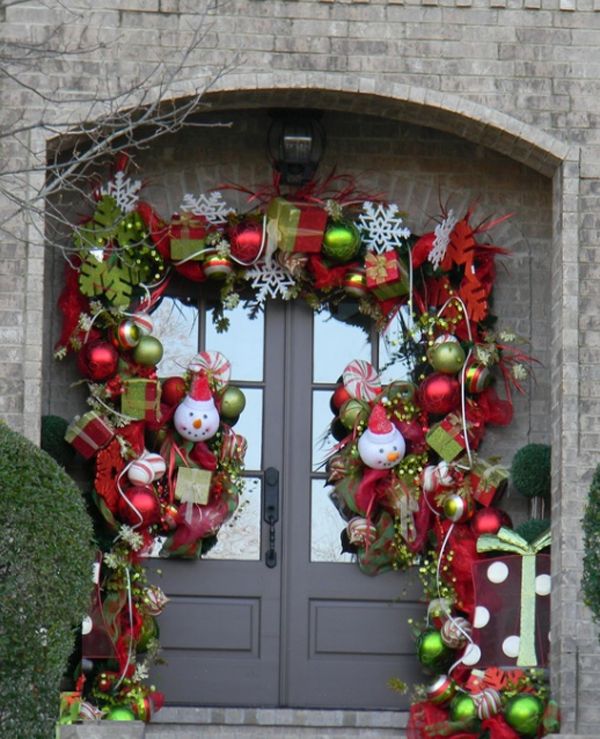 A simple and really elegant way to decorate the area around the front door during Christmas would be to place colorful glass votives on the steps and front porch. In addition to setting the mood for a warm welcome, these votives will ring in the festive spirit in a very calm, composed manner. Consider interspersing some green sprigs and decorations with the votives to make it look more genuine.
Lightings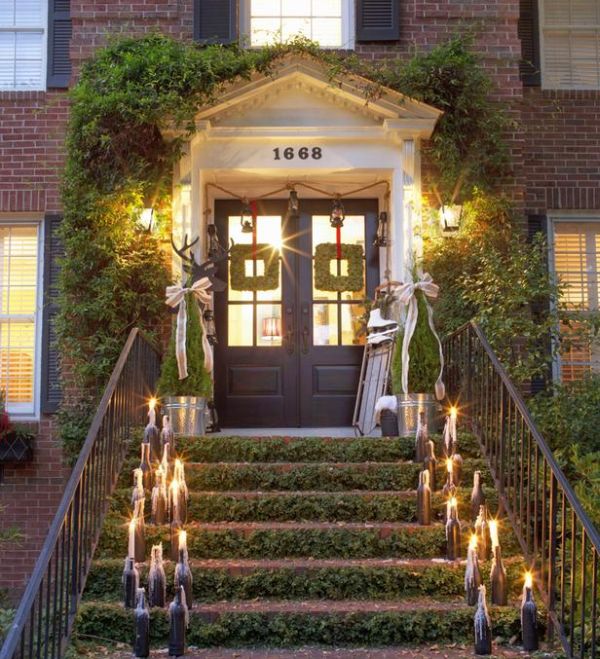 An easy way to decorate the front door as well as the surrounding area during Christmas would be to simply wrap Christmas lights on the door and around the railings, columns and other architectural details. You will be amazed with the extra shimmer your house gains with this decoration. If you have the lights to spare, consider extending the decoration to mailboxes, tree trunks and even trellises for a magical effect.
Summary
The front door décor is an important part of your Christmas decoration. So consider choosing from the above mentioned ideas to give a unique, classy look to your front door décor this festive season.