Reusable, recyclable and multipurpose seem to be the order of the day; and, many are embracing the trend with great gusto. Many of us dispose of things without actually assessing their potential for re usability. Here is a wonderful way to create transformable furniture and ways to decorate your house with cubes. This is also perfect for those of you who have space constraints and are always on the move.
Lightbox Cube: A Lamp, a Stool, a Table all in one!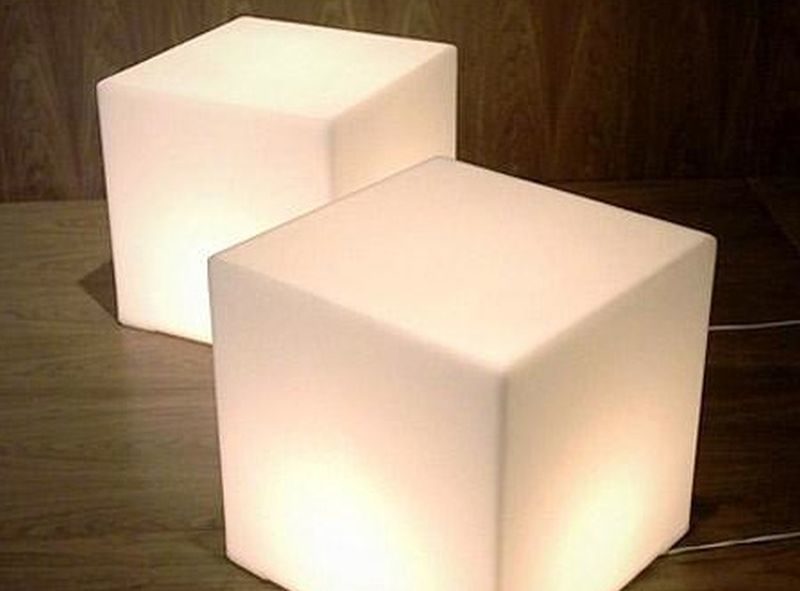 I find these light box cubes somewhat similar to the huge cylindrical Chinese lanterns in the movie 'Crouching Tiger, Hidden Dragon'. Well, those lanterns suited the medieval Chinese arenas in the movie; these Lightbox Cubes take me into the future of the 'Star Wars'. It may be my perception but these cubes certainly have something in them — they take us into the 'different world' is a reality. It's their glow that is combination of spirituality, the sci-fi future and some unknown deep secrets.
This glowing floor light makes for a wonderful yet functional accessory. A lamp, a stool, and a table all in one to add dramatic lighting to any space. They are made of roto-molded plastic – a technique which yields a perfect cube without any outer seams. A light bulb can easily be inserted from the bottom of the cube, and the lamp can be controlled with a foot switch. This box can hold upto 200 lbs. This is a great way to decorate your house with cubes.
Floating shelf cubes let you display your favorite things
If the magnificence of some of your favorite and good-looking object is hindered just because of the monotonous shelf design; then it's time to switch on to something innovative and decorate your house with cubes. The Floating shelf cubes is the next big thing you would love to adorn your walls with. The set of three shelves offers you the break to display some of your best items that you always wanted to see in limelight. Made of Baltic Birch Ply with tidy mitered corners, they are finished with Danish oil; natural, medium, or dark.
Eicube: Cubes for your Dining table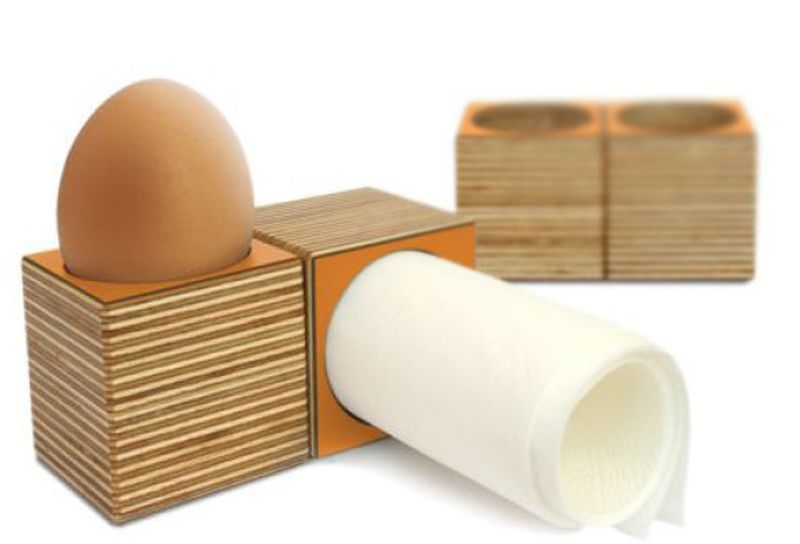 Eicube is a product that's symbolic of perfect amalgamation of simplistic design and utmost utility and fun. The eicube set features simple cubes that are used as eggcup, napkin rings, tealight holders and spice shakers. An extremely practical design; it is made out of high quality birch verneer waxed wood with a cheerful colored laminate. They'll be a perfect accessory to adorn your dining table; and, also an innovative way to decorate your house with cubes.
Arrange files and papers creatively with SAI Modular Wall Storage Unit
A lot of people don't like wall-mounted storage units for one reason alone; since, they make the room look too messy when they are filled up stuff. But if you happen to like your room looking a little messy and see it more as creative chaos rather than just a mess; then the SAI Modular Wall Storage Unit is definitely gonna be worth your while. Devised by Finland-based Korean designer Jiyoung Seo; the SAI Modular Wall Storage Unit takes the notion of functional storage to the next level. It also brings you an exciting, albeit a bit challenging, way to store your odds and ends within view.
The wall-mounted storage is fronted by a bunch of silicone cubes that can be rearranged to make shelves or boxes. One of the most creative storage solutions in the market; the SAI Modular Wall Storage Unit is also one of the most highly personalizable ones you'll find anywhere. The silicone blocks that the SAI Modular Wall Storage Unit allows the unit to be made into different shapes that allow users to fit in a number of things differing in size. What makes the modular wall storage unit even more interesting; is that the silicone blocks are finished with an interesting texture that can apparently grip your magazine, papers and plastic folders with ease. It is a darn handy prospect for folks who have a hard time finding files and papers when they are organized in stacks.
Puzzle Furniture: For your ever transforming needs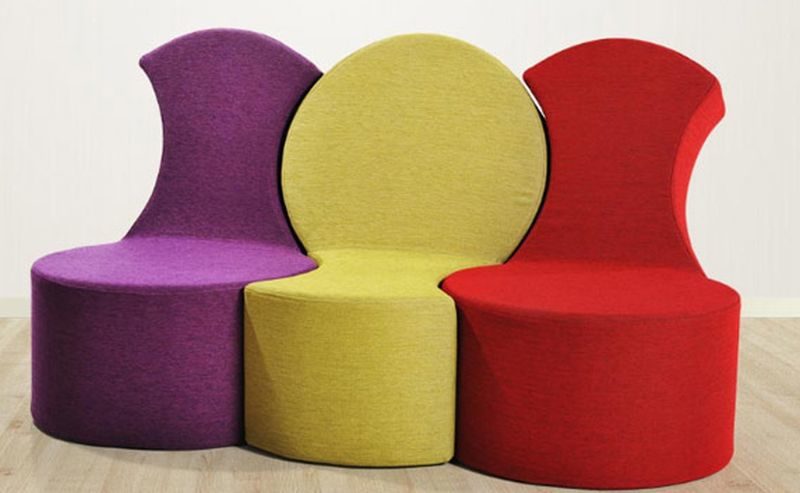 Puzzle furniture, as the name suggests; is a wonderfully puzzling concept that you can use with cracke, damaged or old furniture.  These hollow cubes get their shape from old wooden pieces; and you can link them together with joints, in as many as eighteen varying ways. To make these cubes more beautiful, you can use old clothes, bags and even old signs. This will help to give a vibrant and attractive look. To blend it with your theme or color combination of the walls; just use different fabric paints and textures.
If you have basic carpentry skills, you can create the puzzle furniture at home; this is because, they are very simple structures. These are entirely useful items especially if you live off the shelf and are constantly shifting houses. They are easy to carry around; and you can construct them as detachable pieces as well. This will make it easy to pack them during transportation. Next time when you plan to throw away old shelves and cabinets, think before you do it as they could make interesting transformable furniture with a bit of dexterity of hand.
Cube floor light looks like a cross between a shiny disco ball
The days of disco may be long gone; but, most of us still remember how fascinating the uber silver, rotating disco balls that flashed streams of color across the dance floor. Most of us would also have a few memories of all the times that we came close to solving the Rubik's Cube all by ourselves. Those are still the images that instantly pop into our heads when we see this spectacular Cube Floor Light by Romanian designer Gabriela Ungur.
With 56 smaller cubes forming the larger cube shape; the design momentarily gives the impression of being an exploding Rubik's Cube. With the smaller cubes appearing to be suspended in mid-air; the lamp illuminating the center gives the whole piece the appearance of being a frozen moment in time that has captured the detonation.
The unique angles provided by the shiny surfaces of the smaller cubes allow the lamp to reflect the light almost in a lyrical manner while the sharp, crisp silhouette allows users to use the lamp both as a light fixture as well as a metallic sculpture.
Magic-Q-bicle: Fun way to store 'n' display your gadgets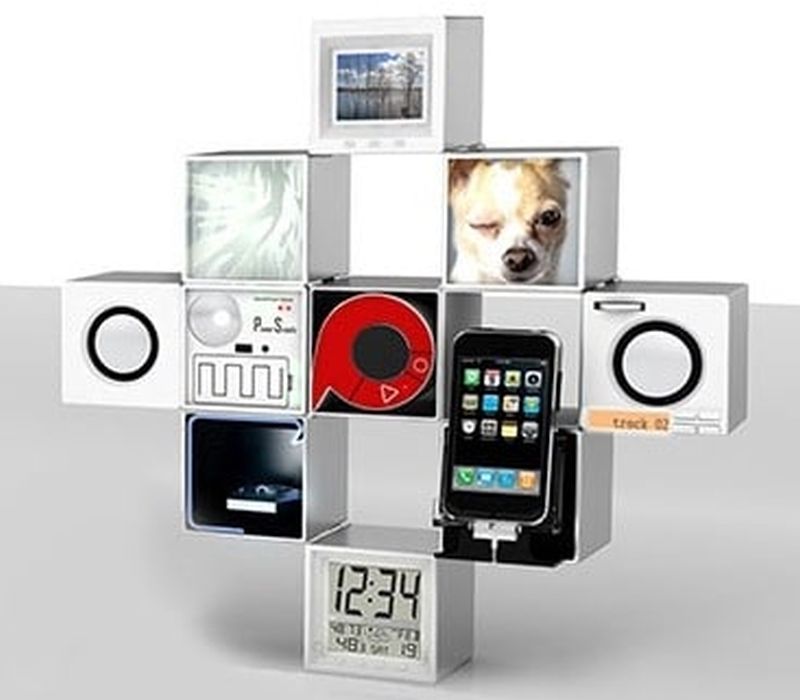 Okay, lemme introduce you to the playful Magic-Q-bicle that lets you organize your little gadgets in stylish fun and decorative manner. Made up of 9 connected 3.5″ storage cubes covered with detachable picture frames, the Magic-Q-bicle looks funky. Hey, wanna know the twist in the story? The Ecubes are "apps" that fit into the Magic-Q-bicle cubes thereby enhancing the overall opulence of the modularly chic cube.
Ecubes include cell phone holder, lighted display box, mini digital scale, calendar calculator, massager, digital lock, digital picture frame with holder, an amplifier speaker, mono speaker, MP3 player, message recorder, USB power multi-charger, fragrance dispenser glow cube, digital alarm clock, picture night light…and much more. The list is pretty long huh! Mix and match the Ecubes into the Magic-Q-bicle as per you desire. Place the cube on the table, hang it on the wall or whatever way you want to show off your gadgets. The Magic-Q-bicle is available in different theme styles and with different finishing to gel well with your trendy interior.
'The Cube' mood lighting blends two colors to create a warm ambiance
Rupesh Surwade is sure to create warmth in your décor. The two colored cubes are arranged to get a dynamic but stable form. The yellow light gives warmth and the red light gives energy. The Cube is perfect for your living rooms where you love to relax after all the day exertion, and want to enjoy some pleasant vibes.
Float side table is magnetizing…Literally!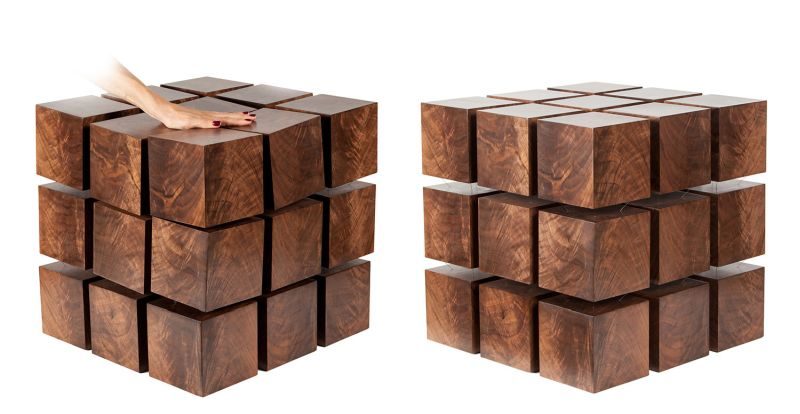 Float by Brooklyn-based design duo, RockPaperRobot is a sturdy yet capricious side table for modish interiors. Showed off at ICFF; the float coffee table is magnetic…Literally. The table is made up of 64 magnetically levitating cubes; and the tensile steel cables help to keep them together. The material used in the manufacturing of the cool float table are PVC, magnets, secrets, steel, wood, and aluminum. It's a table that's customizable in terms of size and shape. If you want to grab one, you gotta send a request for the price.
Summery on decorate your house with cubes
The greatest advantage of multipurpose furniture is that; you can transform it into a variety of furniture styles to suit your needs. You can put these blocks together to form chairs, tables, racks, shelves, desks and cabinets according to your taste.  So go ahead and have fun when you decorate your house with cubes.