Entryways are the first things your friends and family notice while they drop into your place. Entryway has to give a nice, beautiful welcome to the people comes to your place. So why not create functional, attractive and innovative entryways to add a brand new aura to your place?
Adding wall arts is one of the best ways to create a colored-theme entryway. They create harmonious color flow, add elegance, and improve the overall appearance. There are several colorful options such as superb sunflower wall arts by ElephantStock that will sit pretty on your entryway.
Upgrade your entryway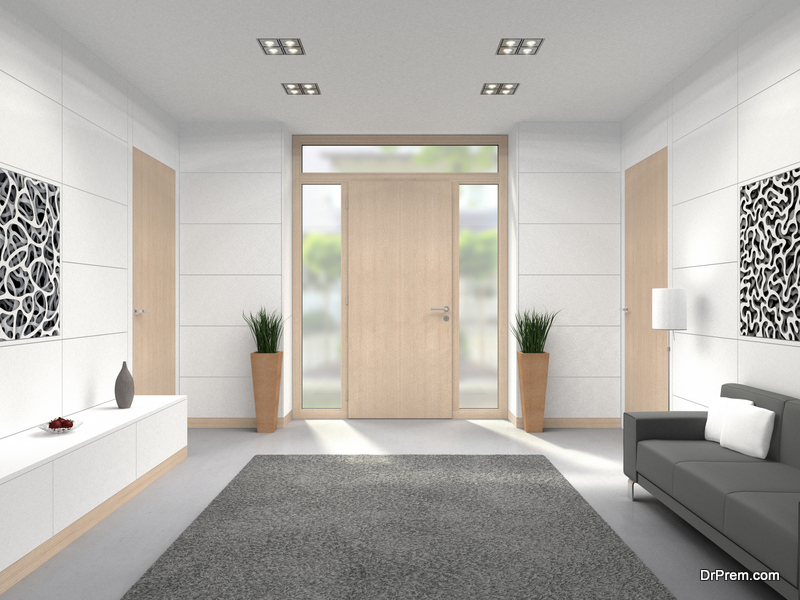 Whenever anyone comes to your home, the first actual impression is the front door, so why not add a door that can be made interesting. Change and upgrade your entryway from those boring wooden doors and add a tint of color to your door. How about a pink colored door? Yes, it looks amazing and pink door sets the tone for the wildly assorted home. It will give your guest a warm welcome. One of the modern foyer design is adding a shuttle color, try adding a tall glass door to your entrance; this is definitely an idea worth trying for.
Now after the door, a view through the open door is important. An interesting and stylish way to welcome your guest is adding a beautiful and antique rug right at their feet. Upgrade your welcome mat with a classy, bright patterned and with worldly tone. Make sure the rug should be functional and with the well-worn appeal.
Have fun with wallpaper
Decorate the walls of your entryways with bold and interesting and eye-catching wallpapers. The wallpaper makes your place standout features in your home. The dotted, big floral and bold design wallpapers look amazing and give a unique touch. Wallpaper is one thing which changes the overall look of them anyplace. With it, you can create many different appearances of your space. So choose your wallpaper according to the theme of your home and also which blend with the furniture. Also, make a place for keys and props to reduce and do not overstuff the space on the wall.
Props to including near entryways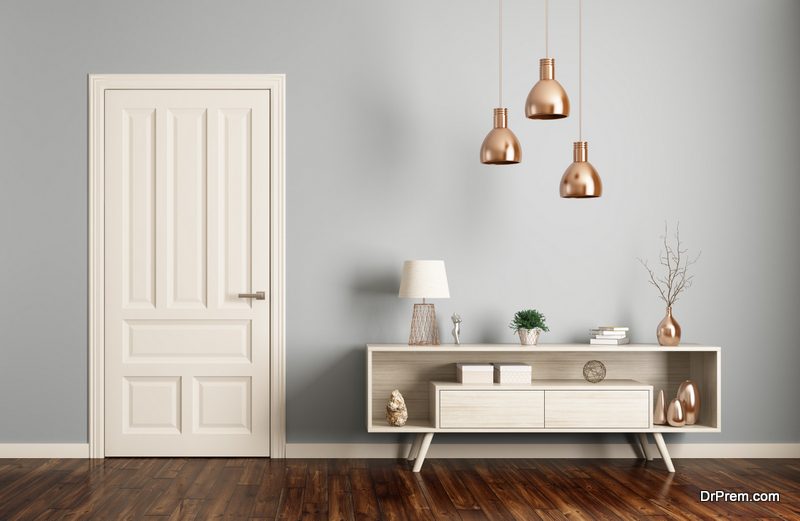 As the guest arrive inside, they are very likely to use a resting spot, a place to sit and to remove their shoes as well. A functional chair gives it purpose and presence to stop for a moment and have a look around your house. Include a beautiful resting chair or a bench to give the guest a reason to stop and rest. A shoe rack or tray is important to include under the cabinet. A painted wall with hooks is ways to organize the foyer for things you may not need in everyday life. Don't forget to include a warm rug to rest their leg.
Decorate with fashion, function, and greenery
As the guest arrives inside your home, it's important to lead them with a mix of interesting décor elements. One of the unique home entryways is elements to include lots of greenery in entryways. Yes, why should your garden and outdoor areas get the beauty of the plants and flowers?
Assemble some of the beautiful indoor plants in a unique way to decorate your space. You can add rubber plants, cactus, a Chinese money plants, Aloe Vera or string of pearls. These all can grow inside with little care and look more beautiful. Adding plants not only make the space lively but also add a fresh air to your entryway. It can give your guest a sense of freshness as they enter inside. Decorate the plats with beautiful vases and pots or you can also decorate it with wall mounted plants.
The color-themed entryways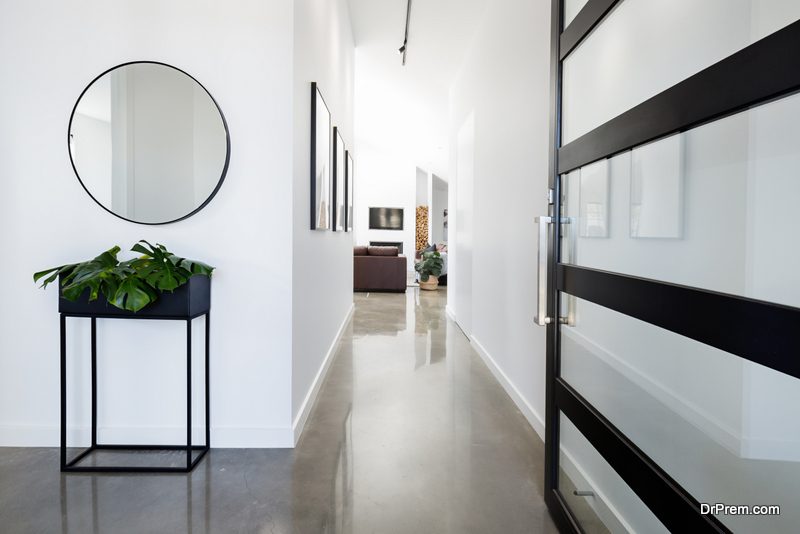 One of the unique home entryways ideas is to decorate the area with full of bold designs and choices. You can customize with black and white marble tiles on the floor. This black and white themed space looks nice and gives a completely unique touch to your space and changes the overall look. Pair it with a minimal furniture like an empire table, a well brass legged stool or couch topped with velvet touch and it would create a nice classy feel to the entry and complete the look.
Furniture and decor
Furniture plays important aspects in your entryway décor. It adds some stunning interior entrance design. Start with an entryway table in nice rich wood texture which you can decorate with nice décors like candles and aromatic candles and lamp. Decorating the little side walls behind the table with small artwork is a nice décor idea. You can add a family picture frame near the table or also a small welcome framework to grace your guest; they will be over-delighted with the warm welcome.
Versatile Vanity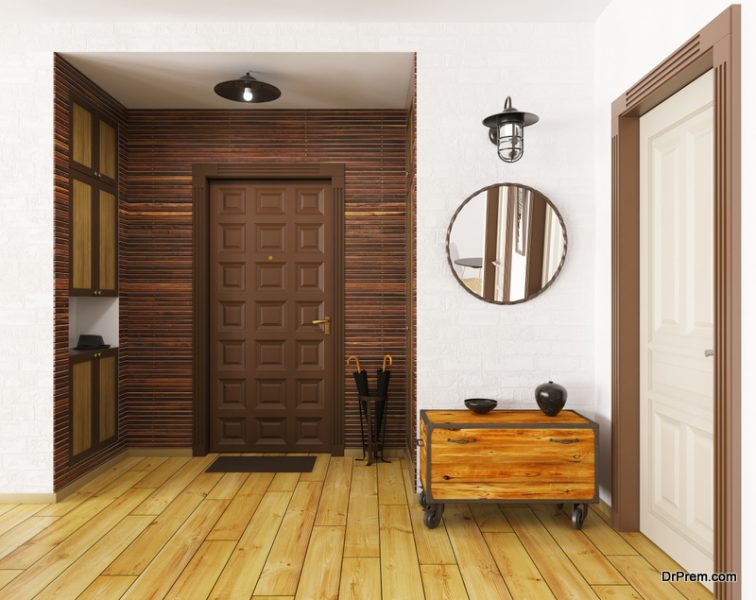 Decorating the entryway with a classy, elegant mirror gives a nice décor to the wall. It adds a class and makes your space more spacious. Include a customized mirror with a dresser to give a foyer resembles a bedroom vanity. Add abundant storage and nice lamps in it. The dresser will allow you and your guest to have a last minute check of hair, makeup and outfight in bright natural lights before stepping out from the house. If you want, you can add a cute mini makeup pouch in your closet and hairspray. This is one idea which will be utilized when you are in hurry and doesn't have time to sneak inside your bedroom for the essentials. In one word, it's always worth planning.
Light your entryways
Lastly decorate your entryway ceiling with nice, warm lighting, lamps or chandelier. An interesting and calming light is what your entryways require. A warm light can be used to help the people who come into your house to relax and rest. Use ceiling lights, the ceiling should have an appropriate lighting, using small light fixtures can help the place becomes bright and gives a warm and happy welcome to your guest.