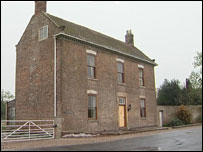 A £650,000 Georgian mansion has gone up for £60 after its owners, Alf and Kath Overy decided to offer the house as a prize in an internet competition. The mansion is in the Old Parsonage near Goole, East Yorkshire. The owners had put it up for sale last year for £650,000, but it failed to sell. So, they decided to offer the 300-year-old Grade II listed building as a competition prize.
Mr Overy said: "We were staggered when the house went on the market for £650,000, because it cost us very little, but in 24 years we have restored it and of course put all modern conveniences in. We have the original woodwork and the beams which are nearly 300 years old."
The competition asks the entrants to look at a doctored photograph of the house and guess where a missing shadow should fall. The couple also plans to donate some of the money raised by the competition to the International League for the Protection of Horses.

Source: BBC