Although pinecones are one of the elements that market the Christmas season, it does not mean that you cannot use them for anything else. Instead of stocking them in the box for the next year or throwing them out, you can decorate your house with pinecones in the most amazing manner. What is best about using them is that they do not require any kind of maintenance and you can easily clean them. Here are a few DIY ideas that you can use when you want to make your very own pinecone decor.
A nice indoor rock garden with differently colored pinecones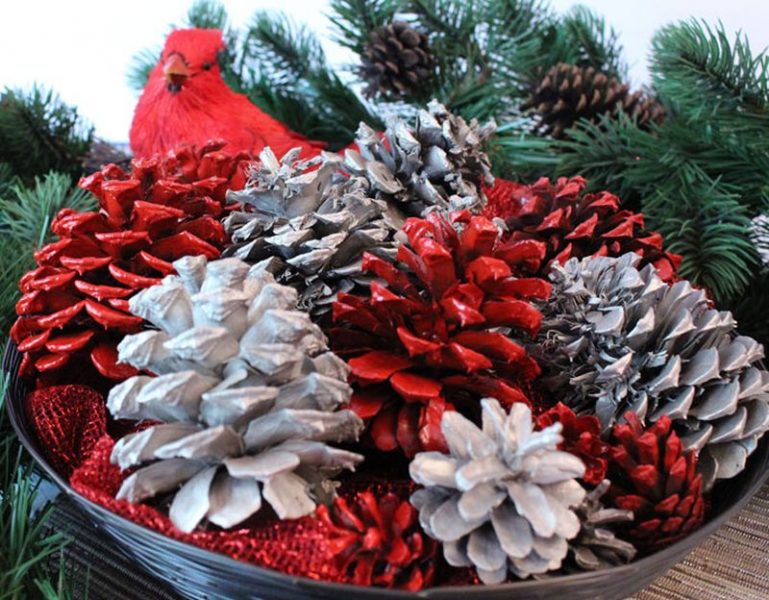 For those who love to have a rock garden in their house; but do not have much time maintaining it, this idea will defiantly work well. You can create your very own rock garden using pinecones, artificial flowers, and colorful rocks. To give it an interesting twist, consider buying a medium-sized indoor water fountain and decorate it with this idea. Your indoor garden will not only look beautiful but moreover it won't require too much of maintenance.
Create a multipurpose wind chine
Wind chimes are very soothing and relaxing. They also create a positive energy in the house. Instead of going and getting a wind chime from the market, you can make one yourself at home. In this idea, all you need are some ribbons, pinecones, some decorative pieces, bells, paints, and glitter. You can paint the pinecones in various colors and add a touch of glitter to make them look more beautiful. Once the paint dries up, you can make your wind chime in any way you want. The best part about this idea is that during Christmas, you can also take it out and use it to decorate the Christmas tree as well.
Decorate your dining table with pinecones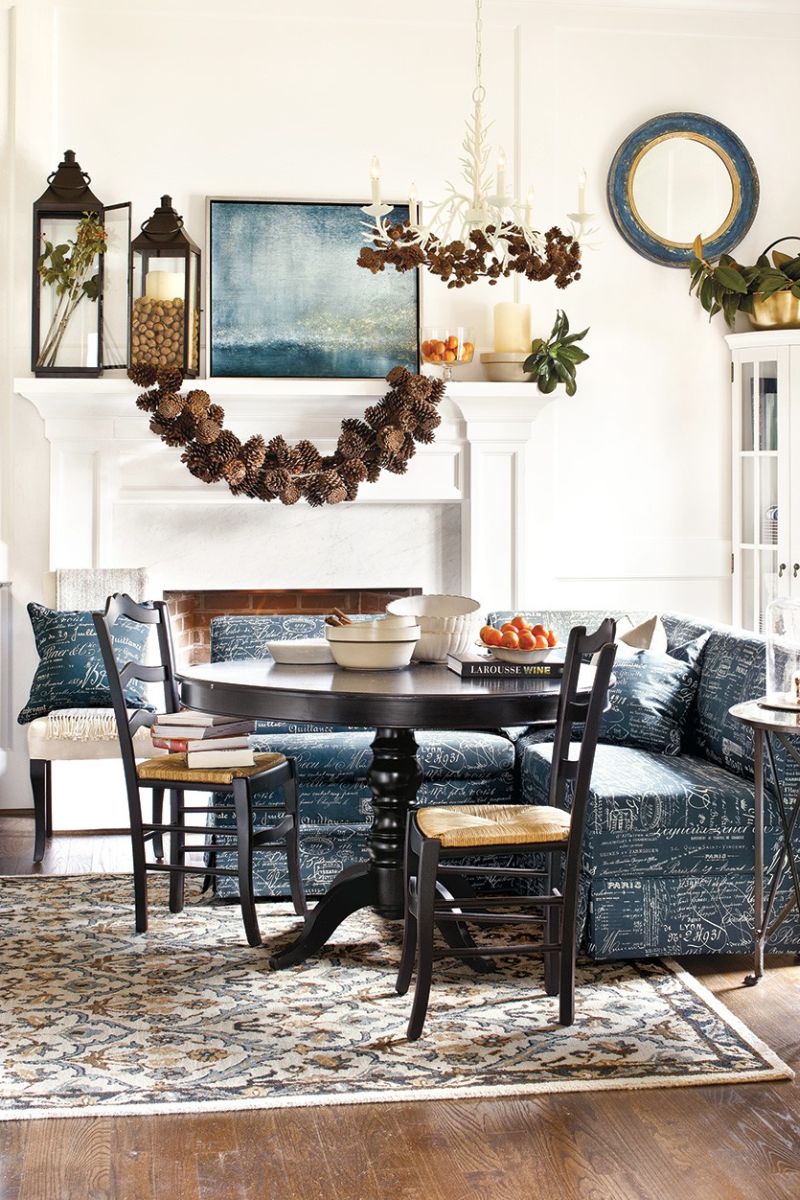 Instead of wasting time and money on expensive table decorations, make your table look unique to pinecone decor. With this idea, you can choose to arrange the pinecones in various ways to create a new look every now and then. Go all creative and make a nice centerpiece with the pinecones, In fact, you can also combine them with a few interesting figurines and make your dining table stand apart.
Make your very own streamer with pinecones
Streamers are one of the easiest and beautiful ways that you can decorate any space. What makes this idea more special is when you make one yourself. You can make a unique looking streamer for your room or any space by using pinecones. You can paint them in different colors and even place beads or small mirrors to make them look more interesting. After that, you can hang them wherever you want.
Make your own pinecone Mason jar candleholders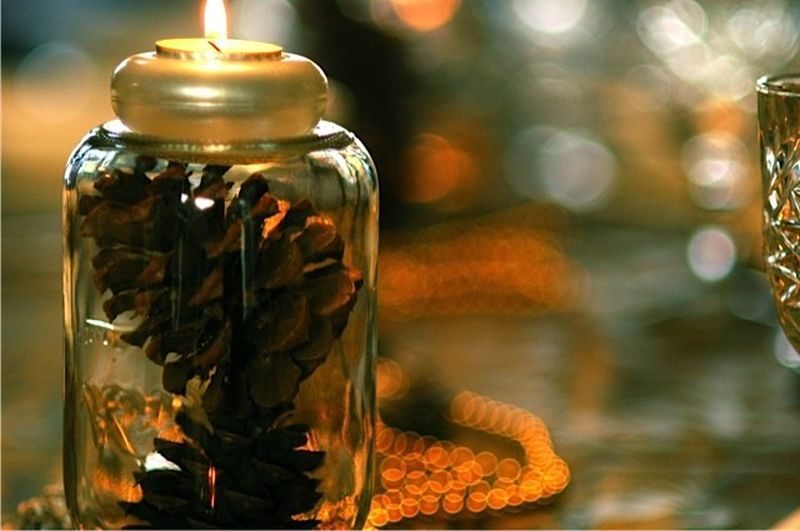 Having candle stands at the house is a great idea; you can make it more interesting when you make it yourself. All you need for this simple idea are a few differently sized mason jars, a few pinecones, some glue, and whatever decoratives you need. Decorate the Mason jar in whatever way you want and place the candles inside it. Your very own candle stand is ready. You can also make it interesting by doing a little glass painting on it.
Make your own lamp
If you have just a bulb as a table lamp, make it an interesting concept using pinecones. You can stick the cones around the lamp and make it a unique looking lampshade. Another idea is to make one of your own by using a bulb holder, wires to create a metal frame, electrical cables, and a plug point. Make your own lampshade of any size in whatever style you want.
Pinecone planters for your side table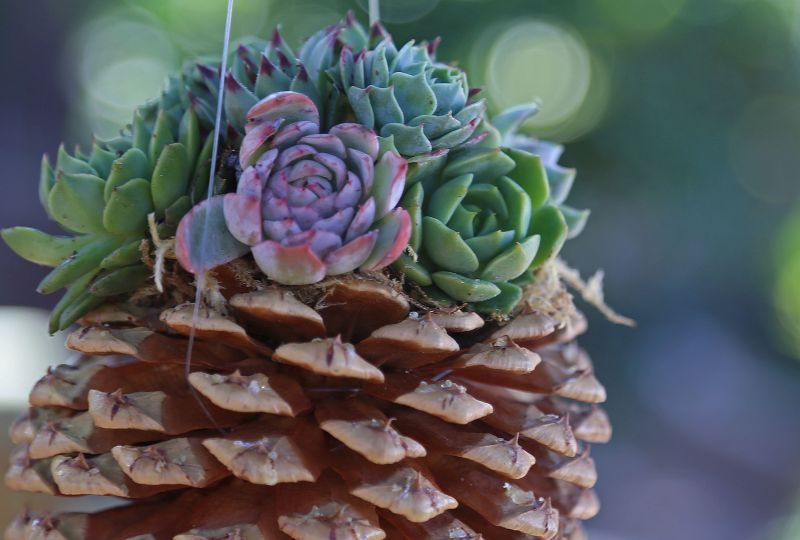 Planters are a great addition to any house and can really transform a place. Well, you do not have to waste money on getting them from out when you can use pinecones. All you need to do is plant the pinecones in differently sized pots and arrange them on your side table or anywhere you want. You can also choose to decorate them with small LED lights and give them an interesting twist of a night lamp come planters.