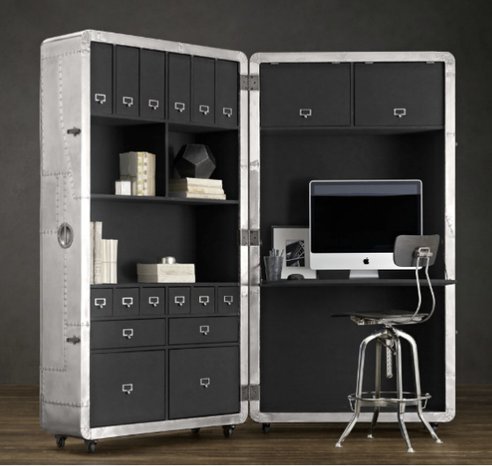 A work culture can boost your stamina and positively affect output. The progressive techniques and volatile work culture enable to create a 'home office' mood minus the actual office. While productivity certainly gets a boost when working with appropriate tools and inputs, an impressive lifestyle comes along with the right arrangement (even though at home). The wide variety of desks and counters can serve the purpose when wanting an uncomplicated and ingenious podium. Investing judiciously in a 'home office furniture designs' can serve beyond just having a table top or a desk. There are some which are versatile, while many others have been created for specific purposes. You can select one according to your specific requirement. Read on:
Retro Office in a Suitcase

When living in compact space, size matters. The same applies to your home office. Transformer furniture can serve the purpose, as it almost goes away when you are done with your work. The Retro Office in a Suitcase finds inspiration in a 20th century aircraft. The retro appeal is displayed well with the patchwork of polished aluminum panels and uncovered steel screws. The matte finish of aluminum along with intentional nicks deliberate imperfections can predictably add to the character and uniqueness of the compact office.
Coffee Office Workstation

The closet area of the Coffee Office Workstation can suit those of you wanting your selective space. This portable office cubicle, which seems to be designed particularly for the coffee lovers, has the shape of a coffee mug. When you want to enter, the area gets divided into two (by separating from the middle). Once you are inside, the workstation closes again. A preset coffee maker can provide your regular dose of coffee.
The Coffee Office Workstation is a Brazilian design concept. With a laptop counter, touch sensitive screen and Wi-Fi, your office can begin just at a click of the mouse.
Paramount foldaway home office

This is another portable office providing you with generous space. The fold away cupboard shaped office area is simple and impressive. The clean finish, lock protected sections, desks, shelves, LED lights and electric outlets make this an apt workstation.
Trunk Station

The Trunk Station is an attractive mini office area, providing a suitable space to work even in your bed room. The area is sufficient to use a computer, store files/folders and other useful items. The foldable trunk station can segregate most of your office requirements and provide practical solution to your needs. Besides, you can roll it away when done with your day's work to relieve you of the space.
Mayfair Steamer Trunk

The Mayfair Steamer Trunk has been crafted by a London furniture maker (Timothy Oulton). This steamer trunk is designed to serve your workstation with a generous space area. It has a simple look, a pull-down desktop, bookshelves and several drawers. With complete portability, the design can aptly suit your work needs.
MyFab

This home office is a Japanese designer's creation. Named MyFab, this workstation can provide you the able modernization tools. The design has been made considering space optimization minimalism. MyFab may seem a bit expensive but can serve an interesting business model.
I-trunk home office furniture designs

The I-trunk can serve an impressive home office and enable effective space management. With ample space to accommodate your tit bits like pens and files, the I-trunk contains a 21 inches Apple iMac along with a Canon printer. Equipped with a transformer kit, the I-trunk can be a convenient workstation delivering more than just a desk.
Some more ideas of space efficient furniture designs for home office
When less means more, and is contemporary yet stylish and pocket friendly too, then why think of else. With fast growing urban clutter, efficient space management is what everyone is looking for. Designers are striving to create 'space efficient furniture' where a professional can work, relax and interact in the limited space.
If you have been hunting to find ways to re-design your work space in a space efficient manner then you are here for the right tip. Here are few ideas to transform your single furniture into multi functional one.
Bed with multi-function option:
A bed with desk and drawers at one end will facilitate easy working at any time of the day. This could be best solution for home bound professional who can extend his bed into a work station and can easily work late nights or early hours.
All-in-one furniture:
It's a great idea to have single furniture with multiple functions. What more you want when a single and simple piece is offering space to work, relax and interact. It is most economic and space efficient furniture design.
Flip over furniture:
These are the trendy modular furniture designs which can serve different purposes just by turning upside down. A desk and chair can be converted into easy chair by just turning sides.
Vertical furniture:
Vertical designs are best way to limit the space. A wall mounted computer table with required shelves arranged vertically will need less space.
Movable or wheeled furniture:
A multi tiered desk with space for keeping desk top and enough storage for files and stationary is convenient and space friendly too. You can easily move this furniture to create space whenever they need.
Foldable desk designs:
This has been used for some time now, to create space whenever needed. A foldable, wall mounted desk will give back space when not in use. This will also free lot of floor space.
Cockpit-U shape office furniture:
This design limits the mobility by providing complete work solutions within arm's reach. It is easy to install, which in turn, saves valuable time and costs. This kind of furniture is suitable for offices where more people are working in limited space.
Compartmental drawers:
Drawers are best solutions to de clutter office stationary and files. Compartmentalized drawers will not only increase storage area but also limit the space used for storage.
Corner furniture home office furniture designs:
Corner tables with tall shelves are best to make minimal use of space. This will be a good option for professionals living and working in small apartments.
Wall mounted furniture:
When struggling with less space at office or home, try to create storage space on the wall. Walls are the ideal space saving means. Wall mounted shelves not only improve interiors but also save lot of floor space. This furniture, apart from creating required space, is easy on the pocket. Since it is made with metal or pre-laminated wood; it costs much less than old Teak or Mahogany furniture. It is easy to install and remove.
A recent survey suggested that design of work place has a lot to do with the productivity. It is not wrong to expect that space and comfort created by 'space efficient furniture' will certainly help increase in the efficiency and productivity.