Today we talk about this apartment with modern design architecture that surprises with its originality and aesthetics. Simple elegance is displayed throughout the interior of this house, where it incorporates a variety of interesting materials and where a lot of colour contrasts are being used. White walls contribute to a fresh, clean overall look, while large windows allow an abundance of natural light into the interior of every room, even in the attic.
Each element has its own design and powerful personality. The use of leather chairs and ottoman transmit sensations of comfort and safety to the furniture and spaces. This contrasts with the modernist fireplace, black desk and minimalist lighting. We love how the designers kept the same style and colour palette in the bedroom with parquet floor delivering a warm atmosphere.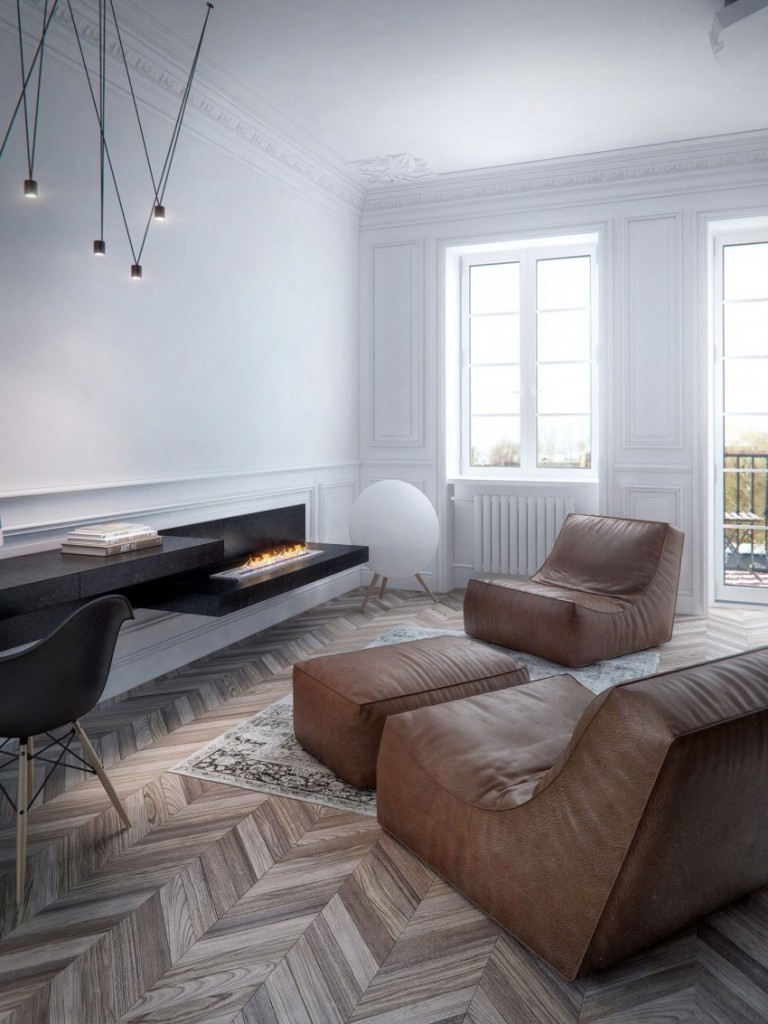 The Eames chair design in black and features a sexy design icon touch to the spaces and the use of Tolix stools in white for the kitchen allows vintage and industrial air to enter in this combination of decorating styles.
This apartment is really a source of inspiration for those who are dedicated to the design sector and in particular to the field of chairs, as it incorporates some of the models of chairs with more success and thanks to the incorporation of interior equipment like this, it is increasingly common to find them in the spaces of our homes and we can see that they perfectly fit many decorating styles and whichever style of interior you have. For example, a chair of Eames design fits perfectly. Rise and recline chairs for the home would also be suitable here, as they would create an even further modern and minimalistic atmosphere. It is important for the chairs to complete or add to the style of design and in this case, it's done perfectly.