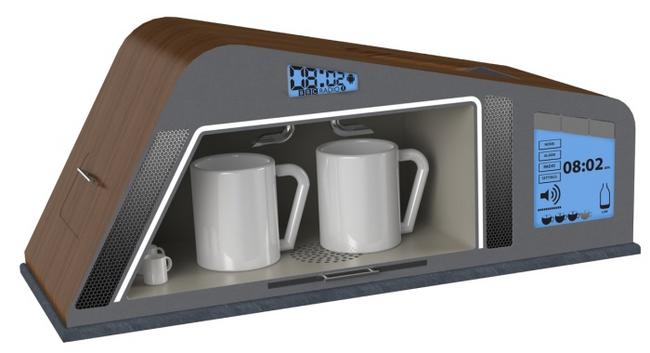 Waking up to blaring and ear piercing alarms is the most unpleasant things. The sudden sound leaves a person in a state of shock and makes them jump out of the bed with utter shock. How about waking up as soothing music fills your room with warmth and soaks you in eternal happiness? And as soon as you stretch a smile on your face and slip out of your bed, you will be welcomed by your favorite morning drink that will leave you rejuvenated. Well, what sounds like a dream can be turned into reality with the Android Teasmade.
The ingenious idea by Richard Earley will make morning special and inject a sense of happiness as the sunrays kiss the surface of earth. Android Teasmade, as the name suggests, will exploit the Android system that has been creating ripples in the tech industry. Settings for the alarm can be easily controlled with the help of an Android application. So, running till the equipment to change the settings takes a backseat. Simply, make good use of your Android-based phone and save yourself the effort of running till the gadget for making minor adjustments or changes. Android Teasmade will endow a user with the flexibility to pick their favorite music piece or radio station that they would like to hear the first thing in the morning. As soon as you open your eyes, you favorite hot drink will be waiting for you. This means no running till the kitchen to fetch a hot cup of tea or coffee, which will definitely make you feel special and royal. Feed all the details in your Android application and relax, without the fear of missing any detail before you bid the goodbye.
The top of Android Teasmade has a recess that is used to store mobile phones. This recess will charge the phone when placed on it with the presence of an embedded Wireless Energy Transfer system. The charging will be wireless, which will save you from getting entangled with additional wires. To synchronize the alarm setting with the Android Teasmade, all you have to do is place the phone on this recess and all the information will automatically transferred via a Near Field Communication Pad. The LED strip in the design starts to illuminate slowly when the time for the alarm to stir you reaches what you have set. The volume of the chosen music piece increases slowly, which will help in natural awakening that is pleasurable and doesn't make you feel sick.
Android Teasmade lets you customize the alarm settings as per your needs. So, grab a cup of your hot beverage that will wait for you when you wake up as it brews beside you. Start your day at a happy note and make it all the more special with the Android Teasmade.
Via: Coroflot