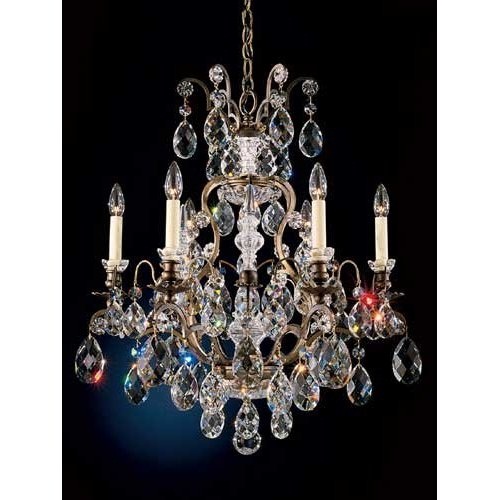 Lights and fixtures have received a distinct reputation with antique chandeliers. The design and decorative elements add grace and elegance to any room. Nothing can match the aura of an antique chandelier that gives sparkle to beautiful evenings with its mystic charm. The beauty of a chandelier lies in its embellished arms and the lights that dazzle the room graciously. Read on to know about antique chandeliers to give your home a timeless elegance.
Winterset antique chandelier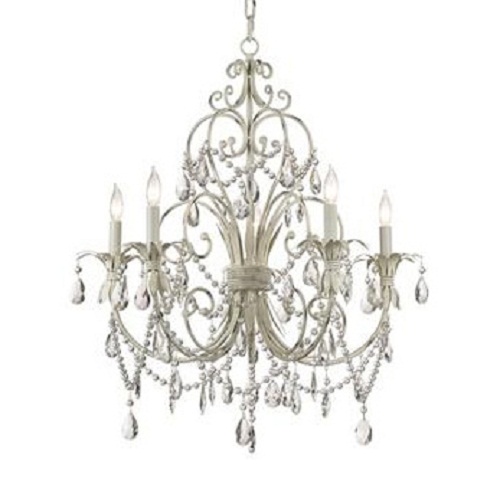 Price: $299.99
Give a romantic touch to your living room with Winterset antique chandelier. This five light chandelier has subtle yet distinct features. It has a beautiful twirl of thin wrought iron that has a rubbed cream finish to give a touch of elegance. The chandelier is sure to provide exquisite sparkle with its strands of clear glass beads and crystal droplets. The shape and the size of the chandelier are perfect to light up any room. Assembling this chandelier is easy, though takes time as with any chandelier. Winterset antique chandelier can take up to five 40 watt candelabra bulbs.
What's unique: The crystal accent with antique rubbed cream finish simply enhances the visual appeal of this chandelier.
Schonbek Worldwide 3770-11TK 7 light Renaissance chandelier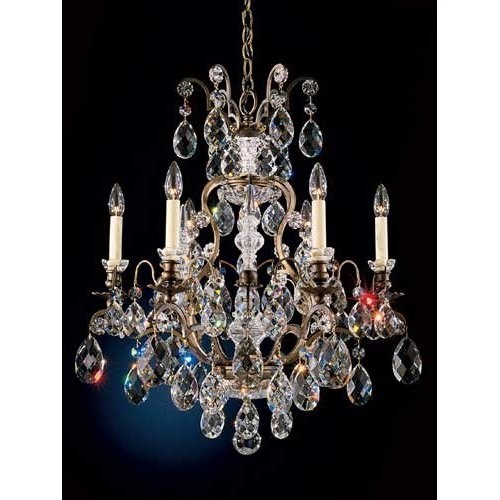 Price: $4,490.00
Transport yourself into the stylish 17th century era with Schonbek Worldwide 3770-11TK 7 light Renaissance chandelier. A chandelier with French antique finish having golden teak Swarovski elements will surely charm anyone with its style, richness and elegance. This five arm chandelier with delicate embellishments of hand cut crystal pendants makes this piece enthralling. To add to the beauty is the hand cut crystal at the heart of the chandelier. This stylish chandelier takes six lights of 60 watt incandescent type of bulb. It measures 23.5 inches in length and width and weighs 52 pounds.
What's unique: The crystal droplets and the dazzling frame make this chandelier truly a treasured ancient art collectible.
Hardware house 543645 Madrid 25-by-20-inch chandelier, antique bronze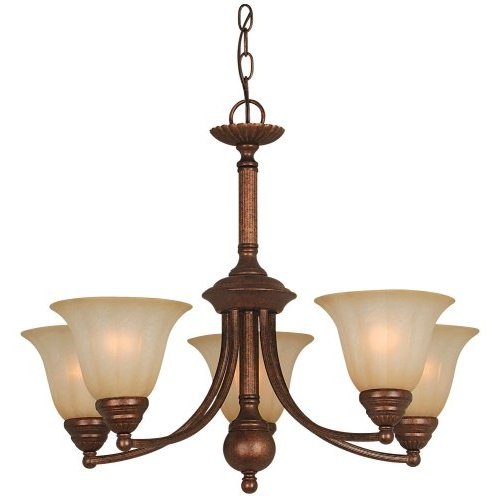 Price: $ 62.24
The design of this fine chandelier readily adapts to formal, casual or contemporary settings. Accented with bronze finish, Madrid antique bronze is a five light chandelier. The rare design of this chandelier has a perfect blend of style and simplicity. The amber finish and the strong lines highlight the looks of the chandelier. This five armed chandelier takes five bulbs of 60 watt. It can match with other pieces in the Madrid series collection. The chandelier measures 25 by 20 inches.
What's unique: The bronze finish and amber glass accent gives it a classic and timeless look that adapts to any type of setting.
Antique champagne beaded tealight hanging chandelier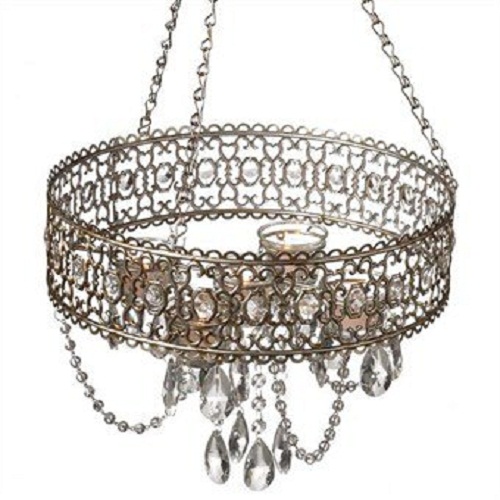 Price: $46.32
Antique champagne beaded tealight hanging chandelier is primarily made of metal and other high quality components. Various designs are available to suit your personal style. The intricate design and delicate workmanship is sure to add charm to your home. The chandelier measures 9 inches in length, 13 inches in width and 13 inches in height. It weighs 5.5 pounds. The intricate design and other rich embellishments of the chandelier give a touch of royal elegance.
What's unique: Champagne beaded metal finish gives a vintage look to the chandelier to add flair and décor to any home.
Illumine 3-light chandelier antique bronze finish amber glass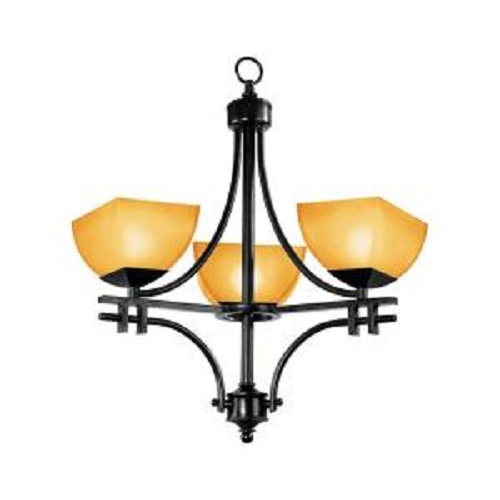 Price: $218.40
This is a three-light chandelier with bronze finish. The amber glass feature coupled with the bronze finish gives it an antique touch. The feature and design of this chandelier makes it suitable for any type of setting to illuminate any area of your home. Belonging to the Vista series, this chandelier is simplistic yet modern in its visual appearance. It measures 26 inches in height, 19 inches in width and weighs 18 pounds. The hardwired chandelier can take up to three bulbs of 40 watts.
What's unique: The bronze/copper finish and the amber glass give the chandelier an antique look.
Illumine 12 light chandelier antique bronze finish fabric shades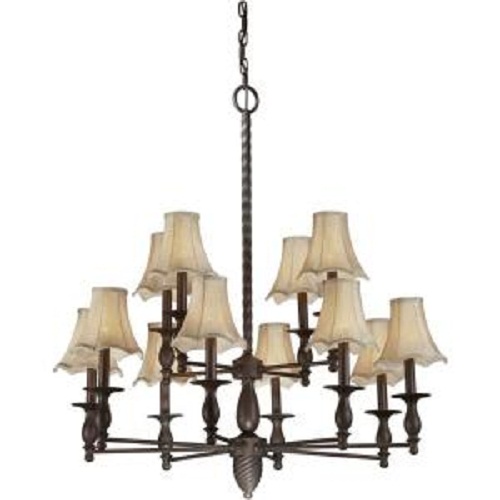 Price: $418.00
This 12 light chandelier belonging to the Burton collection series comes with classic features, which make it the right choice to decorate and illuminate a room. The chandelier is supported by a long non-adjustable stem in bronze finish and has 12 fabric shades stemming out in four directions. Shades are placed in two levels to give out better brilliance to the room. Though the looks are modest, this chandelier is sure to add charm and accentuates the visual appeal of the room. The maximum hanging length of the chandelier is 34 inches and comes with a height and width of 36 inches. It requires 12 bulbs of 60 watts.
What's unique: The bronze finish with fabric shades gives a simple yet antique touch to the chandelier.
Mini chandelier in pink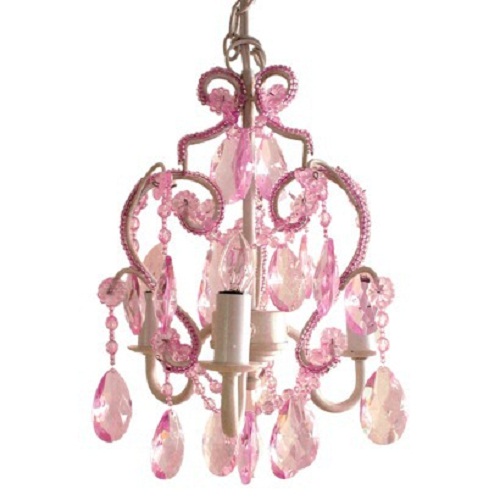 Price: $47.99
Add color, sophistication and elegance to any room with pink mini chandelier. It is twirl shaped and has acrylic and glass bead embellishments in pink, which is ideal to give a feminine touch to the room. Mount it on the ceiling or hang it as a swag lamp, the chandelier enhances the looks of the home – be it a nursery or any room that requires subtle lighting. The glass dangles and acrylic beading dazzles on this diamond shaped mini chandelier making the chandelier cool and sophisticated.
What's unique: Enchant your home with the delicate design and soft color of the chandelier.
Baja beaded chandelier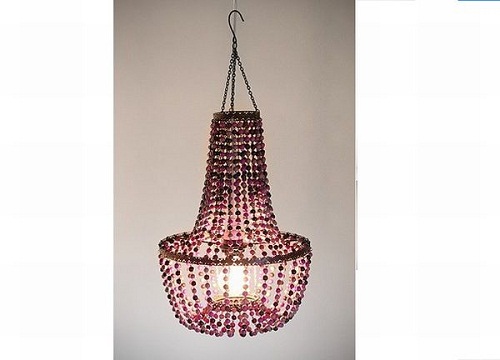 Price:$79.00
Give your room a special cozy appeal with Baja beaded chandelier. It is eco friendly and the chandelier is mainly made of Baja beads. Its special shape is sure to add charm to any room of the house. Beautiful strands of multi-colored wooden beads hand from circular metal base. Metal chains support the chandelier that has a top hook. It can hold a single bulb of 60 watt. The chandelier measures 23.5 inches in length and 5.75 inches in diameter. Maintenance is easy as it can be wiped clean.
What's unique: Dress up and illuminate your room with this graceful and elegant Baja beaded chandelier. The multi-layered beads add the antique look to the chandelier.
Mercer chandelier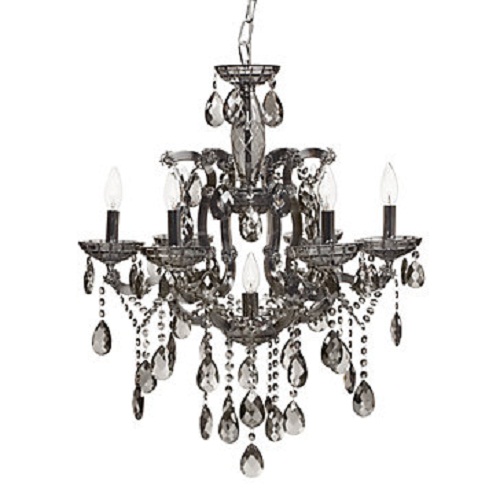 Price: $799.00
Welcome the unmatched dazzle and brilliance from Mercer chandelier designed with reflective smoke glass. It has six arms with layers of crystal drops and chiseled crystal decoration. The base reflects the design of conventional Venetian chandeliers. The chandelier has 4.75 inches ceiling cap and a transparent cord, which suspends the fixture. It holds six bulbs and one bulb at the base of 40 watts. The chandelier measures 28 inches in height and 24.5 inches in diameter.
What's unique: Multi-layers of heavy crystal drops in the chandelier gives a romantic appeal and is sure to add glamour to the room with its sparkle.
Orbit chandelier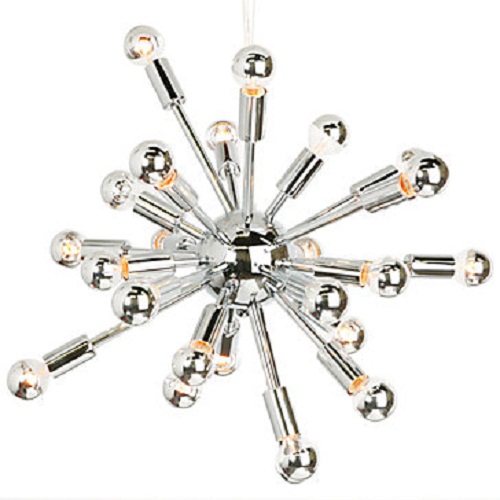 Price: $299.00
This ultra stylish and modern chandelier has 24 arms with polished chrome arms. The position of the arms gives off sporadic beam from the chandelier. The sputnik shaped chandelier is a perfect blend of style into domestic sphere. Lighting has never been so interesting with 24 bulbs that come with chrome metal tops. Orbit chandelier has a cord length of 60 inches and the bulbs need 24 watts to illuminate the room with an energy that is sure to refresh and revitalize life.
What's unique: The sputnik shaped chandelier with polished chrome arms adds a mystic charm to the room.