Gone are the days when a clock was just used to read time. Modern times have seen the amalgamation of many concepts and bringing in the soothing effects of aroma oils is the Aroma Therapy Clock, which will calm frazzled nerves and leave you rejuvenated. The clock will smother senses with the blissful aroma, which will force you to slip into a state of complete ecstasy.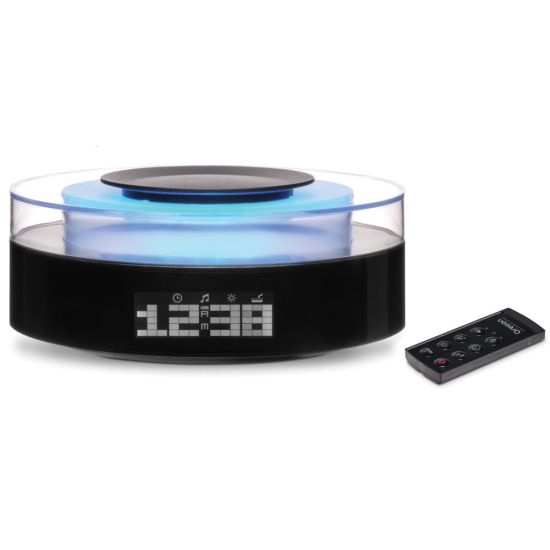 Aroma Therapy Clock looks like a container, which has been has a very impressive facade. The front end works like a digital clock, which displays time in an easy to read way. The design comprises of a diffuser tank that can be filled with 1 1/3 cups of water. Add just a drop or two of pure essential lavender oil and see the diffuser to the needful by releasing aroma and creating a magical aura in the space with the help of ultrasonic vibration.
Apart from this, it is a known fact that color and music also have a positive effect on one's mental state/health. This has been exploited well in the design as the soothing effects take an all new turn with the presence of six calming colors and five sounds from nature. One can choose from sounds of singing birds, raindrops and ocean waves, which will inject a sense of serenity. The round clock can be plugged into a normal household electric outlet. It will be accompanied by an adapter as well as a battery that will lend enough power for the clock display.
The beautifully designed digital clock comes complete with a remote that will give you complete control over the lights, sleep timer, aroma and sounds produced. Set everything as per your whims and fancies for a totally heavenly experience. The remote can be cleverly hidden inside the clock, which is quite a convenient option as this makes sure you don't misplace it when not in use. So, kill all tensions and relax with the Aroma Therapy Clock spreading magic in your life that too at a price of just $99.95.
Via: Hammacher