Asteroid Table-Shelf is an amazing creation by Vladimir Paripovic who owns a mini design studio named Parchitects. The design comprises of a table and shelf that can be placed in two different positions. The piece of furniture is multifunctional that can be positioned and used as per a user's whims and fancies. The form is quite engaging and will perfectly adapt to the space it is placed in.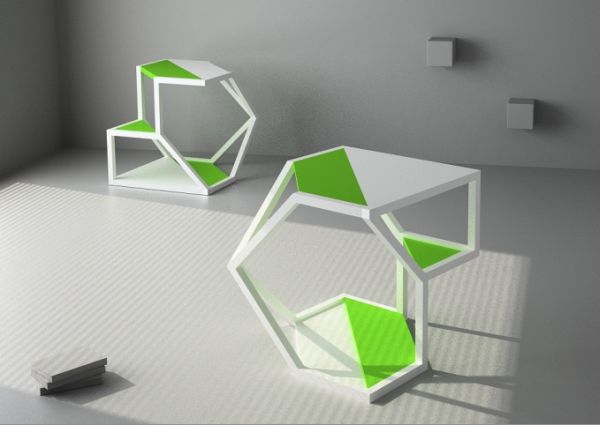 The creation is very attention-grabbing and is Eco-friendly in nature. Asteroid Table-Shelf has been made using two types of materials: natural wood and sustainable plywood. The natural wood used here is beech, which is painted using Eco-sustainable color and has a white hue. Even the plywood comes dipped in a color that is again Eco-sustainable.
The materials used to craft Asteroid Table-Shelf are not only sustainable but also durable and of a superior quality. This makes sure that the piece of furniture lasts for a long period of time and ornaments your home for years to come. The exquisite table-shelf can be placed almost everywhere in the house. It can be used as chair, stool, shelf or a table when positioned in different areas like the terrace, hall, living room etc.
Asteroid Table-Shelf measures 84 x 84 x 84 cm, which will easily change design when the creation is rotated at an angle of 180 degrees. Simply turn around the awesome piece of furniture as per your needs and see it change the overall look of a place. Asteroid Table-Shelf will unfurl storage in 3 planes and will bow down to a variety of needs that originate at home.
Via: Vladimirparipovic