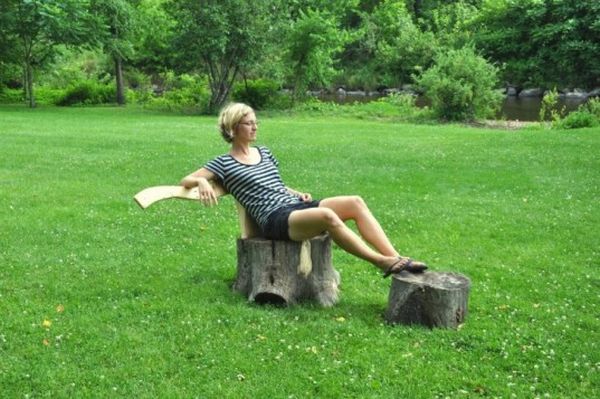 People are axing down trees for extra space and crafting furnishings. You will be shocked to learn that every day approximately 30 million trees are chopped down. What's left behind after such wreckage is tree stumps. Making good use of such stumps is Hongtao Zhou. The designer has swapped these symbols of disappointment into attention-arresting lounge chairs named Axe and Stump.
Stumps are left as it is and their profitability is never exploited. Uprooting them (specially the ones from big trees) can prove to be quite a tedious task and hence they are never touched. Zhou, a planet lover, has given them a new lease of life in the form of a vivacious outdoor chair. Acting as the back rest of this peculiar piece of furniture is a large wooden axe.
This lends an awe-inspiring appearance plus adds comfort to the overall design. The material, for crafting these axe-shaped back rests, has come from a sculpture shop named Vermont Studio Center. Scrap is collected from here and injected with an eco-friendly life. The lounge chair is a clear example of reusing stuff, which is otherwise ignored.
To make sure that the experience is nothing but soothing, an additional salvaged tree trunk has been converted into an ottoman. So, stretch yourself and soothe those frazzled nerves when seated on this eco-friendly creation. Relaxing on a lounge chair on a warm afternoon will definitely help you form a deep connection with your beautiful surroundings. Befriend the environment and add zing to your life.
Via: Inhabitat