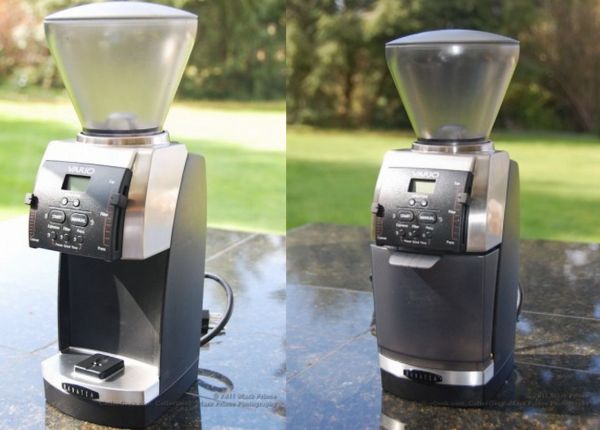 Whether you like your coffee light, strong or black, or prefer an expresso or cappuccino, Baratza Esatto and Vario-E will help you accurately grind a specific amount of coffee by weight to add that extra flavor to your cup every single time.
For years, coffee enthusiasts have been looking for coffee and espresso grinders that could accurately grind a specific amount of coffee by weight and do it repeatedly; but grinder manufacturers had so far failed to tackle the issue.
Responding to the needs of baristas and coffee professionals for a weight-based dosing solution for grinders, Bellevue Washington-based Bartza is introducing two products — the Esatto Grinder Attachment accessory, and a new Baratza Vario model, called the Vario-E. Baratza has integrated a tiny weighing mechanism into a base plate of the Esatto, which controls the grinding process and shuts off on achieving the preset weight.
The Esatto, compatible with all existing Maestro Plus, Virtuoso and Preciso grinders, is a 12 1/4″ by 5 1/4″ wide attachment that adds about 1″ overall height to the grinder. Designed to fit at the bottom of the grinders, Esatto uses basic power cycling to control the grinder on top and promises accuracy down to 0.2g variance for the company's existing grinders.
Baratza Vario-E is a full weight-based grinding system in one and integrates everything into a single unit for those who don't already have a Baratza grinder. However, there is no portaholder included with the Vario-E grinder because the weight-based dosing system is incompatible with portafilters. The timer elements of the grinder are stripped out of the onboard programming. Most of the controls are exactly the same, but on the Vario-E they correspond and are related to weight-based settings.
Also, existing Vario machines are not compatible (upgradable) to the Vario-E model. Baratza is also planning to launch a digital timer version, or a digital weight dosing version.
Kyle Anderson at Baratza, who had initially thought of the product, said:
As we watched the slow coffee movement — the single cup brewing method — grow, we heard more and more from people the importance of weighing the coffee.
The Baratza Esatto, expected to be available in the market in June 2011, will be priced at $149. The Vario-E will only be $100 more than a standard Vario – with the expected price being $549.