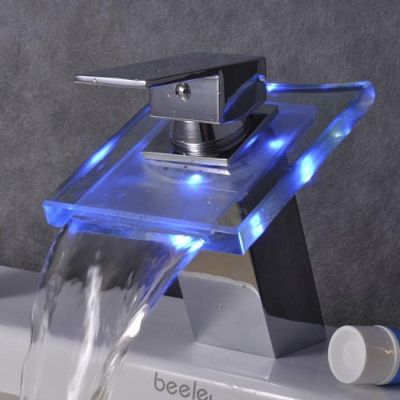 Choosing faucets can be a tricky task as they play a supreme role in defining your kitchen or bathroom interiors. Before choosing a faucet you must ensure the style, design and the configuration of your sink. Inappropriate selection of these may ruin the entire work done, while designing the interiors. High quality is another important factor that needs to be kept in mind. To help you find the faucet of your choice and requirement, here are some high quality faucets which provide elegance and style and can compliment most of the interiors.

1. Modern Single Handle Waterfall Bathroom Vanity Vessel Sink LED Faucet, Chrome
PRICE : USD 63.19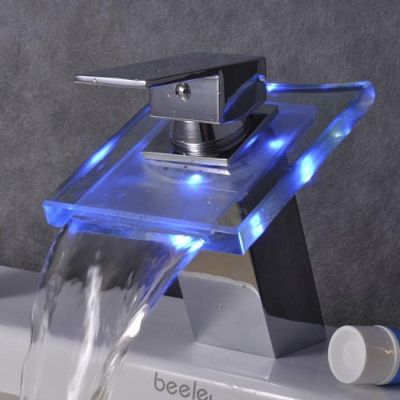 This LED faucet holds style, elegance and uniqueness. Its construction includes solid brass which makes it durable and reliable. A white glass tray is also featured in the construction. Temperature sensor helps in detecting the temperature of the water and reflects the result on the circuit. It features three lights which illustrate different temperature ranges. This keeps you safe and avoids any kind of accidents. The LED lights function only when the the faucet is open. The chrome finish of this faucet gives an elegant and luxurious look to the bathroom. It features a durable ceramic cartridge to avoid any kind of lead. The water flows from glass tray like a waterfall which gives a beautiful look and sets a great ambiance.
USP
The faucet features temperature sensors to detect the temperature of the water.
PROS
It features lights which indicate the temperature range.
The product is reliable and durable.
2. Delta Lahara 2538 Two Handle Centerset Lavatory Faucet, Chrome
BRAND : Delta
PRICE : USD 79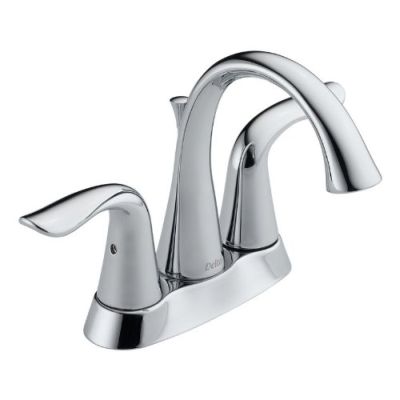 Delta's 2538 Lahara two handle centerset lavatory faucet portrays elegance and style. Delta Faucet Company produces the best quality products with the high level of technological improvements.The Delta Lahara Double-Handle Lavatory Faucet is the best example of style and luxury. This simple and energy-efficient faucet is a great addition to your bathroom. The product features a 50/50 pop-up drain and requires a three-hole, 4-inch installation. With one-piece curved handles and a sleek and curved spout the faucet can complement any décor. It also features water efficient aerators which limits water consumption and provides efficient water delivery.
USP
The faucet features water efficient aerators to maximize water savings.
PROS
The faucet is designed to complement any decor.
3. GROHE 34270000 Concetto Centerset Lavatory Faucet, Chrome
BRAND : GROHE
PRICE : USD 106.62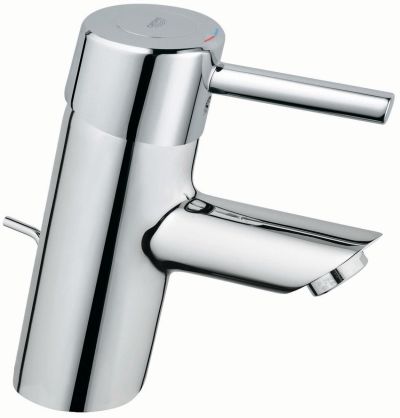 This faucet supports a cylindrical form and portrays the complete value of contemporary designing. It forms a modern look with its designing and style. It features a high spout which ensures that the faucet proves suitable for all basins. The extra wide operating angle has been designed to provide an easy usage. It features a long lever handle to help in operation and deliver easy and simple water control. The faucet is extremely sleek and provides high tech features.
USP
The product is dynamic and gives a very modern and fresh look at a great price.
PROS
The long lever handle provides easy accessibility.
4. Moen 8419 Single Handle Bathroom Faucet
BRAND : Moen
PRICE : USD 135.39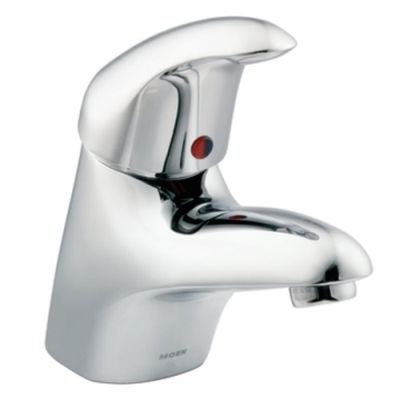 The Moen 8419BC Commercial Single Handle Faucet is a great option. It complements the contemporary style of decor and is suitable with most interiors. It has a single handle lever design which not only looks great but is also very convenient to use. The product comes with metal drain assembly. The faucet is a simple and elegant option for your bathroom.
USP
The product features adjustable temperature limits.
PROS
The product complements any kind of interior.
5. Vigo Siegfried Contemporary Single-Hole Bathroom Faucet
PRICE : USD 138.92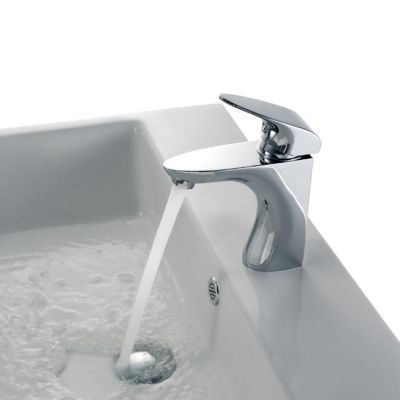 This single lever faucet supports a materialistic design and protrays complete elegance in any bathroom. Solid brass has been used in the construction of this faucet which makes it highly reliable and durable. The chrome finish and mineral resistant nozzle adds on to the features of this faucet. The single handle not only looks sleek but also provides an easy functionality. The faucet further supports easy single hole installation. Cold and hot temperature waterline have been included and a high quality ceramic disc cartridge ensures a great durability.
USP
The nozzle of the faucet is mineral resistant and hence makes it a great product.
PROS
Hot and cold temperature waterline has been included in it.
6. Kingston Brass KS841.DL Single Handle Bathroom Vessel Fauce
BRAND : Kingston Brass
PRICE : USD 142.97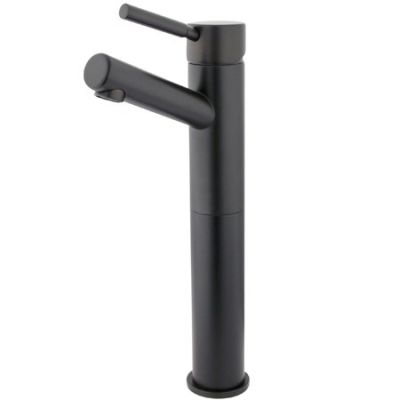 This faucet is the best option for modern or contemporary interiors. It portrays extreme elegance and works efficiently. A ceramic disc cartridge has been included in this faucet which makes it more durable and reliable. The construction of this faucet involves solid brass which makes it further more durable and reliable. To avoid corrosion or tarnishing premium color has been used in its finishing. The faucet is a very sleek and stylish option to add to the beauty of your bathroom.
USP
A premium color has been used in the finishing of this faucet to make it resistant from tarnishing or corrosion.
PROS
The faucet proves to be highly durable.
7. Kingston Brass KB974B Victorian Widespread Bathroom Faucet, 8″ – 16″ Spread, Chrome and Polished Bra
BRAND : Kingston Brass
PRICE : USD 142.97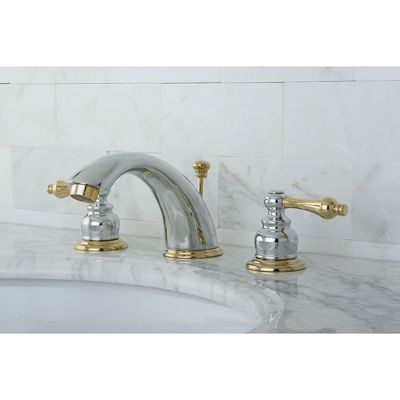 This is a highly elegant product portraying luxury and great class. It features a two handle deck mount with 3 hole sink application. The construction includes solid brass material to make it more durable and reliable. To resist tarnishing and corrosion the premium color finish has been used for the faucet. With the victorian handle design and porcelain lever design, the faucet looks completely elegant and will be a great addition to your bathroom.
USP
It features the beautiful victorian handle design which looks classic and elegant.
PROS
The two handle deck mount works efficiently and conveniently.
8. Pfister F049TMKK Hanover 8-Inch Widespread Lavatory Faucet, Brushed Nickel
PRICE : USD 149.74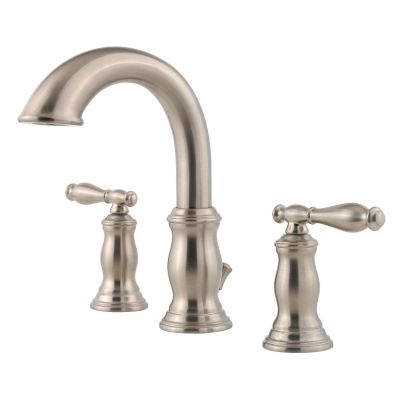 This faucet exhibits unmatched styling. The Hanover collection features flared spout which gives character to any bathroom style and provides a finished look. The faucet has metal handles and a ceramic disc valve. It features a sleek design with great functionality and easy accessibility. The high curved spout is designed for convenience and easy reach.
USP
This faucet can fit well with any kind of bathroon interior.
PROS
The curved spout provides easy usage.
9. KOHLER K-12182-CP Fairfax Single Control Lavatory Faucet, Polished Chrome
BRAND : KOHLER
PRICE : USD 182.95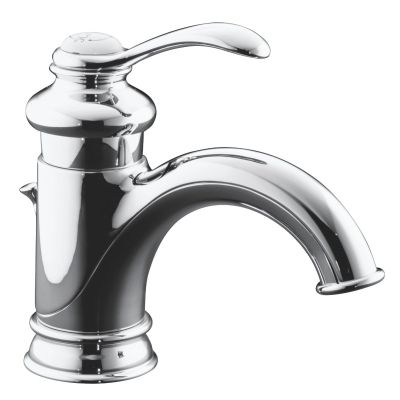 The fairfax faucet collection is classically designed and its construction focuses on providing easy operation. The graceful curves make the faucet elegant and appealing. It features ceramic disc valves which increases its durability. The faucet has a high temperature limit which further adds to the durability of the faucet as it prevents the faucet from any kind of damage or scalding. Premium material construction and kohler finish makes this product reliable and helps it resist tarnishing or corrosion. The faucet has a flexible supply line and also has a low flow aerator option.
USP
The faucet has a high temperature limit which protects it from scalding and adds further durability.
PROS
Kohler finish makes the faucet resist tarnishing and corrosion.
10. Kohler K-13491-4-BRZ Oil Rubbed Bronze Kelston Widespread Lavatory Faucet
BRAND : KOHLER
PRICE : USD 369.5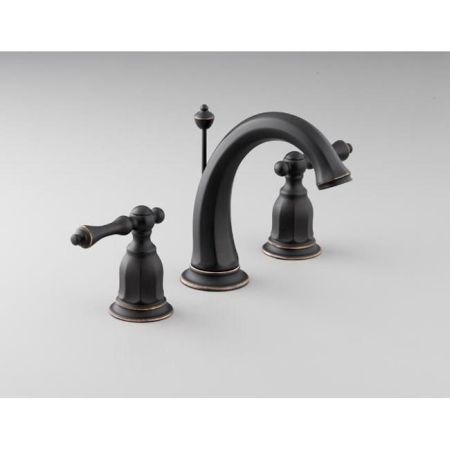 This faucet is a complete blend of traditional style and modern contemporary fluidity. It complements the modern set up amazingly and adds elegance to it. The product exhibits high quality and great sophistication. Its construction involves the usage of solid brass to make it reliable and durable. To add on to its durability, Kohler finish has been given which helps it resist corrosion and tarnishing. The curved spout provides easy accessibility and reach. The faucet looks great and enhances the grace of your bathroom set up.
USP
The faucet features Kohler finish to make it resistible from corrosion and tarnishing.
PROS
The product proves to be durable.