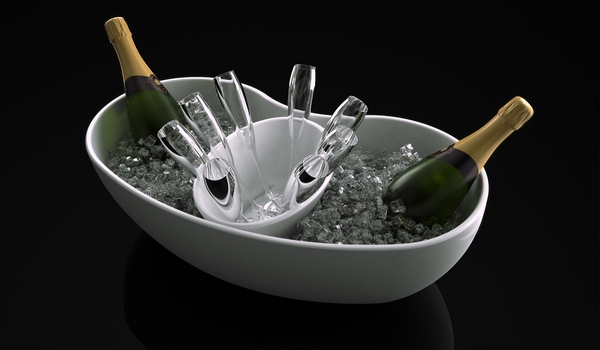 Gone are the days where you could simply shove a bottle of champagne in a simple stainless steel ice bucket and have the flutes carried over in a tray (or held upside down between the fingers if the server happened to be one of the guests or the host at the occasion). These days, even champagne drinking has become something of an art and thus champagne serving too has evolved to meet the high standards of its patrons. Most high-class joints still rely solely on the services of meticulously trained, impeccably dressed, white-gloved sommeliers who have perfected the art through years of experience in the field without giving the presentation of the wine itself a lot of thought. This A-OneDesign-innovated ice bucket concept, however, takes champagne serving to the next level with the introduction of a playful new wine bucket that comes with enough space for two bottles of the wine as well as a central space that can be used to house flutes or even mini snacks for a whole party of guests.
The wine-serving accessory is more suited to a larger party of guests comprising of four or more persons rather than just of couple of people seated at a restaurant. The ice-bucket contains enough space inside to hold a total of four bottles and a plateful of mini-snacks that can easily serve a party a four to-six people. The seemingly simply design was realized in Italy and created with the help of Domenico Raimondi and Andrea Mantello of thesignLab by Laura Antonelli and Alessandro Antonelli from design studio A-OneDesign.
Though the ice bucket mainly intends to depict an ambiance of plentifulness, luxury and sophistication, it also comes with many practical features that make wine-serving more convenient to both the servers as well as the guests. By providing all the wine-drinking goodies, accessories and accompaniments in one single place that can be brought out by one servers in one single trip, the ice bucket allows guests to avoid the intrusion and presence of many servers in their proximity (which can be really bugging when you're trying to enjoy the beach with your special someone and find your romantic conversations interrupted by the coming and goings of the resort staff!). The ice bucket is also a real time saver for servers who can hold onto the whole things via two convenient and sturdy handles provided on either side that makes carrying the load easier without having to worry about the glasses toppling over from the serving tray they are carried in.
Via: Behance