People want everything to get a touch of luxury in this technology driven world. This has forced designers to come up with products that will pamper the soul of tech-savvy generation. One of the most important electronic devices that have the capacity to attract and entertain people is the television. They can be placed in the bedroom, living room and even a kitchen. Then why not install one in the bathroom? But, how do you know which is the right television for your bathroom that won't burn up when you romance with water. Here is a list of eight bathroom TVs that will let you enjoy your favorite show, and even bath at the same time.
1. Aquavision LCD TV: TV for your Bathroom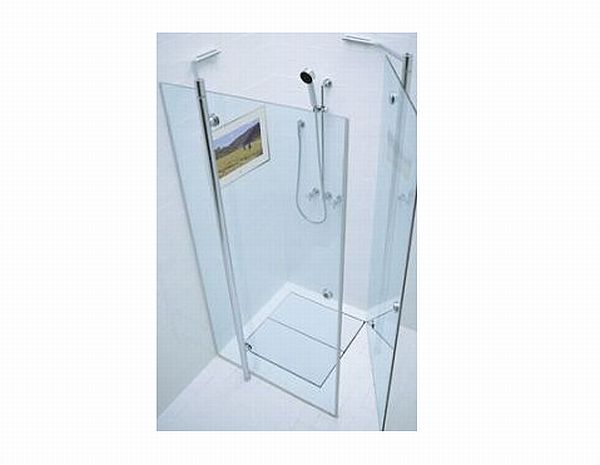 If you crave to watch TV even when you shower then LCD TVs by Aquavision will leave you in a happy-clappy state. The televisions are waterproof and can be wedged near a shower area, Jacuzzi and even near the pool. The screen won't get steamed up so worries about a clear view take a backseat. One can choose from screen sizes 10.4, 17, 17 and 23 inches keeping in mind the size of the bathroom. Even the remote is waterproof and will float like the pool toys.
2. Luxurious Infinity HD-Ready Bathroom TV, by Techvision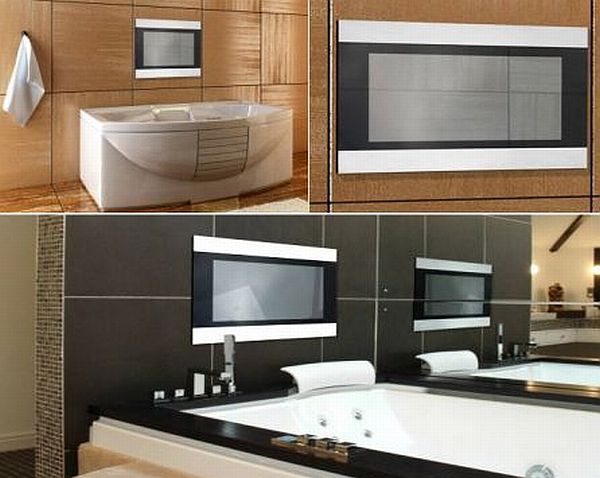 Do you have to miss your favorite serials and music shows while taking shower? Fret no more! Techvision is out with Infinity HD-Ready TV especially designed to be fitted in bathrooms. The television is available in three different screen sizes and can be positions in any corner of the bathroom. It has waterproof casing and also heated screen glass that makes sure the screen never gets steamed up. It has a contrast ratio of 700:1 and also comes with an analogue tuner.
3. SPLASH Bathroom LCD TV with iPod Dock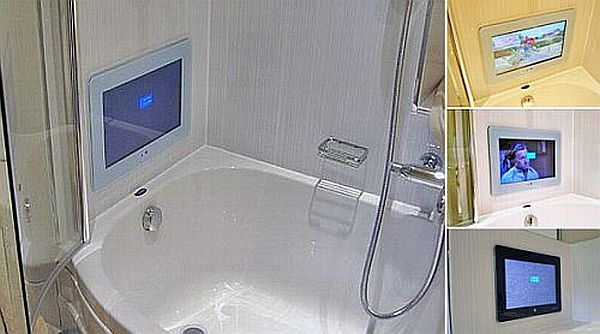 Get ready for some wholesome entertainment with the SPLASH Widescreen Bathroom TV that comes complete with an iPod Dock. It has a vertical and horizontal viewing angle of 176 degree and a docking station for your MP3 player/iPod. The good-looking television will fill your bathroom area with richness and unfurl sumptuousness. The TV has a heated screen and is accompanied by a water resistant remote control that can be used while sitting in a bathtub as well. SPLASH Bathroom LCD TV comes stashed with a price tag of $3500 and can be chosen from a variety of colors.
4. Hoesch SingleBath bathroom suite – Mirror TV Cabinet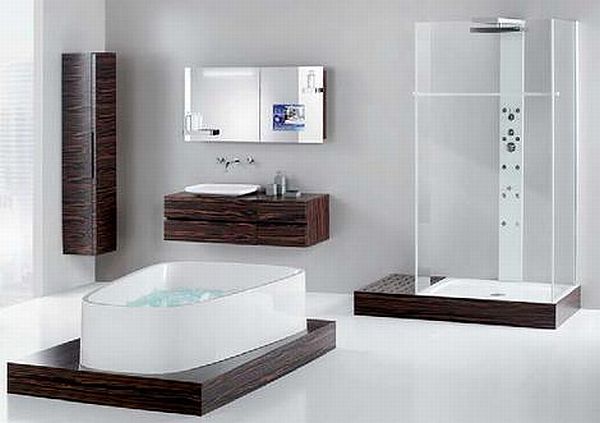 Get ready to soak yourself in ultimate luxury with the Mirror TV Cabinet. The collection is nothing less than a masterpiece and will help soothe those frazzled nerves the magically way. The Mirror TV Cabinet will arrest attention and fetch countless compliments for you. It will leave visitors in a state of awe and make them crave for a similar feature in their bathrooms. The TV is a part of Hoesch SingleBath bathroom Suite that will add a streak of luxury and transform the whole area in a wink.
5. Waterproof Bathroom TV with Fog Free LCD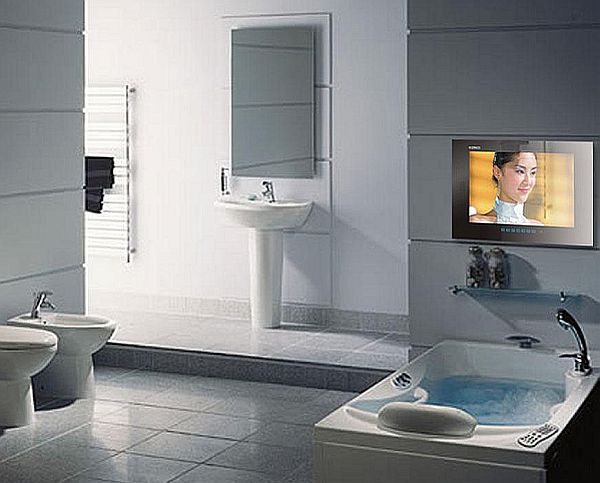 Make you bathrooms sprinkle luxury by installing a Waterproof Bathroom TV that has a fog free LCD. The TV comes complete with a waterproof control so that you can even operate it when your hands are wet. The eye-catching TV will double as a mirror that will in turn save space and money spent on a mirror. So, if you want the inside of your bathroom to look as stylish as the other parts of your house then getting a Bathroom TV will prove to be a wise idea.
6. Seura Bathroom Mirrors with TV Brings TV to your Bathroom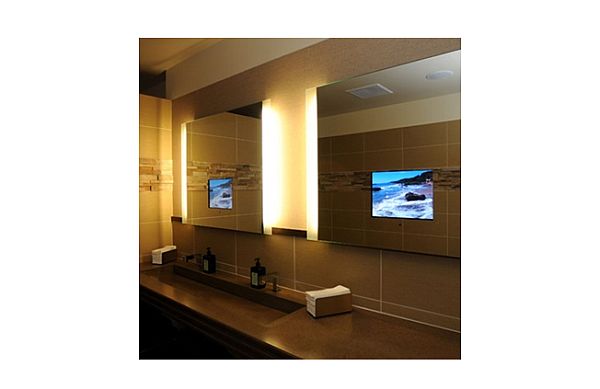 A bathroom is incomplete without a mirror and making good use of this fact is Seura that is out with bathroom mirrors with television. Swap your mirror into a TV in no time and enjoy all your favorite TV programs. Seura Bathroom Mirrors with TV can be customized as per a user's whims and fancies. The screen measures 19 inches and rank high on the quality graph. The product comes in two versions: Vanishing TV (the television becomes invisible when switched off) and Non-vanishing TV (the television remains visible always).
7. 22 inch LCD TV with Mirror Screen in a Bathtub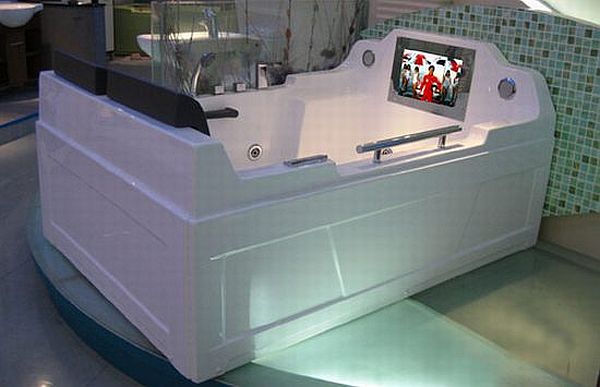 Ornament your bathrooms with a 22 inch LCD TV that will cost you $1400 USD. The waterproof option has two chrome loudspeakers that will escalate the overall viewing experience. The LCD TV with a mirror screen has embedded terrestrial tuners and freeview. It comes complete with AV inputs and HDMI ports so that you relish everything by coupling the transmitter with the SCART socket.
8. This Hi-Tech Bathroom Design from Ideal Standard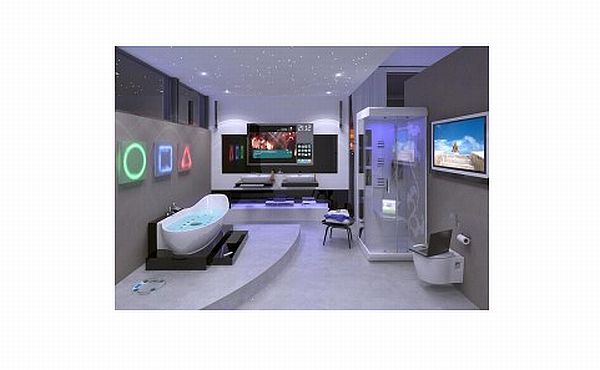 Get the dose of entertainment inside your bathroom with television fittings from Ideal Standard. People are making bathrooms an important part of their lives when it comes to wedging electronic items. They don't want to part away from their beloved gadget even for a second that has given birth to waterproof televisions. So, install one inside your bathroom and relax while watching your favorite show without anyone's interference.