Given the era of advancement we all live in, it is not surprising to see such a unique gadget coming our way. You may have seen enough BBQs, which literally exploit the enormous amounts of space in your verandahs and courtyards. But, what you may not have seen till date is a small terracotta pot which encloses a BBQ grill within its bosom? Shocked right? Well, don't be, for this miraculous design is here to simply woo the living day lights out of you.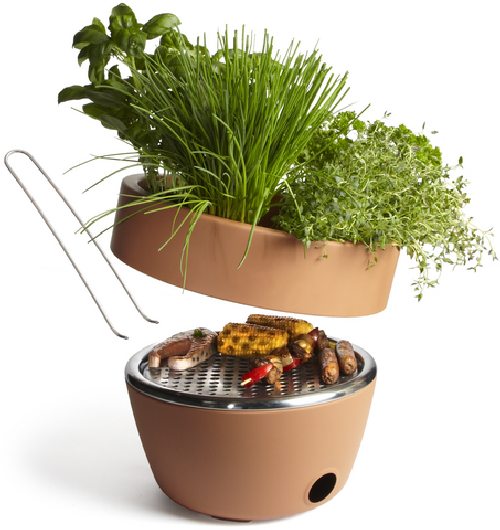 Designed by Black Blum, the $124 miniature device encloses a small metallic barbecue grill while the top has been conveniently covered with an area to grow plants. While you can grow plenty of herbs on the top of the pot, the bottom can be used to grill your meat and corn cobs. Definitely, a piece of metal which is out to change the way you grow and cook.
The structure of the pot is quite simple and does not command much space even. Ideal for small homes, the BBQ+terracotta pot comes equipped with a pair of steel tongs, a metallic grill gate and a hole at the bottom for the water to run out. With such an amazing structure and so much space conservation, the cute little BBQ is bound to be the center of envy for one and all. Ideal for almost all those houses which can't afford to have big bulky grills. The perfect ode to all BBQ's which have finally come up in the form of such a miniature version.
Via: Black-Blum/ DesignRulz