A bean bag is a sealed bag containing dried beans, PVC pellets or expanded polystyrene with various applications. The filling is held within the liner, the cover can be taken off with ease and washed in case needed. Bean bag chairs are comfortable and are great for a perfect home decor. They are available in fabulous fabrics and sizes, offering you a perfect fit. Special bean bags for children are also available to provide great seating fun for kids. Below, we list the seven most comfortable bean bags for you. These are also stylish and give a modern feel.

1. Jaxx Palermo Bean Bag Chair in Nylon Pebble
BRAND : Jaxx
PRICE : USD 200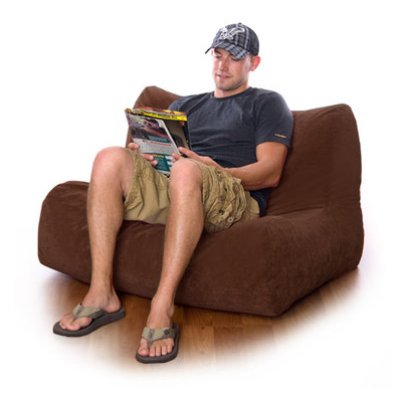 Jaxx Palermo bean bag chair is a nice comfortable chair providing classic look to your home. It clearly recalls the spirit of the sixties while meeting the modern day design needs. The proportionate measurements deliver free-foam seating with comfortable recline. The shredded foam filling is of furniture grade and defines quality. The channeled sections provide a perfect shape to the chair. This bean bag chair is packed with 28 cubic feet of polystyrene foam beads. It measures 36"L x 36"W x 27"H.
USP
Jaxx Palermo provides a legendary comfort with this awesome new package. The pretty shades of apple, dark chocolate, glacier, NY red make this chair more alluring.
PROS
Its cover can easily be zipped off for washing.
2. Jaxx Bean Bag Pillow in Pebble Cover
BRAND : Jaxx
PRICE : USD 230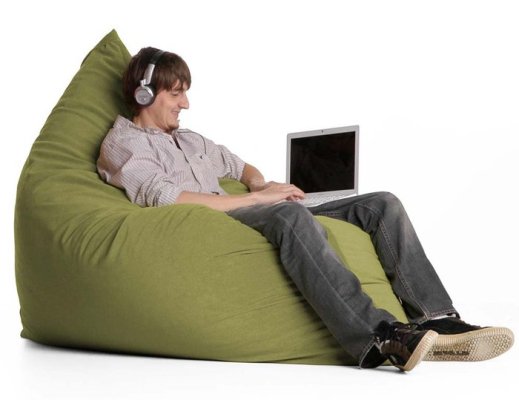 The Jaxx Pillow Sac bean bag can be your own personal throne. It can also be converted into a cozy seat for two. Flatten out your belly, straddle it to play games, watch TV or even surf internet, all can be done in complete comfort. This pillow bag has the greatest advantage of being flattened to form an impromptu mattress. This giant bean bag chair is made of 100% recycled/shredded furniture grade foam. The exterior is composed of deluxe machine washable pebble textured microfiber.
USP
This Jaxx bean bag is loved by kids, teens, adults and even pets. It has a specialty of being molded into any kind of seat.
PROS
It never needs refilling.
It is 100% environment friendly.
3. Big Joe Bean Bag Chair
BRAND : Big Joe
PRICE : USD 29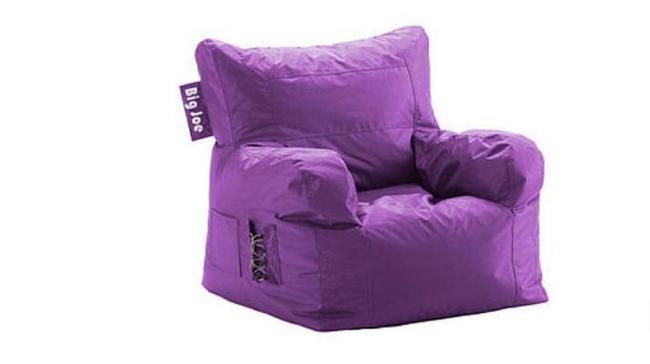 The versatile Big Joe Bean Bag chair is stylish and can be sited in any room. This club chair is styled into a comfortable bean bag. The bean bag chair is made with a tough waterproof SmartMax Ballistic Fabric. This provides a durable, easy to clean, along with an elegant finish to the chair. The UltiMax beans fill the interior, making the bean bag long lasting and 20% more dense than the regular polystyrene beans. A handy cup holder and a side pocket are also provided to keep your favorite drink, book, remotes and other accessories. Just relax and enjoy playing games on your console or watch TV, on this comfortable lightweight chair.
USP
An easy to carry advantage of this bean bag makes it easy to move, while double stitching and double zippers add to the strength and safety of this item.
PROS
The fabric is nice and tough, yet soft.
A perfect product with a good value for money.
4. Slump Bean Bag in Everlast Faux Leather
BRAND : Cozybag
PRICE : USD 125.77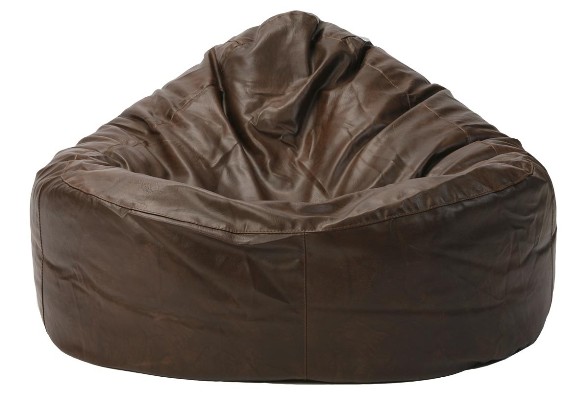 A product to fit the new 'designer living' ethos by Cozibag, this slump bean bag designs your living space with style and comfort. It is filled with polystyrene beads which provides higher density to the chair along with being fire retardant. The outer surface is made from the elegant and everlasting faux leather. The low profile and sleek contours makes the Slump excellent for stretch out. The chair is big enough for adults and sits beautifully in a corner of your prolific apartment.
USP
This slump bean bag is packaged with a three year guarantee and also acknowledges you with a half-price top up bag.
PROS
The polystyrene beads has a prolonged life by reducing compression.
It is strong and comfortable.
5. Jaxx Lounger Jr. Bean Bag Chair
BRAND : Jaxx
PRICE : USD 112.99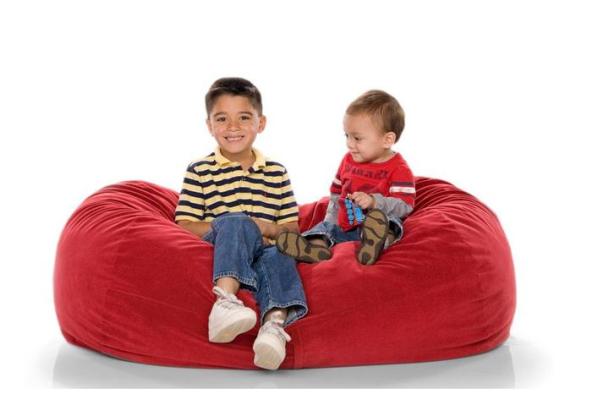 This bean bag chair is exclusively developed for kids. Enjoy story time, play with them and pamper them with this smart and supportive foam chair. Filled with furniture-grade upholstery urethane foam and covered with soft polyester microseude cover, this bean bag chair is built for comfort both inside and outside. The chair is comfortable and does not sink to the floor, unlike other bean bags. The removable cover is also available in bright striking colors and lush fabric to provide a touch of change to your child's life.
USP
The Jaxx Lounger Jr. Bean Bag Chair is equipped with an interior zipper lining to protect the foam contents from the reach of children.
PROS
The cover is 100% machine washable.
It is versatile and can easily accommodate three kids together.
6. Slouch Bean Bag in Everlast Faux Leather
BRAND : Cozybag
PRICE : USD 157.6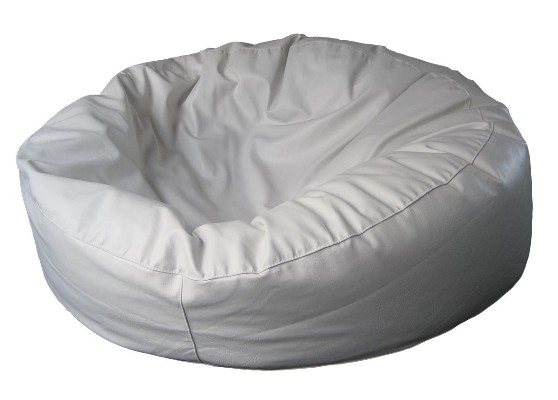 Slouch into this bean bag for a luxurious imitation or each time you want to get away from the hustle of life. Its low profile, sleek curves designed in modern-retro style makes the bean bag interesting and a great alternative to traditional furniture. The interior is filled with lifelong polystyrene beads while the exterior is covered with Everlast Faux Leather, unique to Cozibag Bean Bags. The leather is so strong that all products in similar range come with a three year guarantee.
USP
This slouch bean bag comes in two sizes and features a triple top-stitched seam for a modern and unique look.
PROS
Available with unique discount code for a top-up bag.
7. Jaxx Lounger Beanbag Chair
BRAND : Jaxx
PRICE : USD 319.99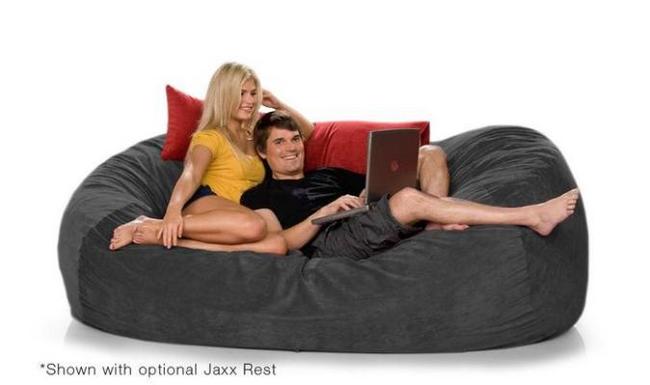 Portable loveseat and a perfect recliner, characterize this lounger bean bag chair. Not just one or two, even three people can be comfortably seated on this chair. Measuring 90″ x 36″ x 36″, this bean bag is made of 100% recycled/shredded furniture grade urethane foam covered in soft microsuede. This 7.5ft big bean bag offers a great support for lounging or sleep. Available in a large range of colors,it allows you to match it with Zak Crash Pad or Floor Pillow.
USP
This bean bag Lounger is very versatile to fulfill all your requirements, right from a small nap to perfect backrest while watching television.
PROS
Manufactured with the best quality available.
Stylish and innovative design.
Ensured satisfaction.