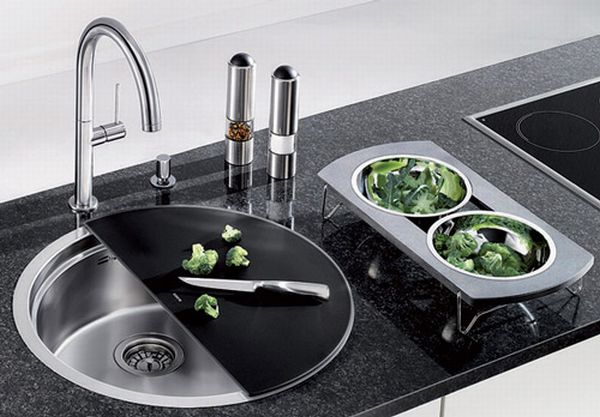 A washbowl is an extremely useful addition to your kitchen and if you buy a well thought out design then you will definitely be able to ease out workload in the kitchen. Utilitarian designs that have cutting boards, platforms, two sinks, waste baskets, colanders and many other useful accessories have been integrated with the design of sinks nowadays. From swish to plain, every type of model is available in the market. Here are a few cutting edge designs from Blanco that you will love to have in your kitchen.
Multi-Purpose Sink Designed by Blanco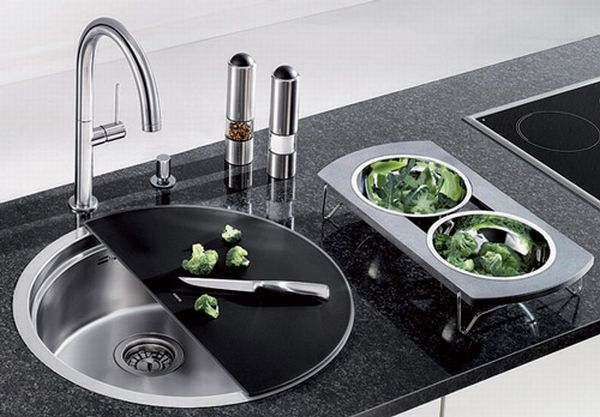 Isn't the round shape of this sink just divine? You can place so many utensils inside the deep and spacious bowl. Moreover, the thoughtful piece comes with add-ons like a glass cutting board and a bridge that has two stainless steel bowls. Both the accessories fit tightly on top of the sink and can also be rotated while they are fixed. Both under-mount as well as flush mount installations go with this washbowl.
What's unique?
Blancoronis comes to the rescue of any busy cook. There is no need to hold the fruits and vegetables when you wash them under running tap water. You can easily place them inside the bowls of the glass bridge while they are cleansed with water. Your island will not be messy anymore as all vegetable peels and ends can be easily collected by fitting the glass board on top of the bridge.
Blanco Lanis 6S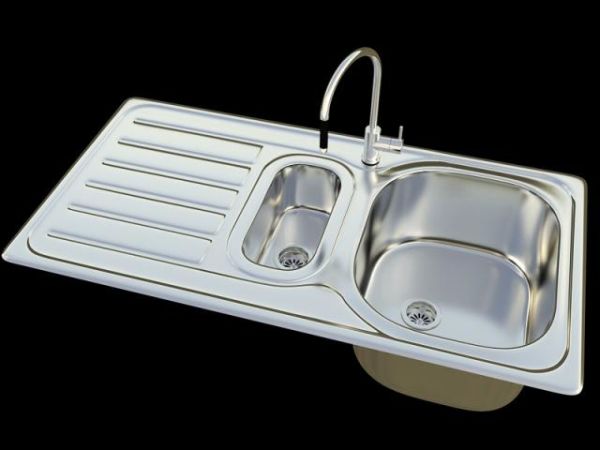 Price
$15
This useful stainless steel sink has enough space for all your needs. The width of the entire piece is around 60 cms. The main basin is quite deep and can easily accommodate large boiling pots. The smaller bowl is actually a colander. It also has a pop up waste kit.
What's unique?
This practical design separates your small sized cutlery like knives, spoons and forks from the bulkier pots and pans. Place dirty vessels on the platform nearby, which also comes handy when you are scouring the dishes. You can separate soapy utensils from the ones you have rinsed with fresh water by placing them in different areas.
Blanco Favos Silgranit Kitchen Sink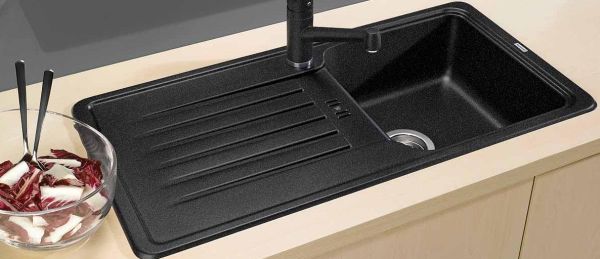 Price
$319
The dimensions of the entire sink along with the flat platform are 860 by 435 mm. The main sink measures 332, 365 and 150 mm in height, width and depth. While, the girth of the cabinet is 500 mm. Also available with this sink is a 3.5 inches strainer waste basket. This one is a really good choice for a modish home.
What's unique?
If you have a colored island or some colorful fittings in your kitchen, then this washbowl will be a good fit for your cookery. The picture above shows it in a black color but the bowl is available in other hues as well. You can choose alumetallic, champagne, anthracite or even coffee for this sink.
Blanco 501-304 Spex Plus Single Bowl Undermount Kitchen Sink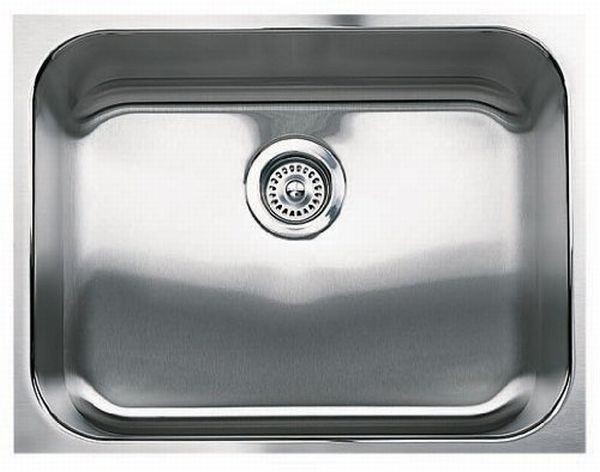 Price
$160
The 15 pound sink measures 23 inches and 18 inches along the sides. The 18 gauge steel sink has undermount installation and comes with mounting hardware. It is actually made from heavy gauge steel, which is of type 304 and contains 18% chromium and 8% nickel. The design of this sinkage is practical and easygoing so will suit the look of most homes.
What's unique?
The satin finish of the sink looks quite neat. This satiny veneer also makes the sink durable and easy to clean. The basin is really roomy and can easily accommodate large cookware or a whole stack of dishes when you have invited guests over. It has length of 18 inches, breadth of 23 inches and height of 8.5 inches.
Blanco 440235 Blancosupreme 1-3/4 Bowl Undermount Kitchen Sink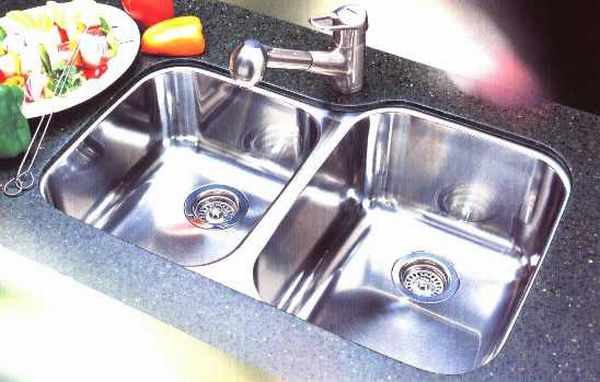 Price
$536
The 18 gauge stainless steel sink has an 18/10 Chrome/Nickel content. The durable piece comes with a lifetime warranty. The piece is for undermount installation and clips for fixing it in place are provided with the package. About 33 inches of cabinet space is required to mount the washbowl.
What's unique?
This is an excellent sinkage for heavy cooks. Two separate bowls have been provided to separate small items for larger utensils. Also, you can place dirty dishes in one and keep a bowl of vegetables for a wash in the other. You can also settle down delicate china in one sink and tougher metallic bowls in the other basin. In fact, one could come up with many uses for the two bowls. There is no doubt that these will come handy when you are going about your daily kitchen chores.
Kitchen Sink Blanco Claris 6 S + tap Gessi Quadro 3D Model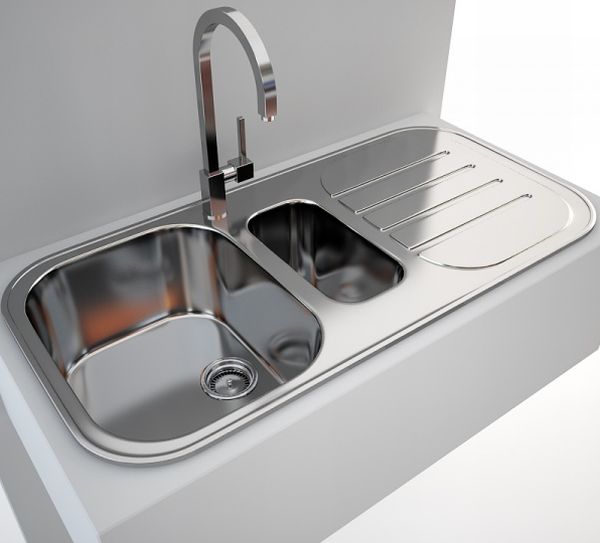 The butler you just hired in your posh pad will really appreciate the clever layout of this sink. This sleek design is also practical. This sink will totally go with a steel and glass kitchen or even the uptight industrial kitchen.
What's unique?
This utilitarian basin has all essential parts that you will need. There is a platform for sorting out stuff. Its spout also has an ergonomic design and the piece looks so damn cool.
Blanco Nova 5 S Silgranit Kitchen Sink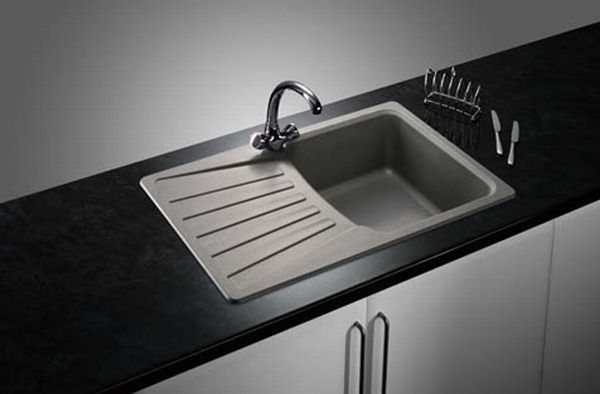 Price
$356
This neat design has a washbowl at one end and a platform on the other. The entire sink measures 860 by 500mm. While, the bowl it contains runs at 415, 420 and 190 mm along the sides. A minimum cabinet width of 500mm will be required for this piece. If you stay around the kitchen a lot, then optional accessories like a stack and crockery basket are also available with the piece.
What's unique?
This is a good design to go for if you have a swish pad. The sink is available in plenty of colors to go with settings of different hues. The bowl is available in tints like cognac, truffle, champagne, sand, anthracite, alumetallic, white, jasmin, coffee and silk grey. Moreover, the stripes darting across the platform are a treat for the eyes.