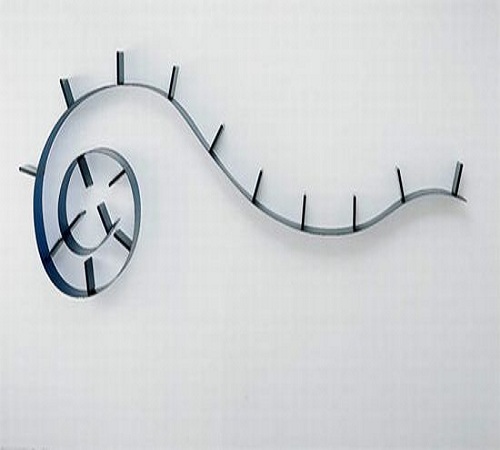 Whenever you think of a bookshelf, the first picture that swings your mind is probably a conventional rectangular style on the wall. As your home represents and talks volumes about your personality, you must make it a better place to live. One way is by a adding a beautiful bookshelf. It will not only help you organize your most treasured pieces but, will also display your great taste.
Kartell Bookworm Bookshelf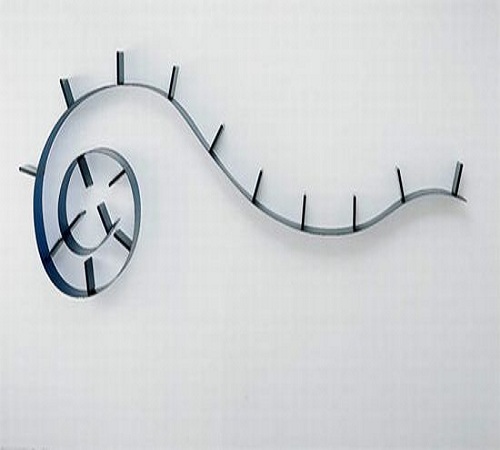 Designed by Ron Arad, the Kartell Bookworm Bookshelf can add a contemporary flair to your home. It is a flexible bookshelf that can assume any desired shape without compromising on its durability and functionality and is limited only to one's creativity. Fabricated of batch-dyed and fire retardant PVC, Bookworm features an elastic nature due to which it can fit and complement any environment. The product comes with a series of bookends, each capable of supporting up-to 20 lbs. Available in various colors and three different sizes, Kartell Bookshelf can rightfully be considered as one of the most daring and revolutionary designs till date.
Equation Bookshelf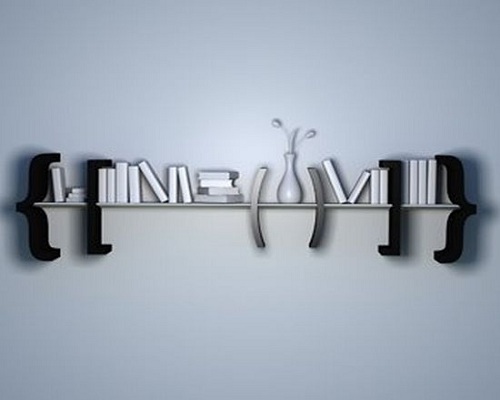 Designed by Estudio Breder, the Equation bookshelf is a unique one. As the name suggests, it is inspired by mathematics. The design allows you to create any calculation while you organize your books in an equation. The middle bracket can be used to keep an important item or a decorative piece such as a flowerpot or a picture frame while other shelves can be used to organize your books according to your preferences. The equation bookshelf is truly and extraordinary creation that will perfectly blend with any home décor.
Storyline Bookshelf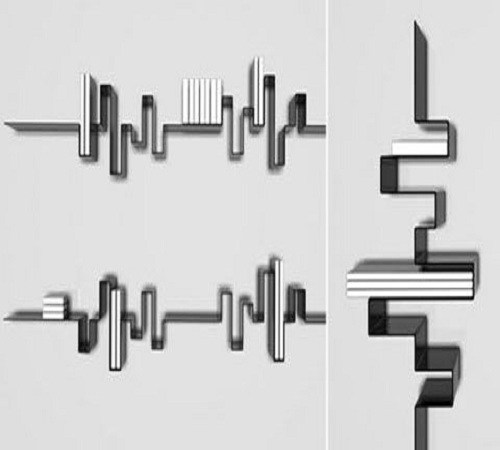 Sound waves find a physical identity in this elegantly crafted Storyline bookshelf. Designed by Frederik Roije, this bookshelf proves that not all shelving units need to be flat, straight, and boring. The shape of the product is inspired from the word "bliss" converted in sound waves, and then the physical structure is translated into powder-coated steel. A specific folding technique is used to create this beautiful, functional, and innovative bookshelf. Available in two dimensions and six colors, it is a great contemporary way to organize your books efficiently.
Skateboard Shelf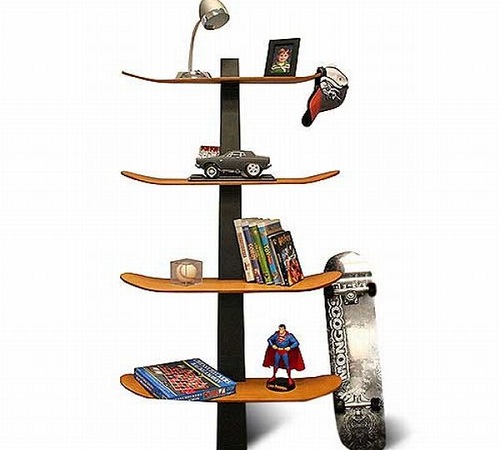 Whether a skateboarder or not, your kid will surely fall in love with this stunning piece of furniture. Made of four sturdy skateboards, it is unique design that can be used to organize the books in style. It offers sufficient storage and is a great way to jazz up your kid's bedroom or playroom. Available at a price tag of $ 40, it can be labeled as skateboard with a purpose.
Malus Communis tree-like shelf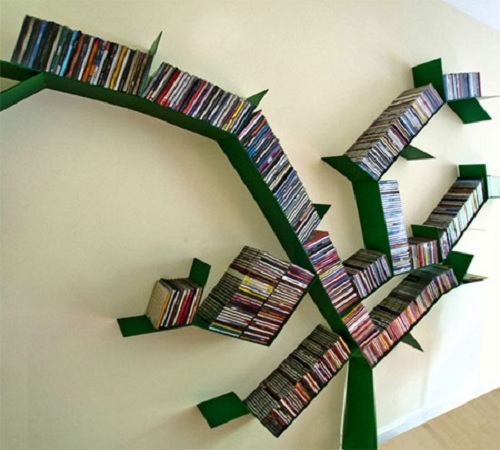 An innovative thought by Belgian studio Defact, this tree like shelf is an inspiration from nature. Malus Communis is made out of a bunch of green metal shelves placed in a way that they appear as branches of a stylized tree. Different branches can be used to organize different types of books, making it easier for you grab them. The shelf also features a built-in seat to enable you to consume the piece of knowledge in the shade of the tree.
Stacked Shelf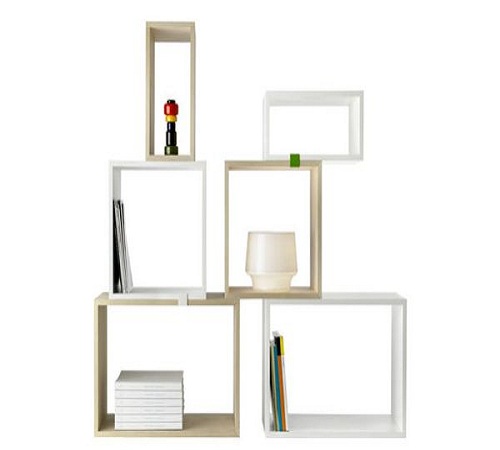 Stacked shelf by Mutto is an innovative shelving unit, consisting of three different rectangular units that can be assembled in infinite ways to create a great bookshelf. Each unit can be used separately or can be joined with others using a white clip provided with the product. It can also be wall mounted if desired. Constructed in MDF, this stacked shelf comes in a beautiful natural finish, and will surely complement any interior. Available at a price tag of £ 119.00, it can be bought online.
Spell Shelf by Da-Eun Song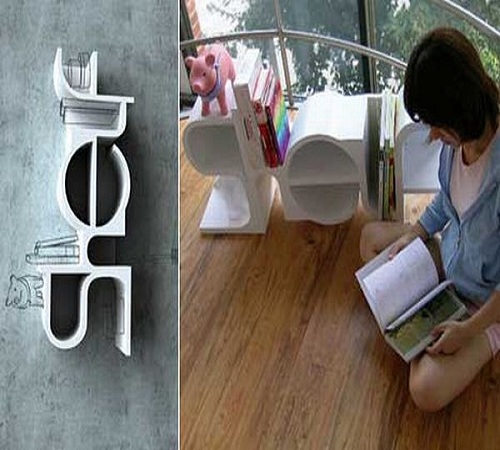 Designed by Da-Eun Song, it is an interesting design that spells out "shelf". Truly original and a contemporary concept, it can be used to display some of your favorite books. You can either place it vertically or horizontally on a floor or wall mount it to decorate a wall. Most suitable for smaller apartments, use this unusual shelf to amaze your guests.
Magnetique Shelf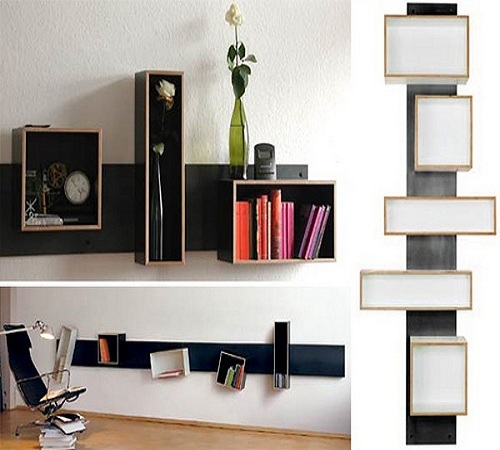 Designed by Nils Holger Moorman, Magnetique Shelf is great piece of furniture that can be mounted on the wall either vertically or horizontally. It is a metal sheet providing endless variety of possibilities. The package includes boxes made of birch wood featuring a superior quality durable foil magnet at the back that enables them to stick to the wall attachment. You can conveniently change the number and arrangement of boxes as when you desire, giving your room a new refreshing look.
FlexiTube Modular Shelving by Doris Kisskalt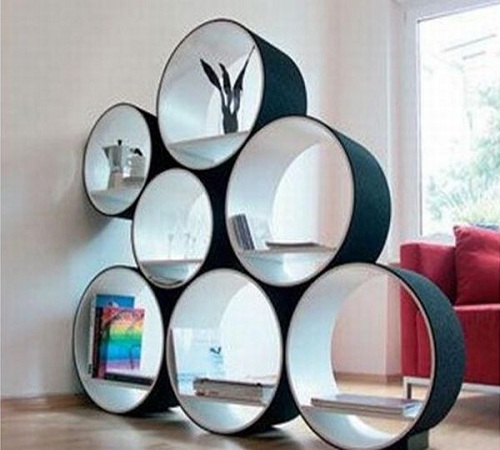 Designed by Doris Kisskalt, FlexiTube modular shelving is a creative, modern, and an unusual bookshelf design. It features various tube shaped units that can be stacked to form a unique arrangement. Each FlexiTube shelf has a horizontal bracket serving as a storage space. This spectacular design fits into any corner and is supported through its velvety surface. The FlexiTube is available in two sizes and can be assembled according to the room size and individual taste.
United States Bookshelf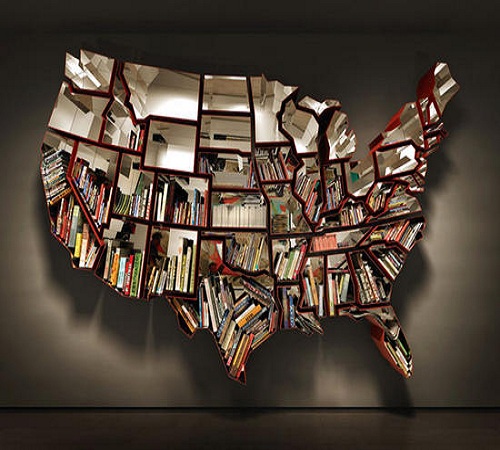 Inspired by the map of United States of America, this bookshelf is designed by Ron Arad. Truly awesome, it is only an art piece for now. Each shelf is an outline of US state and can be used to store your books in a creative alphabetical manner according to the letter of the state. This cool and innovative looking bookshelf has a slightly bewildering titled "Oh, the farmer and the cowman should be friends'.