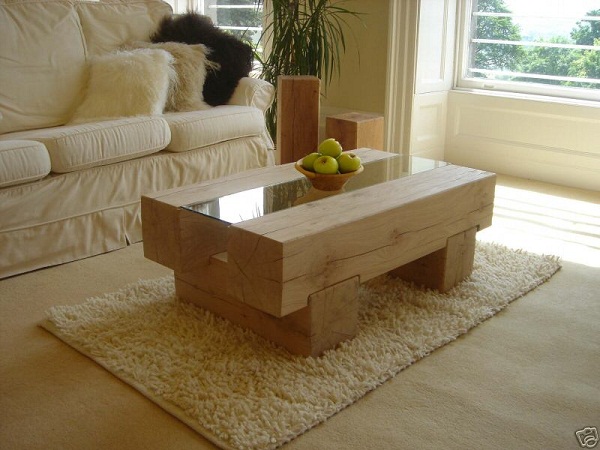 If your coffee table is good enough to win some admiration from your guests, we are sure you will be a proud possessor. Apart from getting compliments, a perfect coffee table can complete the interior of your home. This article is divided into two sections. The fist provides useful tips on how to choose the perfect coffee table for your home. The second is a list of oak coffee tables you can consider. Read on to find out more
Zeroing in on a coffee table that best suits your home
A coffee table is as essential for a drawing room, as a flawless make-up is for a model. A model without make-up looks incomplete, just like a drawing room looks incomplete without a coffee table. For example, when you put on make-up, you have to pay attention to small details; this is when it becomes flawless. Similarly, while choosing a coffee table; you have to pay attention to small details. The coffee table should enhance the look of the room by blending and fitting in perfectly. Moreover, tt has to match up with the other elements of the interior decoration.
It is an overwhelming task to select a coffee table, as one need to choose from a variety of shapes and sizes of oak coffee tables. You need to decide whether a wooden coffee table or a metallic table would suit better to the interior decoration. Besides the material, the shapes of oak coffee tables can bewilder you. Well, following are all the major points, which if you will keep in mind while buying a coffee table. These tips will help you to choose the best one that would compliment your home décor.
Shape
Visualize the space and shape of your room, and then decide what shape of coffee table is suitable for your home. If there are kids and pets at home, then go for a round or an oval coffee table because even if kids bump into the table, the curved edges would not hurt them. If the room space is narrow then a rectangle coffee table is ideal, as it allows maximum space on both sides.
Size
As far as the shape of coffee table is concerned, it has to be in strict accordance with the shape of a room. Another important aspect to take into consideration is the height of the coffee table, for an ideal height of the table you need to compare it with your sofa and couch, as the table should not be lower than 1-2 inches from the couch seat. 16-18 inches is a standard height of a coffee table but if your sofa is high then obviously you require a taller coffee table.
Material
Coffee tables come in a wide assortment of materials, which you can choose based on your individual preferences. The coffee table materials range from industrial designs made of metal, wood designs, and glass tops on brass or steel frames. The oak and maple coffee tables give a casual look, whereas the ones made of walnut and cherry wood are good to go with formal settings. If you crave for modern appeals then it is ideal to invest in Lucite designs.
Functionality
While choosing a coffee table, consider its functionality factor. Consider whether you want the table with a storage system also, or you can do without storage. There are coffee tables that have drawers and shelves to store stuff like magazines, small toys, etc. If you do not want any such storage, then go with the ones that can hold cups and snack plates with utmost ease and balance.
Balance
There has to be a balance between the coffee table and other elements of interior decoration, otherwise it can make the décor look awkward. Balance here refers to the visual weight, which is flawless when all the furniture matches one another in terms of weight and size. For instance, if you place a small coffee table amidst huge, chunky furniture, it makes no sense. On the other hand, if you place an elegant, small coffee table in front of a small couch or a sofa, it will definitely amp up the entire interior decoration.
Recommendations of Classy and stylish Oak coffee tables for your home
Shortlisted below are some gorgeous coffee tables that will fulfill your every need. Therefore, if you are planning to buy a new coffee table for your sitting parlor, you do not have to search anywhere else. Read all the descriptions and then decide which table will suit your style and interior.
East lake tobacco oak finish coffee table


The contemporary styled coffee table made of solid wood and veneer comes with centered glass top, nickel finish hardware and a couple of spacious storage drawers. Below the glass top, there is a display area where you can keep beautiful items. Because of its tobacco oak finish and straight lines, East Lake table can be a great addition to any living room. If you are going to buy online, remember it will require some assembly. Please keep some of the tools with you for that.
What's unique: It features a centered glass top, which makes it more attractive and admirable.
Rustic oak coffee table


Rustic oak table offers fantastic value for money and provides a rugged and stylish look to the interior. The furniture piece shown in the picture is a handmade rustic coffee table that has a centered glass and display space underneath that. The decorative and elegant piece of wood gives you a big space that allows you to organize things according to your need. This premium quality coffee table is finished with hand-applied oil to highlight the natural beauty of oak.
What's unique: The table is handmade finished with hand-applied oil.
Koi coffee table


Designed by Alan Flood, the Koi table is an experimental project that combines the use of art as well as furniture. The pointing that you see on the top of the table is a special creation using mixed media; especially acrylic. It features four drawers with cut out handles that you can use as storage boxes.
What's unique: This table comes with unique painting on the top created using mixed media.
Mission solid oak coffee table


The ideal combination of style and simplicity will surely enhance your home décor. Handcrafted using North American red oak and finished with an attractive medium cherry stain, this table gives you an ideal way to organize your magazines, books, remote controls and more. It features three drawers and one open lower shelf to provide ample space for storage. All these drawers use English dovetail assembly with reinforced bottoms. If you are interested in the dimensions, then it is 46 inches wide x 24 inches deep x 19.25 inches high.
What's unique: Handcrafted using North American red oak and finished with an attractive medium cherry stain.
Oak glass top coffee table with wolf etched glass


Built to provide beauty and durability, this oak coffee table comes with individually etched glass top done using modern technique to ensure your enjoyment for years to come. The octagonal table shown in the picture is completely assembled for your convenience. This table created with exceptional artisanship using solid oak adds an eye appealing and unique art accent to your décor.
What's unique: Comes with wolf etched top glass
Olde regal oak coffee table


This charming table has the ability to add instant sophistication and character to your décor. Oak tones in the table are eye appealing, warm and stylish that gives it a elegant look. It provides a practical space for storage and organizing your miscellaneous items with a timeless stunning look. This sleek furniture has a smooth top that provides enough space to keep drinks, etc. Apart from that, a bottom shelf also gives you the extra bit of storage space. If you want to know the dimensions, then it is 86 cm (w) x 60 cm (d) x 45 cm (h).
What's unique: Features two shelves for extra storage capacity.
Burr oak coffee table


This is a custom made piece of furniture by Mawdsley Williams. It is a round table with one drawer;and is a perfect addition to your lounge. The materials of this table consists of different kinds of oaks. For example, the use of bog oak helps to give it the fine detailing while the burr oak shines out because of the veneer. It also has a drawer that is made using hand cut dovetail joints. the use of AC Lacquer helps to give it a fine finish along with enhancing the durability factor of this table.
What's unique: The oak used to build the table belongs to approximately 3000 BC.
Newark solid oak coffee table


This beautifully crafted table built with 100% oak gives you a fantastic value for money. The simple and attractive table is expertly handcrafted from the finest timbers of solid oak. A natural wax finish is given to maintain the original beauty of the wood. Whether you keep it in your living room or guest room, the versatility and style of the coffee table cannot be beaten.
What's unique: The table is very simple yet stylish and can suit any kind of décor.