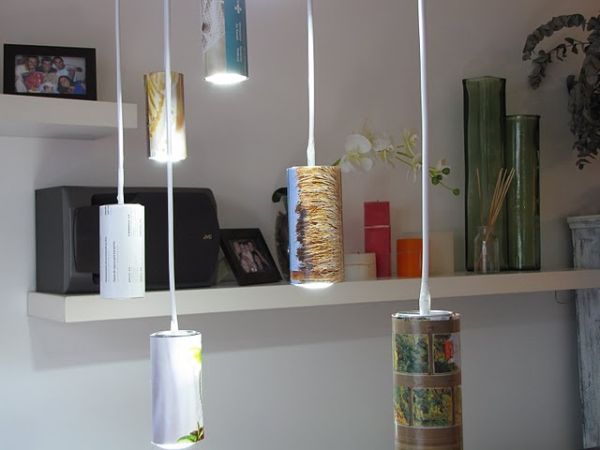 When you visit various showrooms which sell different types of lights and lamp shades, you always wonder if you could make those on your own. How about some eco-friendly lights made from trash and things you usually throw away? Designer Bruno Marsiglio designed some really fantastic lamps from beer cans and some magazine pages. He spent money only on the LED bulbs and the connection wires that lit the lamps. Vinyl adhesive was used to coat the wire which came out from the top of the empty beer cans.

The lamp is made of empty beer cans. A hole is drilled on its one end which holds the bulb holder and the wire. The LED bulb is fitted to the holder inside and the holder is fitted in the beer can. The other end of the can is cut open so that light can focus from below.
Then some old magazine pages are wrapped around the can. Since the old magazine pages are colorful and glossy, they make wonderful pattern and give off good color when the lamp is lit.
The wire which come out from the top is covered with vinyl adhesive and gives good looks. Now you can hang these lamps anywhere from the ceiling, from barricades of the stairs or anywhere where you want a focused lighting.
You can even attach colored LED lights to give some color to the room. Hang these lamps over the dinning table and they would give some nice soft light when you have dinner.
The lamps are very eco friendly as they are made from trash and things which are piling up on the earths face and do not get recycled. Recycling materials and using them for various things in the house, will help keep our earth a green planet. Beer cans are available in abundance, while magazines can be found anywhere from old book shop to a book auction.
Use them to decorate your house like the BMS design house has done through designer Bruno Marsiglio. It is a fantastic idea to light up your house with material which is of no other use.
Via: Recycleart