A room that does not have proper sources of natural light looks dab and dark. If space is not the problem, then you must focus on making beautiful openings to let in bright sun light. Window treatment can uplift the appearance, change the mood of a room, and make it look bright. Bathrooms are an important part of your home where privacy is essential. You can treat your windows in various ways to get both natural light and privacy inside your bathroom. If your home is under construction, then discuss the placement of the windows and the suitable height with the architect. Planning the window treatment and effect you desire beforehand can save you a lot of trouble. In the following, we have discussed some simple ideas to treat bathroom window.
Go organic: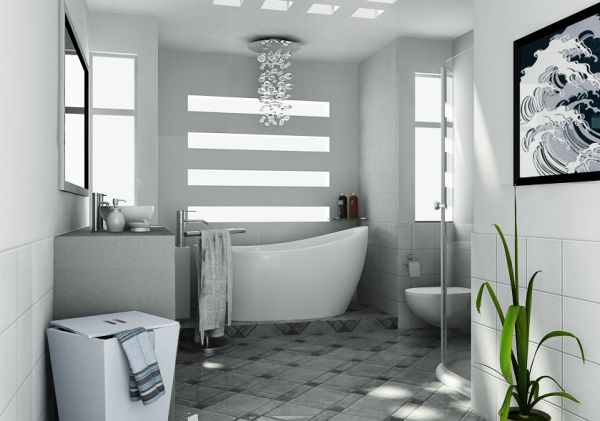 Are you a nature lover? Choose organic grass cloth wallpapers for your modern bathroom space and accentuate its beauty with natural fiber made shades. You can raise the shades whenever you wish to let in sunlight and increase the level of privacy while using the bathroom for bathing. Using organic elements in bathroom window treatment can give your bathing space a subtle elegance and they are eco-friendly.
Harmonize with patterns: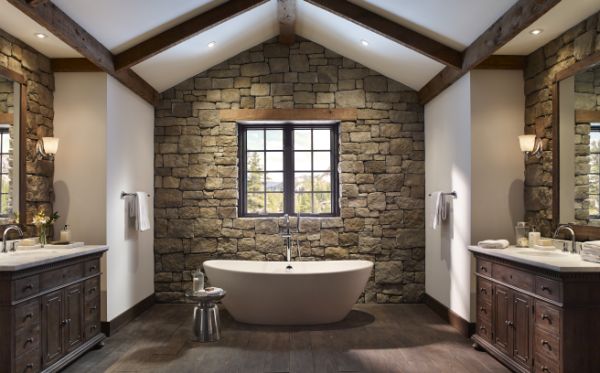 While planning your bathroom window treatment project remember that the fabric you choose and the patterns you pick must somehow match the rest of the décor. Fr example if there are a zigzag pattern on the stone floor of your bathroom then you can use a similar motif on the fabric shade for the windows. You can also balance out the monotony of an all white bathroom by using a black and white peak pattern for the window shades.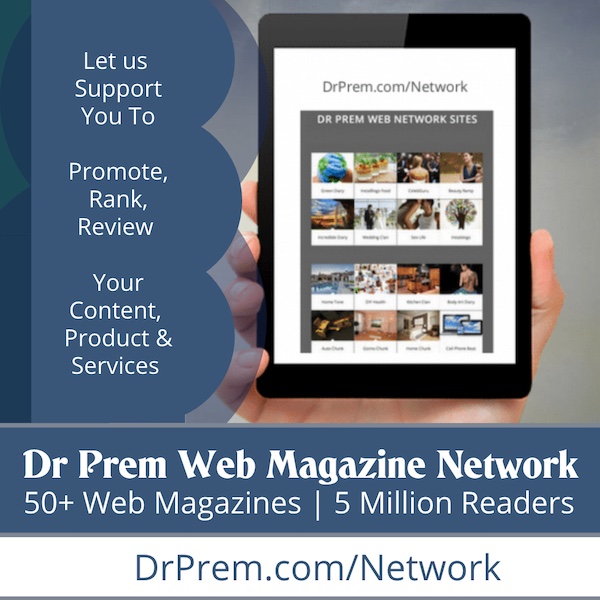 Create some waves: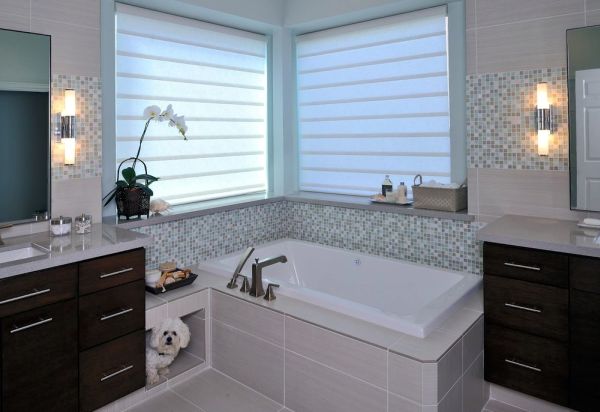 It is not always necessary to cover the windows with shades. You can pick an intelligent design for the wall and the frame of the windows to make it look stunning. Use a wavy design for one of the walls and get your windows built in the seaside style. Patterned opaque glass is the ideal choice for your seaside window. The waved wall compliments them as well. Extend the idea a bit and use the waved design on the ceiling as well.
Grandeur is good: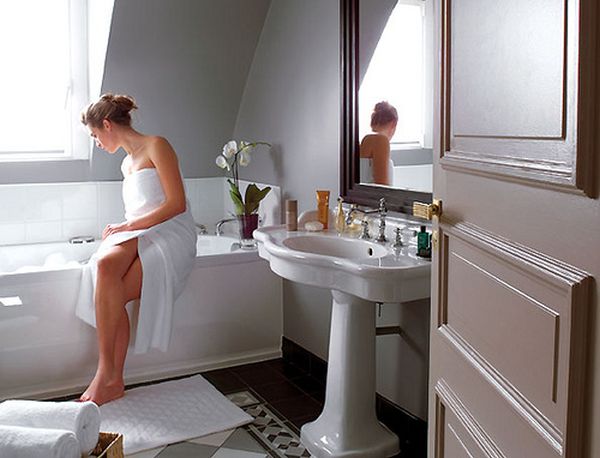 If your bathroom is spacious and has big windows, then drape it with luxurious materials. Experiment with fabrics, which exude a rich elegance like leather, suede, velvet and silk. Match the bathroom rug with the curtains to bring the different elements together and biding them. Embellishments, sparkly crystals and bead shades are also in fashion. Make copious use of two different materials for creating a lovely glam effect.
Keep it simple: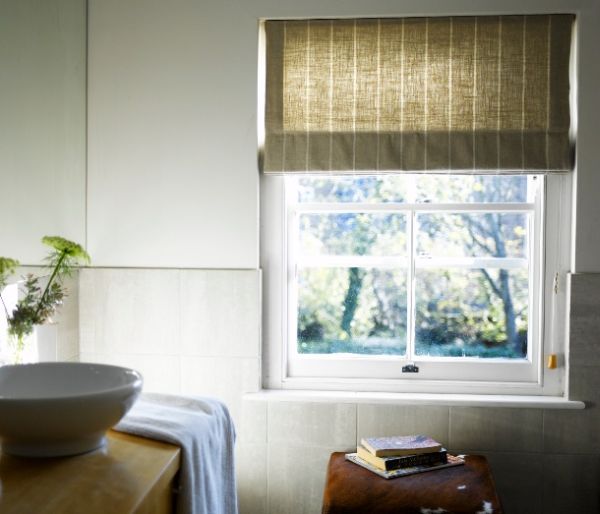 A modern, medium sized bathroom will look good if you use simple yet trendy lines and patterns. Lustrous yet clean designs for the windows make them more attractive in a limited space. Panel track treatments bring out the elegance of your windows without crossing your budget limits.
Play the game of patterns: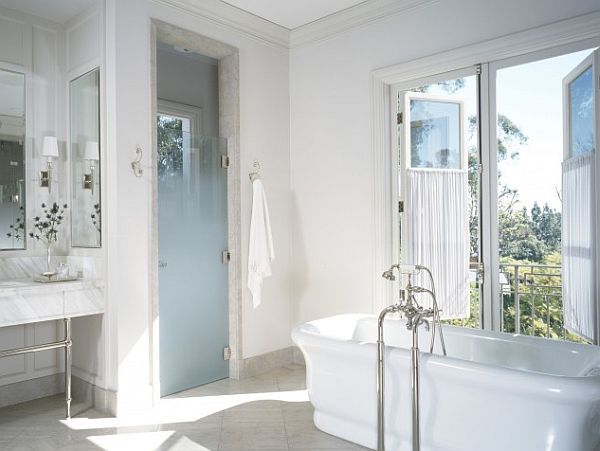 Bold prints in vibrant pastel shades like lemon yellow or melon orange have become popular among homeowners across the world. Choose a lovely bold pattern for your window curtains and blinds in bright hues to make your bathroom look full of light and life. You may also use stripes as they are equally in vogue these days.
Roman is romantic: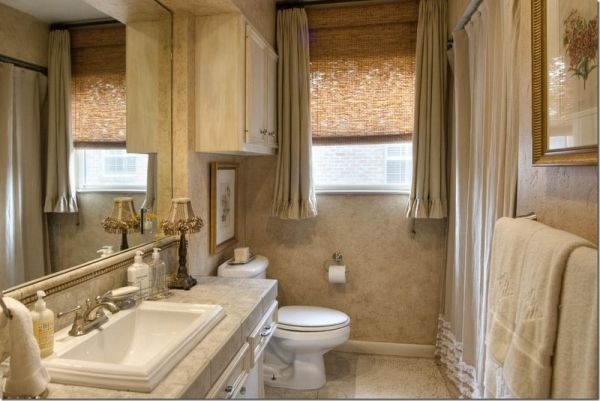 Roman shades look lovely and add a romantic flavor to the bathroom décor. Use soft pastel shades and soft materials like silk for giving your windows a regal treatment.
Summary:
Bathroom window treatment is the best way to give it a quick makeover economically. You can use many styles, prints and patterns on shades for making your bathroom look like a winner.