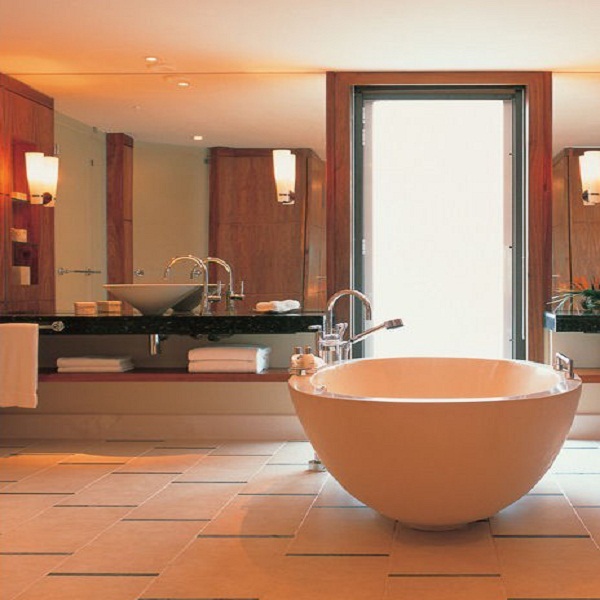 Who doesn't like a long warm soak in their bathtub after a tiring day? Going by the current lifestyle preferences, everyone wants to do this in style. Swish and dashing is not restricted to one's living area and bedroom anymore. The trendy ones like their bathrooms to be just as swanky. While in the bathroom, most people fritter time away in their tubs. A bathtub is the focus of your rest room. Moreover, the latest varieties are available in a slew of finishes like ceramic, stony, woody, metallic and even glassy. Hence, putting enough forethought before purchasing it is a must. A few classic designs have been compiled below.
Freestanding tubs from Victoria & Albert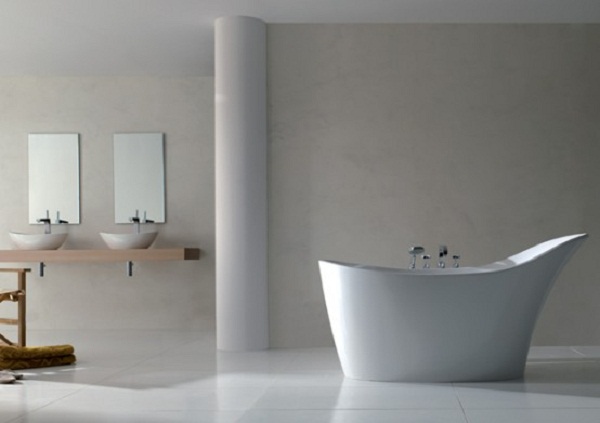 This neat looking piece with clean lines has been buffed up to look smooth and glossy. The simple and delicate outline will go well in minimal spaces. Just pair it with matching basins and your lavatory will make a statement. The all-white piece can work in bathrooms with neutral or colorful tiles. It comes with floor mounted taps.
What's unique: The tub is quite suave and will compliment hi-end homes done up in fiber glass or steel. It will match only with modern interiors. The tub can easily fit in two people at a time. Its raised head rest will be loved by those who like to soak for long hours.
Freestanding wooden bathtubs design in black and white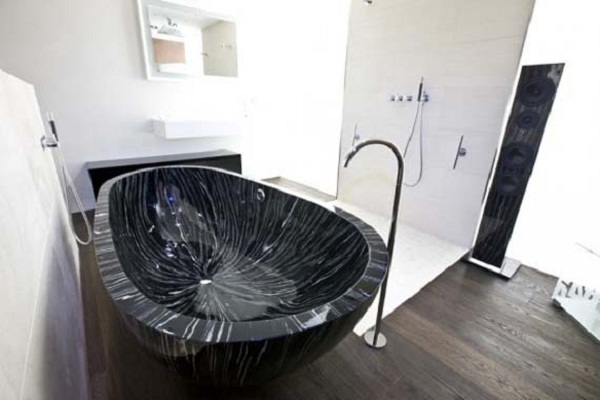 All white bath fittings are bygone, try out this cutting edge piece in black. Modernistic homes daubed in black will go for this tub. The unconventional tub is also a good choice for bohemian, shabby chic or Gothic homes. The egg like oval shape helps you relax while you are lying in it.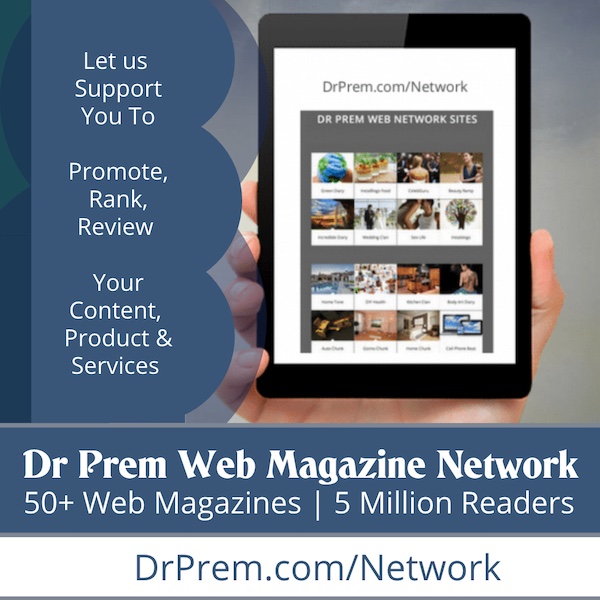 What's unique: The thin strands of white on the all black background give this piece a novel look. It will really bring out the look of black and white bath spaces. The tub is actually made from wood, which has been given a marble like finish.
Essencia oval freestanding bathtub by Bainultra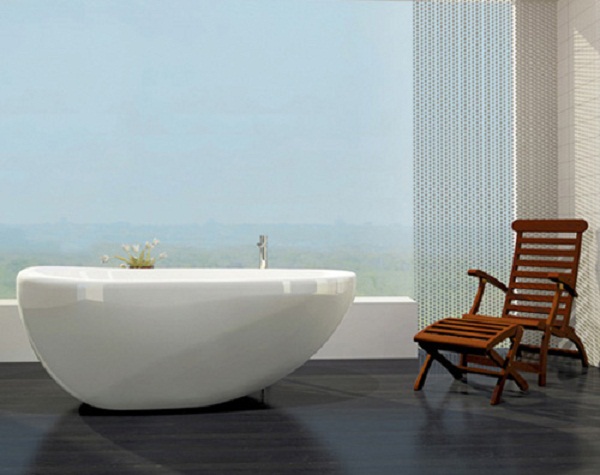 This good looking piece will really add to the look of finely modeled rest rooms. It has an ergonomic design and fits in functionalities that will make your bathing experience really comfortable. The raised seat, V shaped back support and footrest helps you to settle down. Pamper yourself with the hydro massage and chromatherapy. Use the control panel to tweak the settings to your liking by modifying the temperature and air jet pressure. You can also feed in the bathing time.
What's unique: The design is very easy on the eyes. Its silhouette is feminine and laid back. All you want to do is kick bath and take a long soak. You can also purchase accessories like massage table, relaxation chair and footrest to go with the piece.
Freestanding bathtub by Viaggi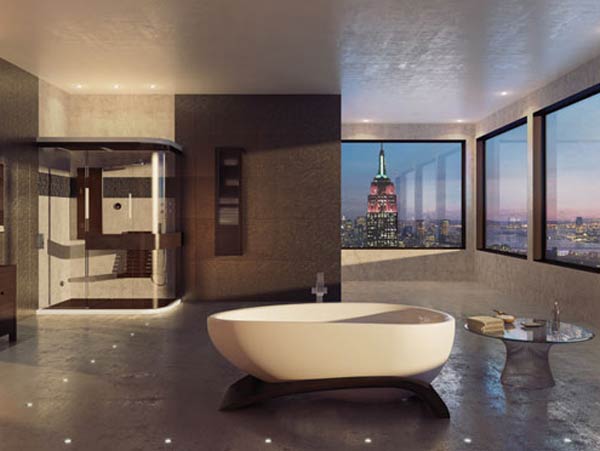 This genteel tub will literally romance your powder room. Set it out in a spacious bathroom and make sure you add in a few white accessories to go with the piece. The bathtub will look nice in modern streamlined bathrooms as well as ornate rococo ones. Rest a vase with fresh flowers besides the bathtub. Porcelain soap dispensers and glass bottles filled with aromatic perfumes will also compliment the look of this tub.
What's unique: A Roman bathtub by Maax, it has a distinct egg like shape that is broader at one edge and narrows down at the other end.
Ardore freestanding bathtub by Jacuzzi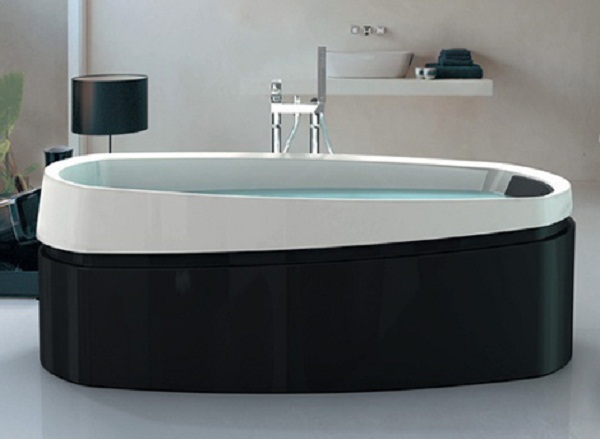 This is a great piece for black and white bathrooms. Its sharp white tone on the top meets the shiny black bottom half smoothly. In fact, you can use it to create a contrast with colorful settings also. It has a contemporary style and will easily gel with laid back bathrooms. The tub will lend a spa like appeal to your bathroom.
What's unique: If taking a lengthy dip is your thing, then you will love this piece. The tub is wide and deep enough for you to duck in completely. The gel backrest cushions you from behind helping you unwind at a leisure pace.
Custom freestanding bathtubs from KASCH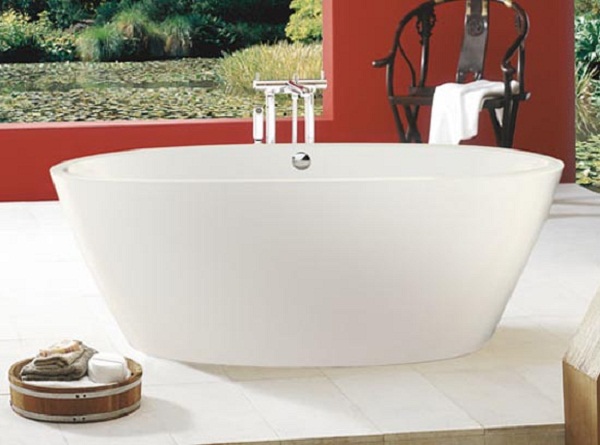 The wash tub has clear cut lines that are almost horizontal. Most pieces in the market are curvy and look very feminine, but this one is a tad different. For this reason, men, who like to take a hose down in tubs, will like the piece. The tub also has a graceful allure, which women favor a lot. To sum it up, the tub will find a lot of takers due to its androgynous quality.
What's unique: This washbowl dubbed as Conrad has a traditional seem and practical style. It will look good in almost any type of bathroom setting, be it old age or modern. This tub truly has a universal design.
Freestanding Whirlpool bath from Jacuzzi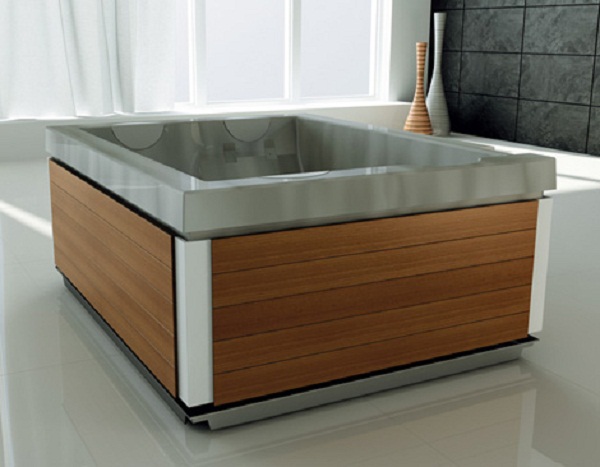 At the first look you will think that this is a tank, but the unique outline of the tub will eventually speak for itself. The age old rounds are passé and the time has come for people to dabble with something new. The tub is available in a variety of colors and finishes. Measuring 150 cm in width and 190 cm in length, the spacious tank can easily fit in three people. This whirlpool bath tub fits in a lot of utilities for people who like to chill out while bathing. Loll time away with the hydromassage and 14 jets.
What's unique: This tub is not just for indoor spaces, you can set it up in open air also. It will really jazz up the look of your terrace or poolside. You can purchase one in blue, white or black or go for one that has a leathery, woody or mosaic exterior.
Stone bathtub from Palazzo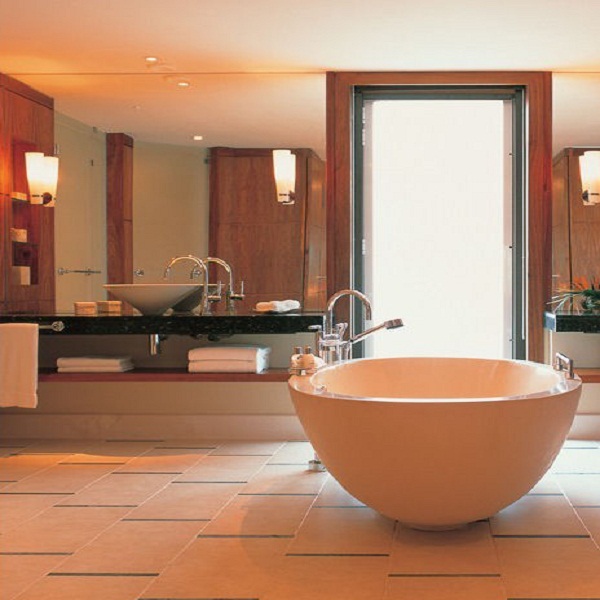 The beautiful ovular piece rests like a sculpture in your shower room. The handmade washtub oozes out a languid and lovely aura imparted by its skilled artisans. If you lead a busy lifestyle, then you should definitely go for this piece as you won't have to put in too much effort to maintain it. Splash in extremely hot or cold water without giving a thought as the tub can withstand temperature fluctuations. The tub will stay hygienic as its shell has anti-microbial properties due to the gel coating on top.
What's unique: If you like to take muggy hot rinses in your tub, then you will absolutely love this piece. The tub is made from a mixture of resin and marble chips, which hold heat within. Also, it is quite durable, even stronger than porcelain and ceramic.
Freestanding stone bathtub by Bathco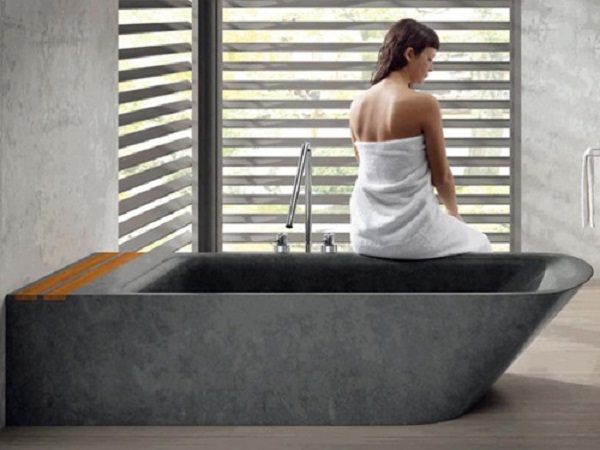 If you are bored of the pristine whites and curvy silhouettes, then pick this refreshing design for your bathroom. It will coordinate with spaces that have bits and pieces of stone or those decked with stonewashed accessories. The tub, dubbed as Simi, is a part of the Natural Series Collection from the company.
What's unique: Pick this one if you like soaping with balmy water. The stone retains heat for long hours keeping your bath water comfortingly warm while you sponge away.
Wooden bathtub from Laguna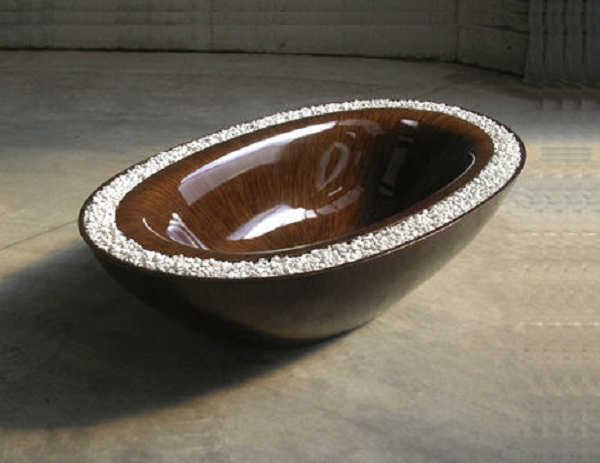 Nothing like the run of the mill designs you come across in every home, this washbowl has a lustrous brown veneer. Known as the Laguna pearl tub, it has a warm woody tint that is burnished to perfection. The shiny and lined surface has all the streaks meeting at a central point inside the tub. To enhance its earthy feel, rounded white pebbles have been laid out along the rim. The piece has a drain cover and chrome controls.
What's unique: The deep bowl like shape allows you to lie down comfortably and douche easily. The water will completely envelop your body and any extra flow will gush out from beneath the rim.
Aesthetically appealing chlomo chromotherapic bathtub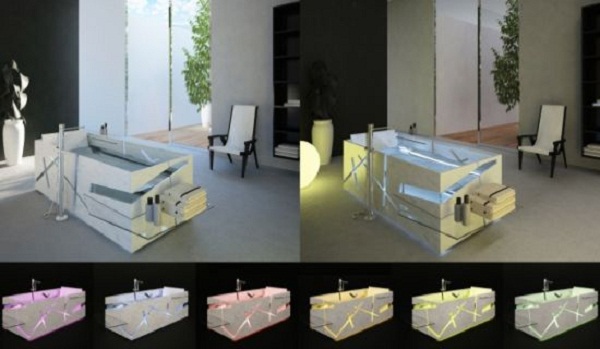 The lines running zig zag and a few ones jutting out from the edges will daze onlookers. Nevertheless, this new age design will find its share of fans. Cutting edge materials like glass, RGB LEDs and marble have been used to construct the piece. The inner frame is made from transparent glass, while the outer casing is of marble. Slits on the outer surface allow light to radiate out.
What's unique: The chromotherapic bathtub merges many different elements together effortlessly. Glam and utterly slick, this is a piece for swanky homes done up in metal and glass.
Orbis bathtub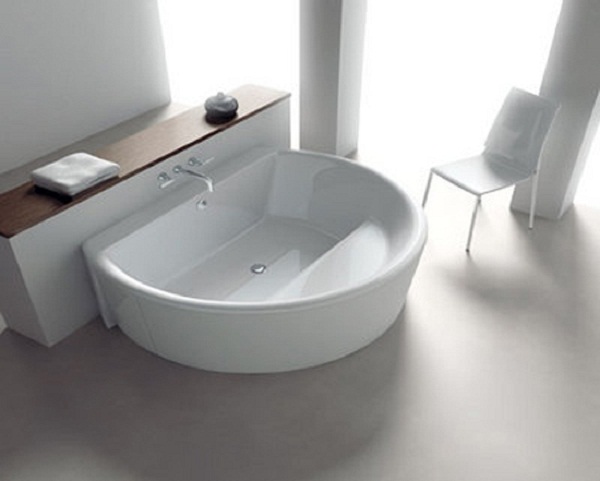 This is a bathing haven for sleepyheads. If you cannot open your eyes sufficiently wide before your morning ablutions, then you will appreciate the clever design of this piece. The tub is really snug. A rectangular scaffold has been carved out inside, which keeps your body straight when you are bathing. You will have ample of space to shift about due to the curvy rim on one side.
What's unique: The tub has one of a kind moon-like crescent shape, which is inspired from an orbit, the ovular path planets traverse along. It has been drafted by a German company, Koralle.