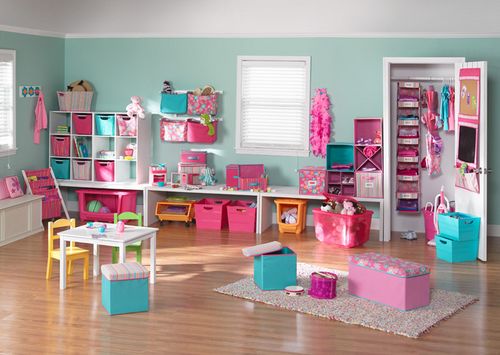 One of the most frustrating jobs in house-keeping is keeping children's room free from clutter. It is definitely worth every penny to invest in proper storage spaces. Whatever be the storage solution, it should be sturdy, smooth edged, durable and easy to maintain. Storage ideas have a two fold advantage. They keep the room tidy and more importantly, help children handle the responsibility of taking care of their toys and room.
Plastic bedsheet packaging makes great playroom storage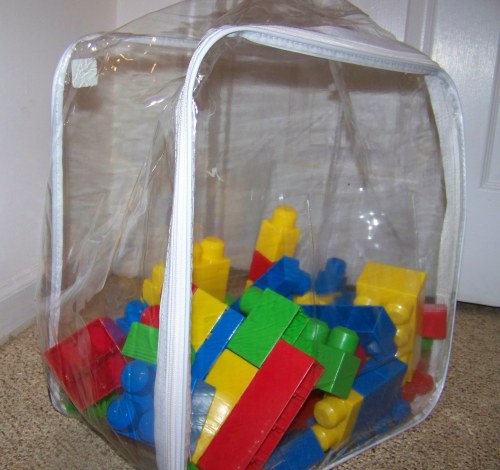 You needn't spend anything if you look around carefully. For instance, packing boxes and bags are great for storing toys like building blocks or other toys that lie scattered and are difficult to put back.The plastic bags used for bedlinen are square, sturdy and zippered. Superb for kids to throw things in and zip up. They can also be stacked to save space. Some moms use them for keeping artwork and scrapbooks with all the related materials. Being see through is another advantage. Kids can see what's in each of them without emptying the whole cupboard.
Furniture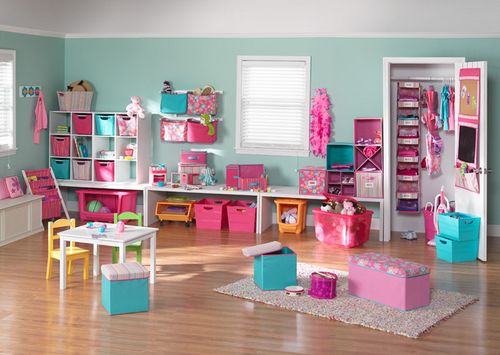 Choose furniture that double up as storage space. Desks and chairs are available in myriad designs. Choose desks meant for art with cavities for keeping materials from rolling off the desks. Some desks have inclined plastic trays or bins under them, or choose desks with cubby holes underneath for keeping stationery or small toys. Pinboard desks are useful for pinning up school schedules or projects with ample space on top of the board for stationery. All shutters can have hooks that are very useful for hanging bags. It is not practical to provide storing places that are not accessible or convenient for kids. Chairs that have a shelf for putting away activities are very useful for kids who resume their work after short breaks.
Storage Containers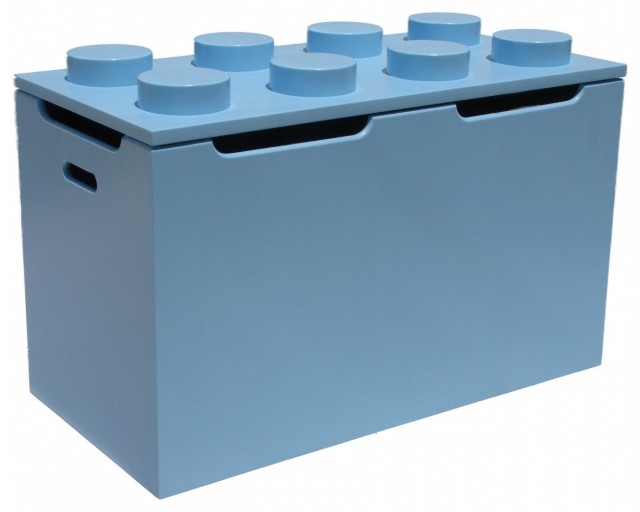 If you are conscious of using only environment friendly materials, go for big sturdy organic cloth bags. They are made from stiffened fabric with matching lining and have handles for easy movement. They are safe to handle and can be washed too. Otherwise large plastic tubs with lids can be used for bigger toys. Bongo buddies are fun options for kids. The colors and shapes of these tubs are so attractive that they can stand as part of the decor of the room. Help kids to manage the contents of the tubs with labels. Get clear plastic tubs with snap on lids for kids who spend a lot of time in searching for things.
Wicker Baskets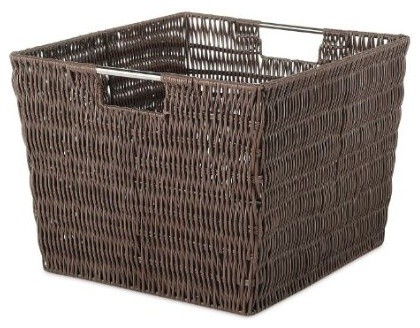 Baskets have been useful for storing things for centuries. Try wicker or plastic baskets with handles to pull and push easily. There are umpteen favorites that kids play with everyday or rather almost every hour like barbie dolls and their accessories, cars and lego blocks that are easy to pick up or drop when using baskets. Choose colorful baskets that can be displayed rather than hidden.
Shelving systems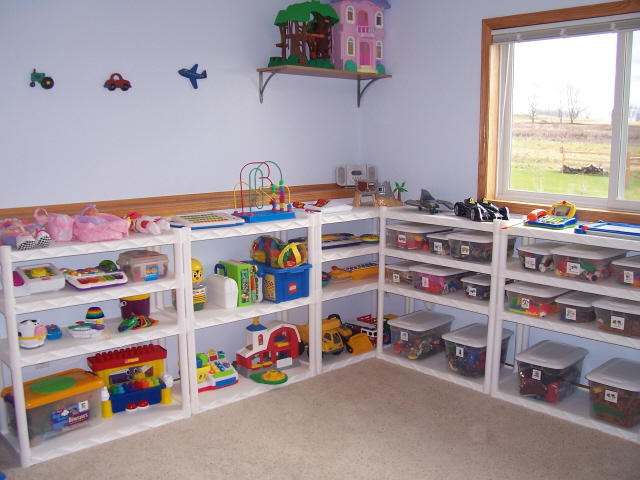 The best storage solution is the shelving system. Open shelves with storage trays or bins that roll out are amazing organizing solutions for toys. Cubby holes are fine but make sure you have different sizes to house tall toys or hang working clothes and deeper ones for art or indoor game boards. Designate each cubby hole for specific groups like art materials in one, school projects in another and so on. It develops great organizing skills in children. For books there are various types of shelves like mobile storage units, pocket shelves, double sided shelves and rotating shelves. Keeping books in order becomes a fun filled activity with these shelves.
Underbed storage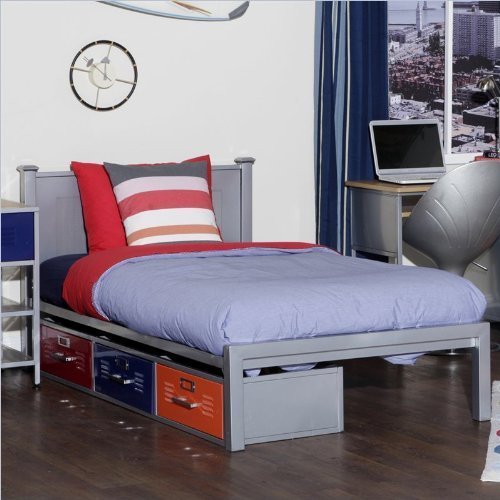 When it comes to children's rooms every inch of space is precious. Keeping toys and clothes organized and tidy gives them space to play or do activities that interest them like painting or clay modeling. The space under the bed can be well utilized. There are entire units for storage under the beds. Trunks made from wood or plastic are available in different colors and styles. Clothes, bed linen, books and toys can easily be stored and pushed under the bed where they become invisible. This is an interesting option if you find shelving systems expensive.
Toy storage boxes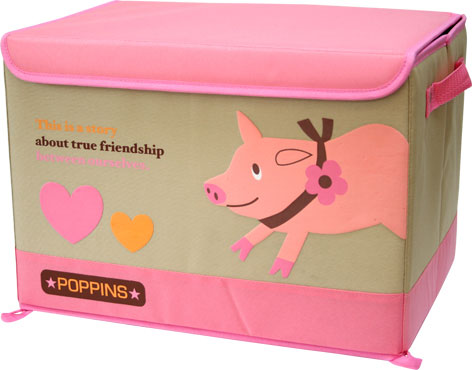 Nowadays even boxes are themed. If your kid loves cartoon figures like 'spiderman' or walt disney's' tom and jerry', you can get storage boxes that makes these figures come alive. This is a good process for identification too. For instance you can tell them that their favorite barbie doll is in the' winnie the pooh' box.They have covers and handles for convenience and come in a wide range of colors and materials too, right from fabrics to plastic and wooden ones to suit the decor of the room.