Black & Decker is the second largest brand in coffee makers. It is now a part of Applica Organization, which includes the Salton brands. The company offers a wide range of products within an affordable range of $15 to $90. Below we are presenting the seven finest coffee maker machines by Black & Decker. The section outlines each of their major features along with their unique specifications, to help you decide your final selection.

1. Black and Decker 12-Cup Programmable Coffee Maker with Glass Carafe, DLX1050B
BRAND : Black and Decker
PRICE : USD 22.99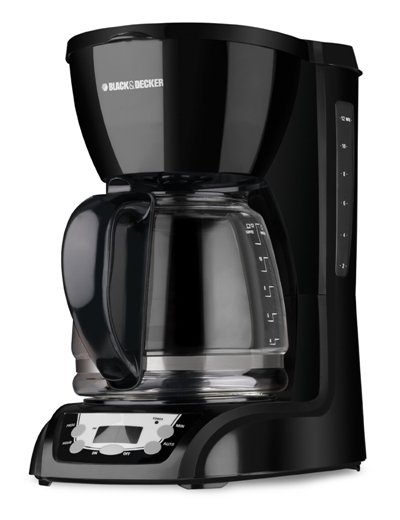 The DLX1050B programmable coffee maker holding a capacity equivalent to 12 cups can easily prepare your day with a great start. The machine offers a two hour automatic shutoff, sneak a cup interrupt feature so that you can enjoy a mid brew sip, water level indicator, and a power light indicator.
Technical Specification
Quick touch programming with soft digital control panel
Easy clean surface with large interiors
Removable filter basket, brew pause function, nonstick warming plate
Easy view water windowUSP
Its easy to use Quick touch menu and the easy clean function makes it very convenient
PROS
The auto two hour shutoff system avoids power wastage
User guide is simple and helpful
Dura life carafe is strong, long lasting and serves its purpose well
2. Black and Decker Brew 'n Go Personal Coffee Maker with Travel Mug, DCM18S
BRAND : Black and Decker
PRICE : USD 19.99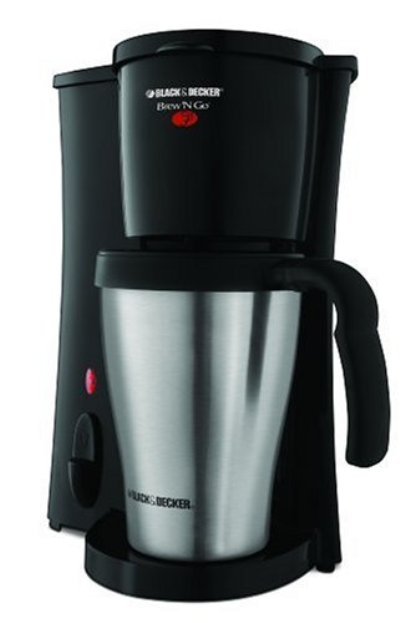 As the name suggests, this Brew 'n Go Coffee Maker with Travel Mug is great for commuters, as it brews 15 ounces of coffee directly into a stainless steel travel mug. The mug has a rubber handle allowing safe grip and a lid to keep your coffee hot. Designed for on the go coffee drinkers, the flask fits easily into most holders. The machine also has a permanent filter and has automatic shut off after completing its brewing. The mug, filter, filter basket, and mug lid are dishwasher safe. The machine can also be used to heat water, tea, hot chocolate, and instant foods like oatmeal and soup.
Technical Specification
15 oz. thermal stainless steel travel mug
Removable filter basket
Cord storage
One piece cover
Lighted on/off switch
USP
Machine's "Brew n Go" feature complimented with the gleaming travel mug makes it very useful for home brewed coffee lovers.PROS
The machine is fast, inexpensive, personal, especially designed for an active lifestyle
Permanent filter, thus, no more messy disposable filter papers required
Optimal brewing temperature
Coffee ready signal
3. Black & Decker 12-Cup Programmable Coffee Maker with Glass Carafe, DLX1050W
BRAND : Black & Decker
PRICE : USD 22.99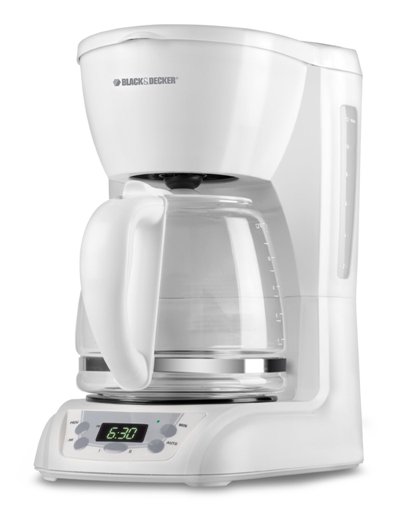 The DLX1050W Black & Decker coffee maker holds a capacity of 12 cups of coffee and the glass carafe has clear markings on the side indicating level of the liquid. It has soft touch control panel and clear digital display panel. The non stick keep-warm plate ensures equivalent freshness in the last cup as in the first one. The Duralife glass carafe comes with a stay cool handle and drip less pour spout. The filter basket has a removable handle which can be put in a dishwasher, if required.
Technical Specification
Quick touch programming
Easy clean surface
Sneak a cup feature
Auto shut off after two hours, "on" indicator light
Easy view water window
USP
The option to get coffee even during brewing process makes it a good buyPROS
Timer can be programmed to auto brew at a future time
The coffee maker serves a good value for money
Black & Decker provides an easy two year limited warranty
4. Black & Decker SpaceMaker 12-Cup Coffee Maker, SDC740
BRAND : Black & Decker
PRICE : USD 59.99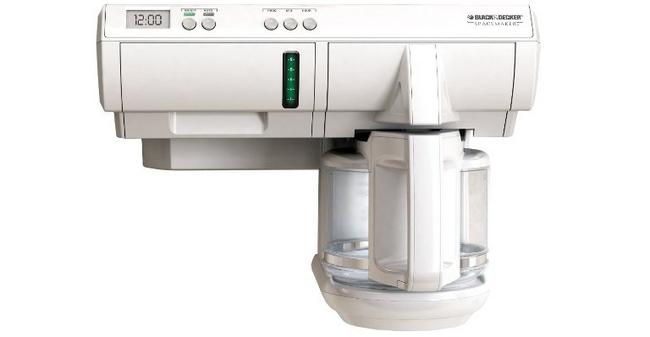 Start your each day afresh with this unit of coffee maker by Black & Decker. This machine does not intend you to give up your valuable counter space, and comes adorned with many more user friendly features for brewing buttery coffee. The company provides an easy step by step instruction guide. Not only the product saves your space, its single outlet allows you to power other appliances also.
Technical Specification
12 cup glass carafe
Non stick heating plate
Water level indicator
Programmable digital clock and timer
Auto shut off
Cord management feature
USP
Its small profile design prevents cluttering of appliances in your kitchen
PROS
Brews coffee quickly compared to other coffee makers
Easy installation
5. Black & Decker SmartBrew Coffee Maker, DCM2500B
PRICE : USD 29.99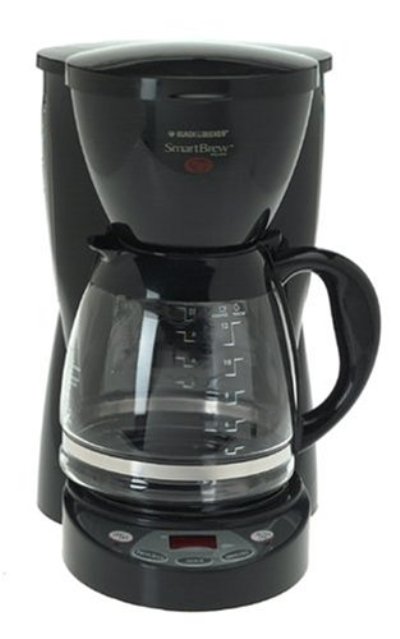 This is one coffee maker encasing a comfortable morning routine with convenience, easy cleaning, and complete program ability. The glass carafe works in a tidy manner with its wide lips but without a single drip. Its broad bottom allows complete surface contact with the stay hot plate for up to two hours, after which the machine automatically turns off.
Technical Specification
Perfect pour carafe with two water windows
Programmable clock and delayed start
Non stick keep hot carafe plate
Removable filter basket
USP
This coffee maker has a perfect drip free pouring spout
PROS
The SmartBrew coffee maker is exquisitely designed in a sleek hourglass shape and features two colours, black and white
The brew basket and carafe both are dishwasher safe in top rack
Light and sleek
6. Black & Decker 5-Cup Drip Programmable Coffee Maker with Permanent Filter, DCM675BF
PRICE : USD 29.99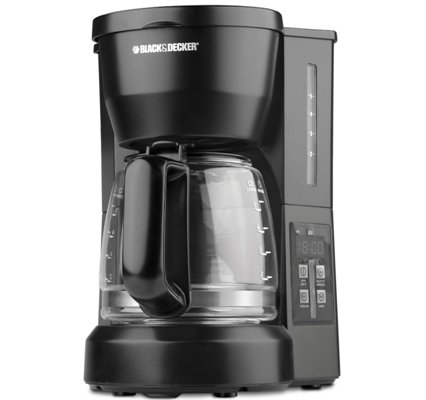 This 5-cup coffee maker offers you a fresh wake up call each morning. Packed with sleek compact design, the machine is suited for home, office, or anywhere you want. Its programmable brew time makes your coffee at any time you need. It also has a permanent filter and cord storage, thereby saving space on your table top.
Technical Specification
5-cup capacity with glass carafe
Soft digital touch pad and automatic shut off
Clearly visible water indicator
Removable filter basket, timer/clock
USP
Its optimal brewing temperature and permanent gold tone filter prevent natural aroma as much as possible
PROS
Sleek design of this coffee maker requires little space in your kitchen
7. Black & Decker SpaceMaker 8-Cup Coffee Maker with Thermal Carafe, SDC850
PRICE : USD 79.99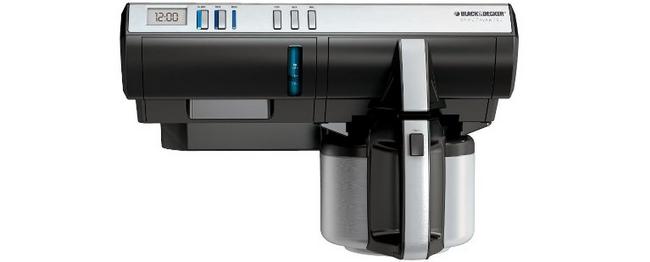 As a part of the vast range of appliances by Black & Decker, this coffee maker brews delicious 8 cups of hot coffee at a time. Thoughtfully designed in a space saving manner, the machine comes with a removable water reservoir, removable brew basket, and a simple on/off button.
Technical Specification
Blue backlit digital control panel, programmable clock, delayed start
Cord storage, save a plug outlet, easy installation
Auto brew, freshness indicator
USP
Its wall mount design saves a lot of space on counter
PROS
Thermal pot keeps your coffee warm for a longer duration of time
Larger LCD display and LED indicators
Pleasing design with easy installation