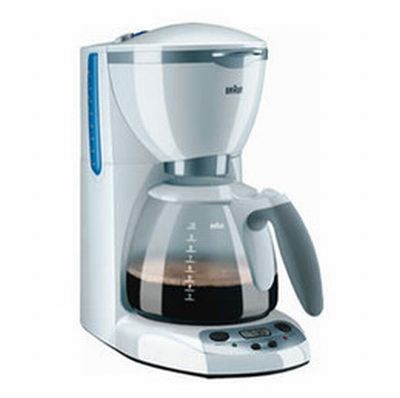 If you enjoy drinking brewed coffee but you don't like the high prices at the branded coffee shops, then an in home Braun coffeemaker is just the right product for you. Coffeemakers are one of the best household appliances that one will surely enjoy. Coffeemakers are also recognized for offering splendid coffee at an affordable price. If you wish to find style in a coffeemaker machine then Braun will provide you with the exclusive range of stylish coffeemakers to choose from. True coffee gourmets will surely like the Braun coffeemakers. Braun Coffeemaker makes enjoying coffee a real feast for the senses and provides superb coffee brewing with striking modern design and perfect convenience. CafeHouse coffeemaker from Braun lets you enjoy a delicious flavored coffee and that too in the comfort of your home. Here we have listed down some of the best Coffeemaker machines by Braun.

1. Aroma Deluxe KF580
BRAND : Braun
PRICE : USD 100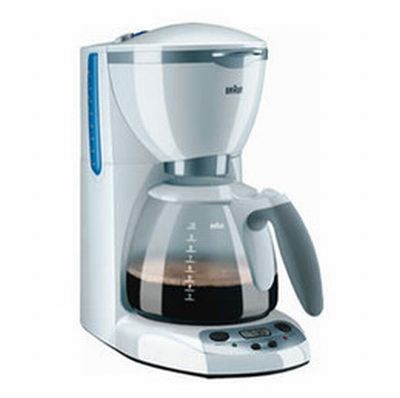 Braun's premium coffeemaker is the basic coffeemaker machine with some added invaluable features. The coffeemaker uses fast brewing method that thoroughly extracts the aroma and rich flavor from your ground coffee. The inbuilt Brita water filter screens out chlorine, harsh minerals and prevents calcification within the water tank to contribute to better tasting of the coffee. The digital display of the AromaDeluxe's has a clock and the brewing indicator that lets you to program the coffeemaker to brew your coffee before you get out of the bed. Coffeemaker is also equipped with some handy extras like permanent gold tone filter, a filter release button which swings the separable filter basket open for filling and easy cleaning. The coffeemaker also got a pause and serve button to let you fill your coffee cup easily. The coffeemaker also got some safety features like the glass carafe has a comfortable non slip handle with an open design for easy and convenient pouring.
USP
Serves 10 cup of coffee at a time with its fast brewing technology.
PROS
Coffeemaker comes equipped with one free Brita filter.
It has got OptiBrewSystem optimal relationship of temperature, brewing time and extraction for perfect coffee taste.
2. Cafehouse KF560
BRAND : Braun
PRICE : USD 89.99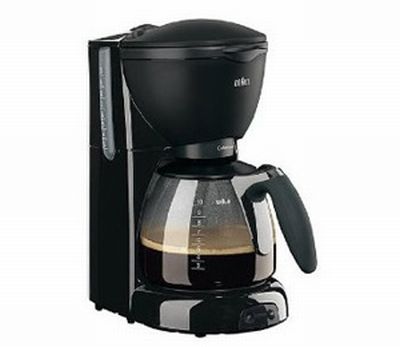 Braun KF560 CafeHouse is the coffeemaker made for the coffee connoisseurs who want to enjoy the cup of their favorite coffee in the comfort of their home. It has got a unique anti slip handle for easy and convenient pouring. It also has a pivoting filter basket with overflow protection. The CafeHouse KF560 coffeemaker comes with dishwater safe glass carafe and lid. There is an integrated cord storage space in the machine.
USP
Coffeemaker brews the coffee perfectly and serves steaming hot for great taste.
PROS
The machine is easy to clean.
It can make big batches of coffee quickly.
The KF560 has a sleek design that looks elegant and attractive.
3. CafeHouse KF590
BRAND : Braun
PRICE : USD 125.78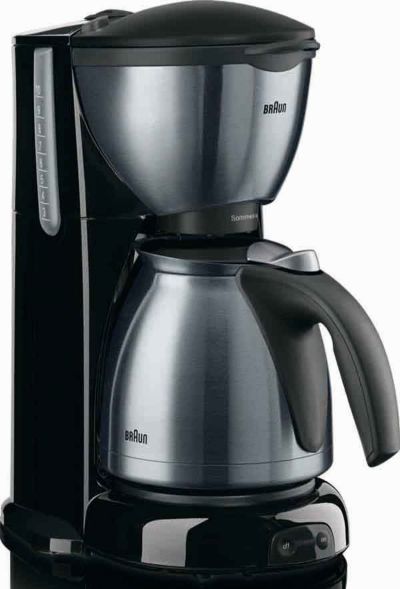 The Braun KF590 is a programmable 10 cup coffeemaker that gives you the freshly brewed coffee. The machine not only provides 24 hour timer for automatic brewing and it also offers programmable automatic shut off for setting the machine to turn off anywhere from 20 minutes to 4 hours after brewing. The other notable highlight of this coffeemaker machine includes its LED digital clock and timer, a pilot light and preset brewing indicator. The coffeemakers fast brewing technology delivers hot, fully extracted and aromatic coffee. The coffeemaker measures 14-1/8 by 7-1/2 by 13-2/7 inches and carries a one-year limited warranty.
USP
The Coffeemaker's high quality heating system brews coffee at appropriate temperature to maximize flavor.
PROS
1. The coffeemaker unit comes with a permanent gold tone filter and a Brita water filter which screens chlorine and prevents calcification to provide improved coffee flavor.
4. AromaSelect Classic Thermal
BRAND : Braun
PRICE : USD 62.99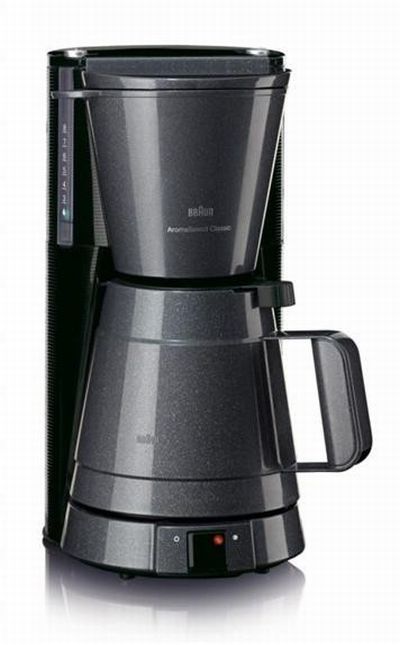 This eight cup Aroma Select classic coffeemaker has an updated look but is equipped with all the traditional features that the users have grown accustomed to. The machine got the insulated coffee decanter to keep coffee hot for hours after it gets brewed. The AromaSelect classic thermal coffee maker features the Braun flavor selector which goes from mild to strong and it also got a fast brewing system that can heat the water in no time. The coffeemaker comes in pear or titan colors. The machine is equipped with water indicator and auto shut off feature.
USP
Coffeemaker machine comes with the flavor selection option which goes from mild to strong.
PROS
Machine has the flavor selection feature to set your flavor of coffee from mild to strong.
The machine got the thermal carafe with a special twin wall system to keep your coffee warm.
The powerful brewing system heats the water in virtually no time at all.
5. KF600 Impressions
BRAND : Braun
PRICE : USD 55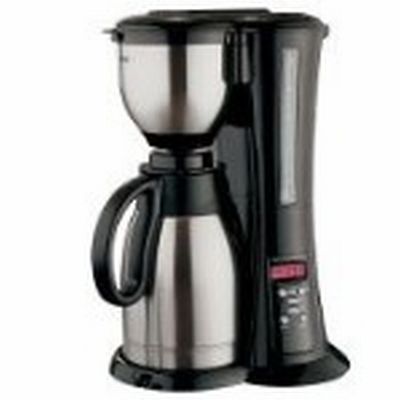 The KF600 combines the long lasting brushed stainless steel with an elegant design. This 10 cup coffee maker comes equipped with double wall vacuum insulated thermal carafe and flavor sealing brew through lid that keeps freshly brewed coffee hot for hours. The carafe's pour and lock system as well its open, soft touch, non slip handle allows simple pouring with the push of the button. The machine is designed with automatic shut off button for convenience and safety. Like other Braun coffeemakers, KF600 comes with permanent gold tone filter and an exclusive Brita water filter which helps prevent scale build up and reduces chlorine and other impurities for an improved coffee flavor.
USP
The KF600 features a stainless steel body with elegant design and double wall vacuum insulated thermal carafe.
PROS
The unit is designed for household use only and features dishwater safe removable parts for easy cleanup.