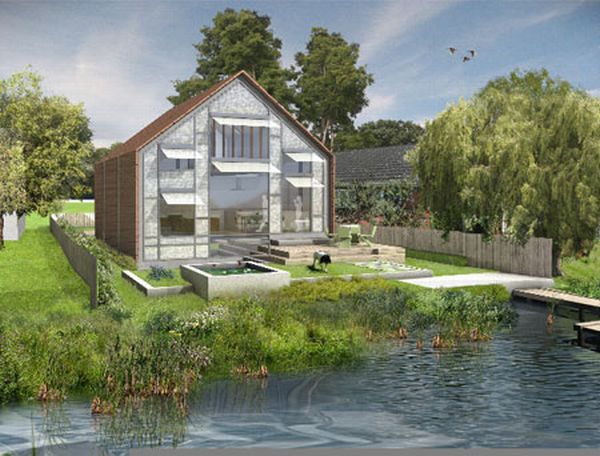 Britain has found a unique way to deal with the problem of house destruction which is caused by overflowing rivers. With new architectural advancements and innovative designs, architects have come up with a unique 'amphibious house' which makes it possible to own an ideal house near the riverside, without ever feeling threat of soaring flood waters since it has water floating capacity. This pioneering design of a floating house is the creative genius of a group of architects and flood specialists called Baca Architects who are building this project on the banks of river Thames. This triple story floating home project would be completed by the end of this year.
The house is constructed with a strong timber frame. The foundation of the house has a unique honeycomb design, which is 9 feet in height, which would help in keeping the structure afloat by making it rise in flood situation. The dock is made out of reinforced concrete with four poles that would keep the house in place when it floats. In the event of flood, the house will rise only when the dock is filled up with water, which will cause the house to unlock from the dock and rise upward.
Each level of the garden is fortified with a special design to stop water from penetrating inside. In the flood situation, various levels of the garden would flood incrementally and function like an early flood warning system alerting the occupants before it reached a threatening level. The bottom level of this house is planted with various plants that absorb water, which is also useful for managing run-off water and the top level would be the patio. The Thames river normally has a tendency to flood its banks once in two decades, and in the course of such an event, the amphibious house will not be damaged but would keep floating in the river waters – the only thing that would require tidying up would be the garden.
The owners of the amphibious house have secured planning permission from the Environmental Agency for constructing this project on the site that has an old and dilapidated bungalow that dates back to the 30s after pulling it down. The construction site is 10 yards away from the riverside, which is very close to the river. Construction of the amphibious house is still underway, and its architects are waiting for the day when they would be sipping wine on the terrace overlooking the Thames.