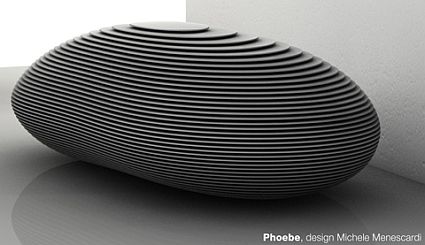 What could be more relaxing on a snowy evening than sitting by the fireplace with your beloved and sipping a hot cup of coffee? Aren't you enticed? If your hopes are dashing because you don't have a fireplace in your ultra modern home to add that extra warmth then you don't need to worry because here we have the all new stylish yet warm alternative for your fireplace.
Just as Phoebe's fire warms up the world, our stylish home radiator also named PHOEBE will warm up your home world. Its ultimate warming capacity is judged by the electrically powered heating core that is surrounded by layers of lamellar sections which also gifts it a soothing Zen like presence.
The concept was created by the Italian design firm, Mr Smith Studio.
You cannot dream of anything more when you have a warm, cozy room at the touch of a button. Along with this, Phoebe adds aesthetic beauty to your room because it is a sculptor in itself. The egg like shape does not let you judge its real function of heating. After all, keeping your home cozy and stylish isn't a bad idea at all.
Via: TrendHunter