Capresso truly offers great blend of coffee for a true coffee lover. High quality heating elements and ideal brewing conditions results for a high demand of these appliances. Capresso especially features the European conical filter, considered perfect for optimum flavor and quality. Thus, your search for high quality coffee makers and espresso machines ends with the following listing of seven best Capresso coffee makers.

1. Capresso 464.05 Coffee Team GS 10-Cup Digital Coffeemaker with Conical Burr Grinder
PRICE : USD 250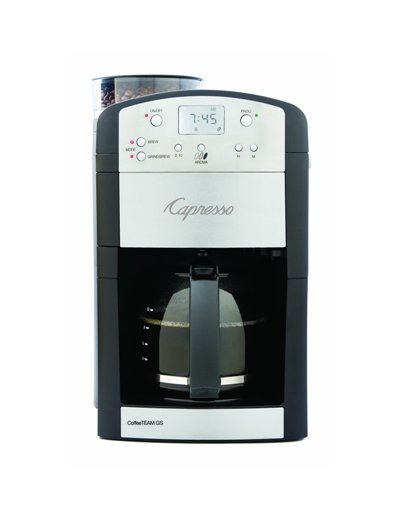 The new and unique Capresso Coffee Team GS is fully programmable, and contains a coffee maker-grinder combination along with a conical burr grinder and direct feed technology. The conical burr has five different grinding settings to adjust the coffee strength. It grinds mildly thereby preserving the aroma and delicacy.
Technical Specification
Fully programmable with 10 cup capacity.
Digital control panel, five grind settings and five brew amounts.
6 ounce bean container, adjustable strength, clock and timer, brew pause function.
USP
This machine combines the features of both coffee maker and grinder.
PROS
Easy to read LCD display.
The temperature of the glass carafe is over 200° F and 180° F directly after brewing.
Two mode settings: Grind/Brew for grinding the whole beans directly, and Brew to push the filter release and add ground coffee.
Well designed in black with stainless steel body.
2. Capresso 465 CoffeeTeam TS 10-Cup Digital Coffeemaker with Conical Burr Grinder and Thermal Carafe
PRICE : USD 285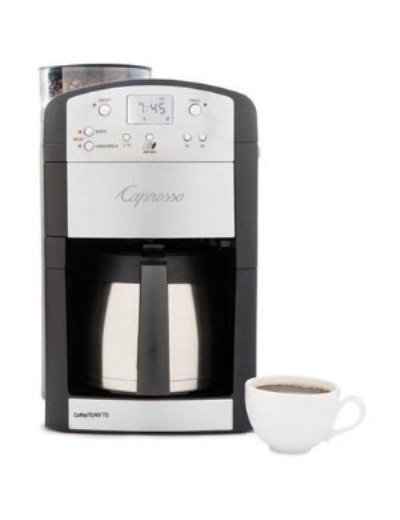 Equipped with an in-built conical burr grinder and a stainless steel thermal carafe, the Capresso CoffeeTeam TS brews up to 10 cups of exceptional coffee. The machine's slow grinding with minimum heat, and selection of fie brew amounts (2 to 10 cups) and mild, medium, or strong coffee strengths make it a worthy option.Technical Specification
The Capresso 465 CoffeeTeam TS features a stainless steel thermal carafe.
Direct feed technology.
Its uses solid steel conical burrs with slow uniform grinding.
Drip Stop and Serve function for a quick sip.
The bean container can hold up to 6 ounces of coffee
Two mode settings, Brew and Grind/Brew.
USP
The machine produces very low noise and also has a lower tone frequency which makes it ear friendly.
PROS
Takes less time to clean.
It is designed with a distinguished narrow profile.
The LCD display is well lit and legible during both day and night.
3. Capresso MT600 10-Cup Programmable Coffeemaker with Stainless-Steel Thermal Carafe
PRICE : USD 190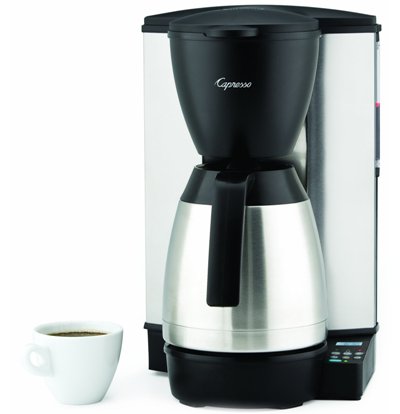 This coffee maker with stainless steel thermal carafe brews 10 cups of aromatic coffee under eight minutes. The stainless steel thermal vacuum carafe ensures drip free pour and also keeps your coffee hot for up to four hours. Its well built handle and stainless steel lining eliminates contact with aluminum, thereby, reducing the need for decalcifying.Technical Specification
Convenient brew-through-closed-lid design.
The steel housing proves to be superior in both strength and style.
Drip stop feature to allow pouring of the coffee while brewing.
Permanent gold tone filter.
Water level indicator.
Concealed cord storage.
USP
The machine displays a special setting which allows maximum aroma in your coffee.PROS
Electronic indicator for replacement of charcoal filter.
Easy to use timer.
Fast brewing of 10 cups of coffee in six minutes.
Looks elegant on the counter.
4. Capresso CM200 10-Cup Programmable Coffeemaker with Glass Carafe
PRICE : USD 110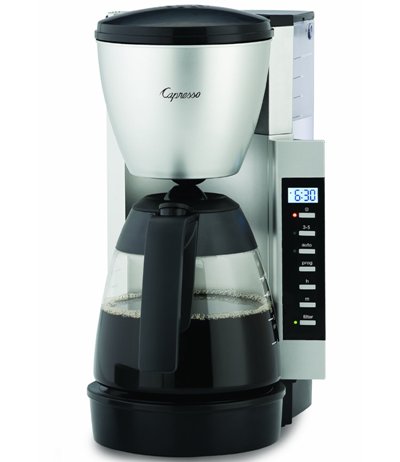 The CM200 programmable coffee maker by Capresso provides you with a flavoured coffee in less than nine minutes. Its ease of use, user friendly control panel and well lit LCD display proves complete value of the machine. Its thoughtfully designed looks add to your décor and also does save space.
Technical Specification
The machine is constructed with an efficient space saving design.
See-through removable water tank.
Drip stop feature.
Push button swing out filter.
Charcoal filter and electronic filter indicator.
USP
This coffeemaker is fabricated with a space saving design requiring less than 8' x 10' of counter space.PROS
Non-stick coated warming plate.
5. Capresso 441.05 MT-500 Plus 10-cup Coffeemaker with Metallic Alloy Body and Stainless Thermal Carafe
PRICE : USD 110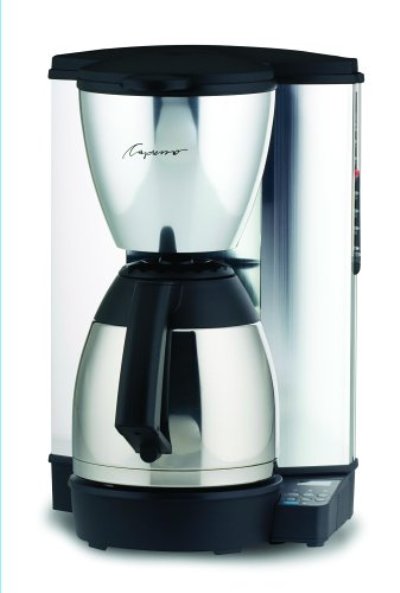 This is the only 10 cups coffeemaker from Capresso that is made with brushed aluminum alloy, uses a lustrous stainless steel thermal carafe, and a stainless steel lined heating system. It, thus, adds to the glory of your kitchen.
Capresso 441.05 MT500 machine is a stainless steel model, capable of preparing 10 cups of coffee within eight minutes. It uses a stainless steel vacuum carafe instead of a warming plate, remarkable charcoal filter, filter guide indicating replacement of the filter, and a thermablock system which prevents calcium build up inside the machine. The coffeemaker is made with highly polished aluminum alloy and uses black plastic accents.
Technical Specification
Soft touch and fancy control buttons.
Well illuminated LED display.
Permanent gold tone filter.
Drip free spout.
Automatic shut off feature.
USP
A special heating mechanism in this model prevents your coffee to turn bitter even after 4 hours.
PROS
Handy side panel with soft touch buttons.
6. Capresso 455 CoffeeTEAM Thermal Stainless Coffeemaker/Burr Grinder Combination
PRICE : USD 299.99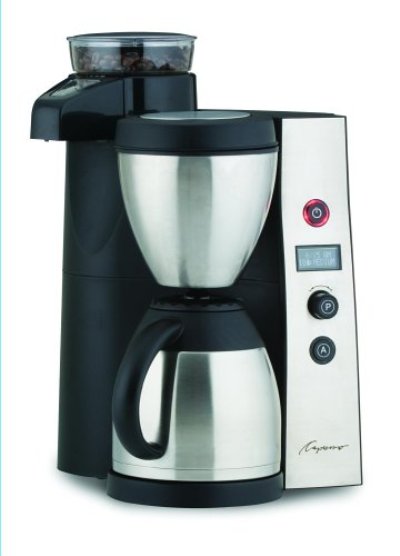 This machine is the only coffee maker/grinder combination from Capresso featuring a stainless steel thermal carafe and conical burr grinder. The entire stainless steel construction, simply designed one-button programming, and a well built display makes this a classy machine. Selection of coffee amounts for 4, 6, 8, and 10 cups is effortless due to the simple one-button design.
The CoffeeTEAM works on a patented technologywhich grinds the required amount of beans directly into the filter, then automatically swings in the forward direction and starts the brewing process.
Technical Specification
Four fineness settings to get light or strong taste and aroma from the same beans.
The bean container is capable of holding up to 80gms of coffee.
Stop and Serve feature.
Easy to clean.
Gold tone filter included.
USP
It's one touch Menu and brilliant LCD display on Grey steel background makes it visually appealing.
PROS
Simple design with one button programming.
You can program the amount of coffee to grind, select mild, regular or strong settings or even manual or automatic operation.
7. Capresso MG600 10-Cup Programmable Coffeemaker with Glass Carafe
PRICE : USD 130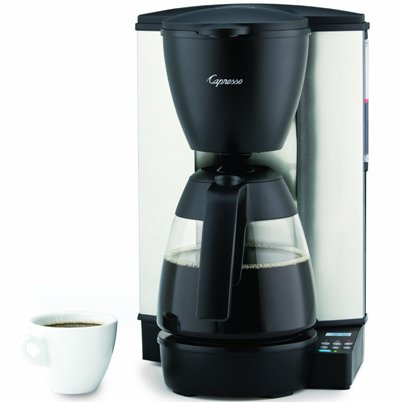 The Capresso MG600 coffee maker is encased in a steel housing, contains a 10 cup glass carafe with ergonomic handle, drip free spout and brew through lid. A stainless steel lined heating system eliminates contact with aluminum. Other features of the coffee maker are that it can retain programming during short power outage and can automatically shut down after two hours.Technical Specification
Drip stop feature allows you to have a cup while brewing Charcoal water filter for removing impurities with an electronic filter indicator Permanent gold tone filter Water level indicator Concealed cord storage.
USP
Its charcoal water filter removes up to 82% chlorine and other impurities.PROS
Special settings in this machine preserve aroma and delicacy for even 3-5 cups of coffee.