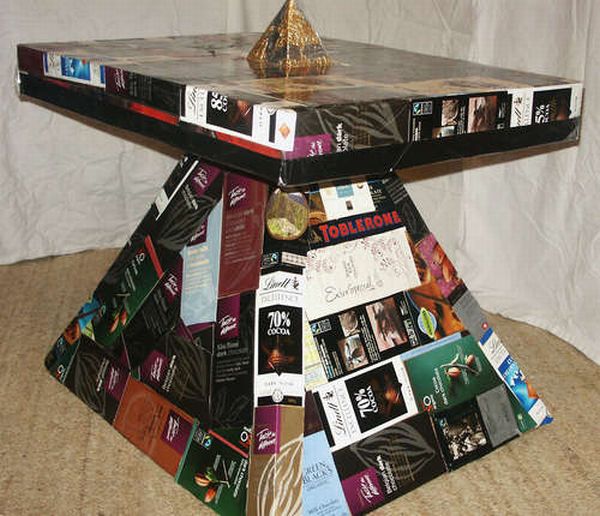 We all want to be creative at times, making things by using, otherwise discarded junk materials. If you want to make something with ingenuity, then a cardboard coffee table might just be the perfect option for you. This piece of furniture is made of cardboard, but it is a durable monopod. You can choose your own decorations and make them stand in your living room.
Difficulty Level: Moderately Challenging
Time required: It varies from person to person
Resources Required: You need a few materials and resources to make your cardboard coffee table. The first thing you need is definitely a cardboard. You can select the wrapping cardboard of your television set or monitor box. Otherwise, you may rummage through the pile of scraps and find some cardboard boxes which can be used. They are easy to use as, you can glue the two layers at right angles. Apart from this, you may require a tenon saw, chisel hammer, file, box cutter knife, good scissors and wood glue.
Estimated Cost: It wouldn't really cost you anything. Most of the tools are already available. Cardboard boxes can be found in your garbage too. You may spend a few pennies for decorating this masterpiece.
Instructions: The initial step requires you to make a pyramid. At firstl, you should cut out four triangles from a cardboard. The best way to do this is by getting a box, that's rectangular in shape, so that, you don't really have to cut triangles. Instead, you can put two tags on each and interlock them properly. Take a shallow box for the base and cut the tags at an angle where they could fold nicely. You can tag or label these for your own convenience.
Now, use hot glue to stick the three of the four sides and you will make a big flat area. Use a few books to put some weight on the sides. This will help them stick nicely. Interleave the tags, so that, you know the tag go onto the correct sides. When this gets dry, fold it to make the final pyramid and glue it to the base.
Next, you should be required to make the top of your cardboard table. You can use a big piece of cardboard. If you can find some discarded wood, then you can use it for reinforcing the inner part of the table. This will enhance your table's strength. Cut mortice and tenon joints of the wood, so that, you can fit it in the pyramid. The top should then be fitted on the pyramid. You don't need to make accurate measurements, but make sure that your framework fits on the tip of the pyramid.
If you think that the top of the pyramid that shows out of the table is too thick or heavy, then cut a box of low ply cardboard in pyramid form and place it on the tip. Prefer using a cornflakes box as it is easy to cut and isn't too heavy.
Although, your table is made by now, you need to work a little to improve its durability. This table can take the load of a laptop. However, if you want to keep some more things, then you ought to use more glue. This time, you should glue the table in an upside down position. It would be beneficial in two ways, It would strengthen the interlock between the top and pyramid. Secondly, it would fill the gaps that might have been there in the first go. Leave this to dry for a day or two.
The last step involves decorating the table. Now, you can use your imagination to decorate the furniture you have recently made. You can hoard chocolate wrappers and paste them on the table, in case, you are a foodie and want your table to reflect your inner sense. Besides, this would make your table a fully recycled product. Otherwise, you can get some acrylic colors and color it. You can use sticky-backed plastic to protect the top from spills.
Employ a little imagination and your cardboard coffee table is ready for use.
Frequently Asked Questions: Some of the frequently asked questions are as follows
Q. Is it easy to make this table?
A. It isn't easy to make this table, but it isn't difficult either. It needs just a little patience and determination to make something and this table can be created.
Q. Do the materials cost much?
A. Materials don't really cost you anything. This is a recycled product.
Q. Why do I need to make a pyramid for base and not legs?
A. Well, a pyramid base would make your cardboard table smooth at the bottom. The problem with the legs is that, they won't have much strength. A small, thin piece of cardboard wouldn't make durable legs. Moreover it would be difficult to attach these legs. Therefore, your table might just fall.
Q. Do I need to re-glue the table?
A. It might not be necessary after all, but it would be better if you re-glue it, thereby, enhancing its life. It would strengthen the piece. On an average, the table could last for over a year, if you manage to secure all ends well.
Q. Why do I need a sticky backed plastic?
A. Sticky backed plastic would protect the table top from spills. This would increase the life of your cardboard coffee table. After all, you would be putting up a lot of hard work. Therefore, you should make it last as long as possible.
Quick Tips:
Use a cardboard that is discarded or any other accessory for the house.
Make sure that you interlock all the ends wisely. Take time and do not rush into making the pyramid. Make the base strong.
Glue it once again after you have nearly finished the table. This would increase the strength.
Use sticky backed paper to protect the top.
Things to Watch out For:
Use the cardboard wisely, preferably tagging the ends, so that, you know how to interweave the pieces.
Use a hot or wooden glue to secure the ends.
Use the box cutter accurately since, they are really sharp.
Make sure that the base is strong.