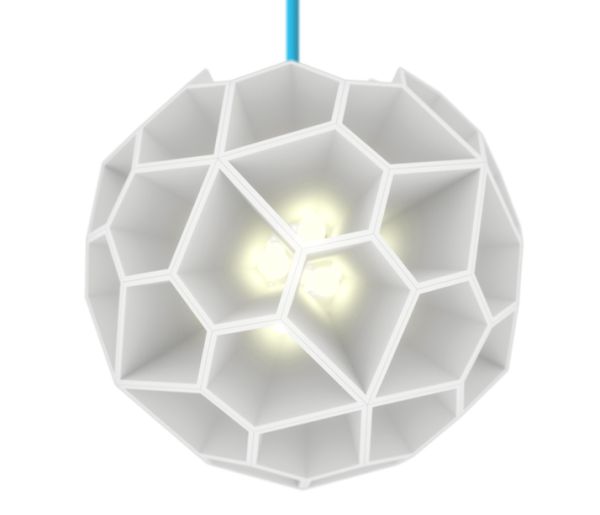 Everyday we are being introduced to new designs of the lighting fixtures with lots of creativity involved in it and every creation is inspired by a theme to be based on a unique concept. On the same lines here is another lighting option with a different concept. Designed by freelance German product designer Benjamin Beck, Catalan lamp is an interesting lighting option which can be assembled in do-it-yourself fashion. Inspired by the Wasps' nest the concept of Catalan lamp is a modular light with an option to add more units to increase the illumination through the lamp.
The Catalan lamp, very interestingly appears like a honeycomb to do the full justice to the concept the lamp is based upon. There are small modules to be assembled together with each module powered by LED. The units are connected invisibly through a clip at the back and all the small units are finally connected to main cable to supply the power once plugged in. The modules can be arranged in plain surface or in a sphere.
As per the designer there is an extensive research behind the formation of the design and in the process of giving the lamp the final shape. The designer also did a research into Richard Buckminster Fullers geodesic domes. After the research, the designer finalized on catalan solids which fall into the family of geometric solids as the inspiration of the lamp.
The modules can be arranged in various ways to get the different impact. The lamp can also be customized by combining the colored elements to the modules to match the aesthetics of your house. Different structures can also be created by using bigger elements. Basically, it is completely onto your imagination how vibrant and unique your Catalan Lamp can be. Once assembled the Catalan lamp can be suspended through the ceiling and is to be connected though the power to illuminate your house with the perfect desired lighting.
Over all, in our opinion Catalan lamp is a good customized lighting option and is sure to get the curious glances of your guests and be ready to get bombarded with questions on how to create it. We are sure the lamp with the unique concept is definitely going to give you the proud moments of being an owner of it. The Catalan lamp can also be a good gifting option as the owner can customize the light as per the requirement.
Via: Benjamin Beck