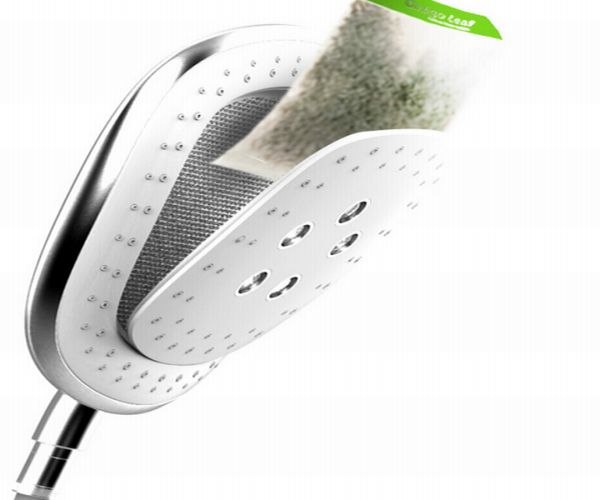 A shower is a misty experience. Eyes closed, refreshing water cleansing your body and mind – a shower is a shower. A shower represents the freshness to begin a day, the tiredness to end a long day, in the privacy of a persons's individual space. For those of us who, either because of space or financial issues or just because we don't like to waste water, don't have the ultra luxe bath tubs to soak our bodies in, this latest design breakthrough is a blessing without any disguise.
A team of Chinese designers, Linghan Liu, Zhening Luo, Fangtian Ying, Mang Xia, Shijian Luo, Xiaoneng Jin, Ke Li, Fan Yang, Qingyuan Chen, Sisi Yuan, Yi Liu, Shiyi Shao,Yiwu Qiu, Tian Tan, Xin Sun, and Messizon Li worked on this project and won the IDEA Awards 2011.
The technology is pretty simple and convenient to use. The beautiful rubber showerhead (which can be handheld as well) comes with a built-in compartment to hold the tea bag like sachet of medicinal herbs to take care of your skin ailments and to provide aromatherapy to relieve mental stresses. You can manually place and remove the herbal bags before and after every wash. The area of the showerhead is large enough to cover the entire human body of a grownup and can be rotated or handheld to suit personal preferences. The water mixes with the herbs as soon as you turn the tap on and within seconds it starts to flow out.
It is a simple idea put to brilliant use.
Via: Yanko Design