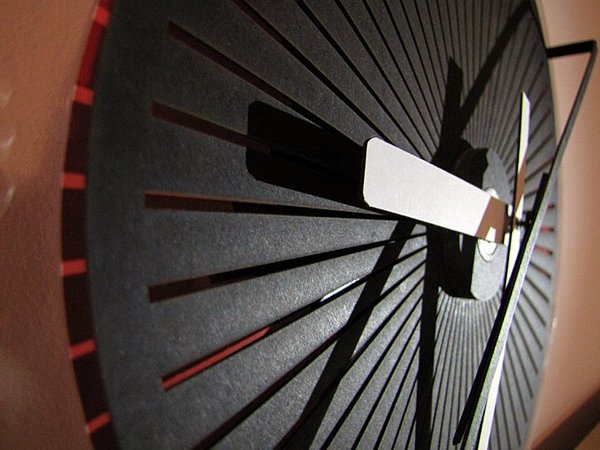 We have all heard about changing face of time but physically such a thing does not exist. In reality, trying to explain the concept can be made a whole deal easier with the Moiré seconds animated clock. This clock holds out a fascinating change from the customary dull wall clocks, by presenting a newer approach to looking at time. The animated twinkling face or the beating heart is bound to mellow down the pressure of time on you, each time you look up to check the passage of time.
In these days of fast life, a lack of it to keep up with the pace often is depressing and stressing. To lighten up this burden, Hungarian designer Zoltan Kecskemeti B, has literally gone out to design the changing face of time with a smile on your face with his new venture, the Moiré seconds clock. Based on a simple mechanical system, it offers an animated face of time change. The prototype concept clock is based on moiré-animation and is well suited for any rooms in home or office. The Moiré seconds clock gets its name from the moiré effect it creates by its revolving seconds hand, that has been attached to a rotating mask creating an animated face every time it changes position. The mask comes in two designs of a red beating heart or twinkling eyes of the white kitty. Both the designs impart a liveliness and cute-feel that would make an ideal treat for both adults and kids checking on time. The mechanism used is simple where a sliced and slitted disc acts like the seconds hand to create an animated illusion. As time passes, the rotating mask enthralls onlookers with curiosity and novelty easing out the strain from them and making them look at time more cheerfully.
The Moiré seconds clock comes with aesthetically designed front and back with a hidden battery compartment. The simplicity of the clock mechanism, a far cry from today's more expensive animated clocks communicates simplicity and optimism with its cute looks and makes it an ideal clock to liven up your kids' room or gift for your beloved. Moreover, its bold hour and minute hand makes it easy to read and entices even kids to keep up with the time.
Via: Behance