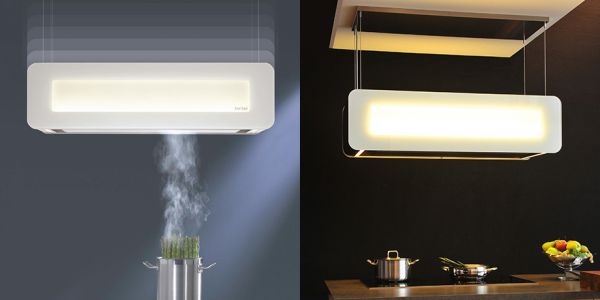 Kitchen hoods are in wide demand in the modern kitchens of today. These hoods are very useful in removing grease and heat-polluted air from the cooking area. The market today is flooded with a number of kitchen hoods, which are efficient and innovative. However, the Skyline ceiling lift hood, the all-new kitchen hood designed by Stefan Ambrozus, is different from all the existing hoods.
The most interesting feature that makes this hood special is the absence of filters. This hood works on the centrifuge principle to remove the heat and vapor from the kitchen. The functioning of the Skyline ceiling lift hood is very energy efficient and silent.
This product has won the 2011 red dot best of the best design award. Besides this, Skyline ceiling lift hood also has some other attractive features like a remote-controlled operation and the presence of LED lighting that brightens the kitchen area. The height of the hood can also be adjusted according to our personal preferences or according to the food being cooked and the amount of light required. Altogether, Skyline ceiling lift hood is a perfect combination of all the modern features required in the kitchen. This new innovative hood is surely going to impress a lot of people.
Via: Appliancist