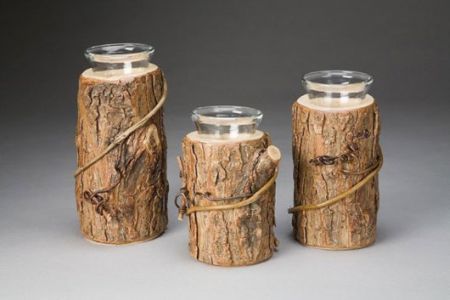 Apart from serving the basic purpose of holding the candles, candle holders also add glamor to the decor setting. Wooden candle holders emit an elegant and traditional aura. Beautiful wooden holders add to the ambiance and indirectly affect the state of mind. Here are few types of wooden candle holders available in the market to choose from.
Wooden Candle Holder from China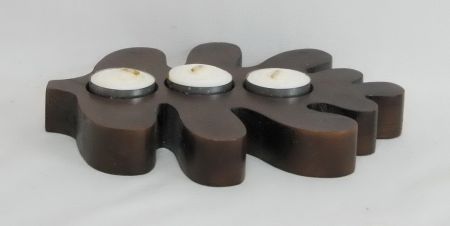 This is a special candle holder from China in the shape of a leaf. It can hold three candles steadily. This is made up of MDF and is strong and durable. If you are looking for a wooden candle holder that can be used on daily basis, for a long time, this is the type. This wooden candle holder is completely hand crafted and is a masterpiece by itself. It can be used as a decoration piece even without the candles. You can use it in your living room with scented candles to create a relaxing ambiance. You can safely buy this candle holder even if you have kids at home because it does not have any sharp edges. It is carefully rounded from all sides and the candles are placed in the center which leaves enough space for anyone to hold the holder and move it around.
Wooden Votive Candle Holder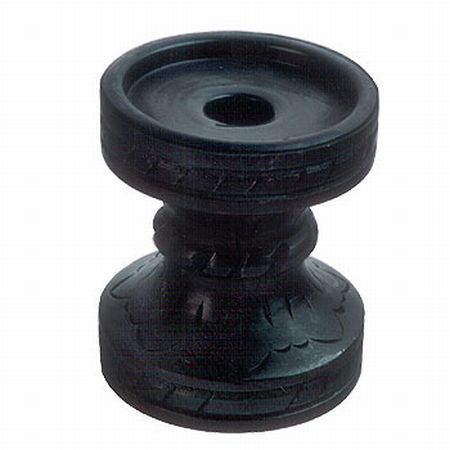 This is another sturdy piece of wooden candle holder that can take everyday use. It can hold a single long candle and can be used for worship and remembrance purposes. It is 4.5 X 4 inches in size and can hold a medium to large sized candle. This votive candle holder is made up of mango wood and is shaped like an hour glass. One can see artistic carvings in the body and a metal top to collect the wax. This helps in cleaning the candle properly without destroying the beautiful art work on the wooden part. It can also be used when candles are used to create light like for candle-lit dinners as well as black-outs. The candle holder is available in blackish wooden color while the metal on top is also black.
Olive Wood Heart Shaped Candle Holder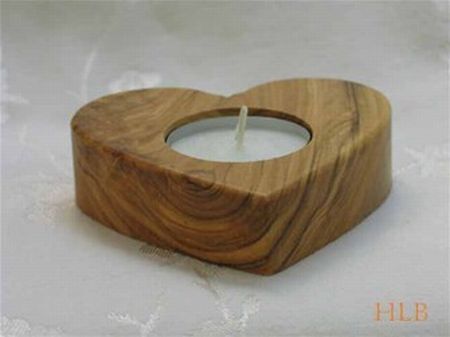 This is a romantic wooden candle holder in the shape of a heart. It is 1 inch thick and 4 inches across in size and can hold a tea candle. Being made up of solid olive wood makes it very durable. Its surface is usually silky smooth but might contain some minor cracks because of olive wood knots. It comes along with a tea candle and you can use scented tea candles in future. This wooden candle holder is especially crafted by artisans from Bethlehem. It has veins of different colors to give it the perfect look. This candle holder has a flat base and can be kept anywhere conveniently.
Uttermost Kelton Candle Holder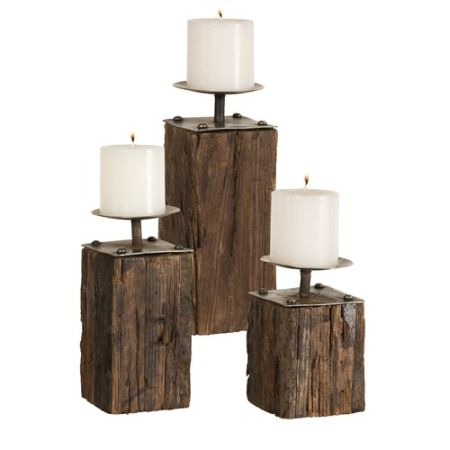 This beautiful wooden set of 3 candle holders is made up of recycled wood. The base block is made up of old wooden planks which gives it a unique antique look. It is not only a beautiful possession but it also helps you be friendlier to the environment. The block of wood has an iron top which is used to hold the candle. It comes is 3 sizes of 4″ H x 7″ W x 4″ D, 4″ H x 9″ W x 4″ D and 4″ H x 11″ W x 4″ D. These sets come along with 3 white candles included. These blocks are of three different sizes and you can either use them all together or just one at a time, as required.
Artisan Chestnut Candle Holder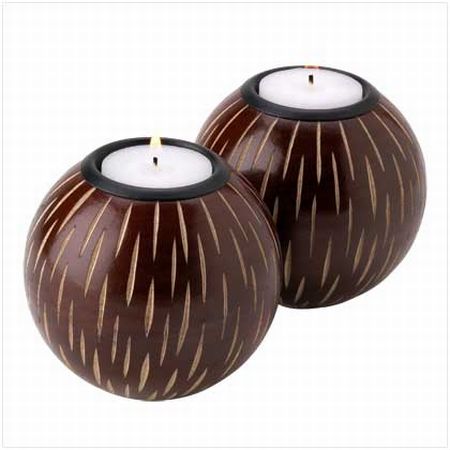 These round wooden candle holders come in a pair. These are made up of durable MDF wood and can last for years. They have space to hold a tea light candle each and can create a very romantic ambiance. They have a rich finishing of chestnut color and also have an allover pattern on them. They are spherical in shape and of the size 3 1/2″ diameter x 3 1/4″ height. They can be placed on a center table in the living room or side tables in the bedroom and lit. These beautiful items can also be used for special occasion decorations in and outside the house. They look good even without the candles and need nothing else but two tea lights to be complete.
Rustic Candle Holder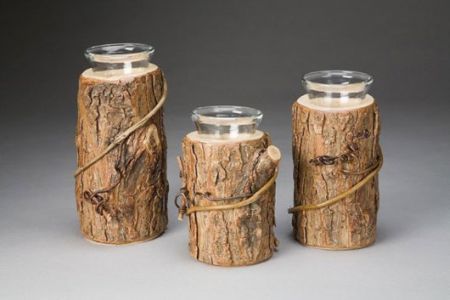 This is a beautiful piece of art made up of willow wild wood taken from Missouri. It also includes special Basalt stones taken from glacial deposits. A strong natural and romantic look can add a lot of drama in the ambiance. They are strong and sturdy and can hold a single candle each. The round design makes them easy to place and hold. These wooden candle holders can suit any occasion whether it is something fancy or regular. You can buy a single pack or more if you want to use them for decoration. You can use them on the dining table or in your bedroom or in your bathroom to hold spa candles. They give a great antique look wherever they are placed and enhance the beauty of the place.
Anchor Wooden Base Candle Holder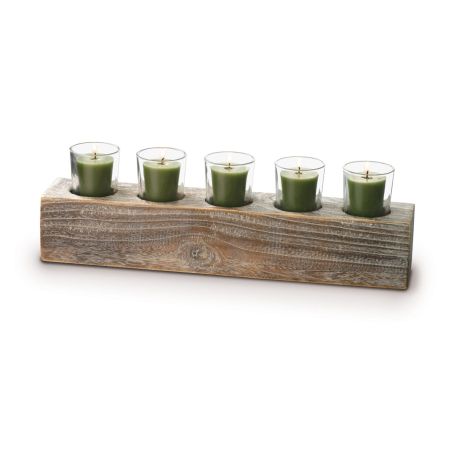 If you need a candle holder that can hold multiple small candles, this is the one. This candle holder has a wooden base of size 16.1 x 3.1 x 5.1 inches and can hold 5 votive candles. It contains 5 votive cups made up of glass. It can be used in homes, offices, spas and almost everywhere else. It also makes a great piece for gifting. It weighs 3 pounds, not as heavy as it looks by the wooden base.