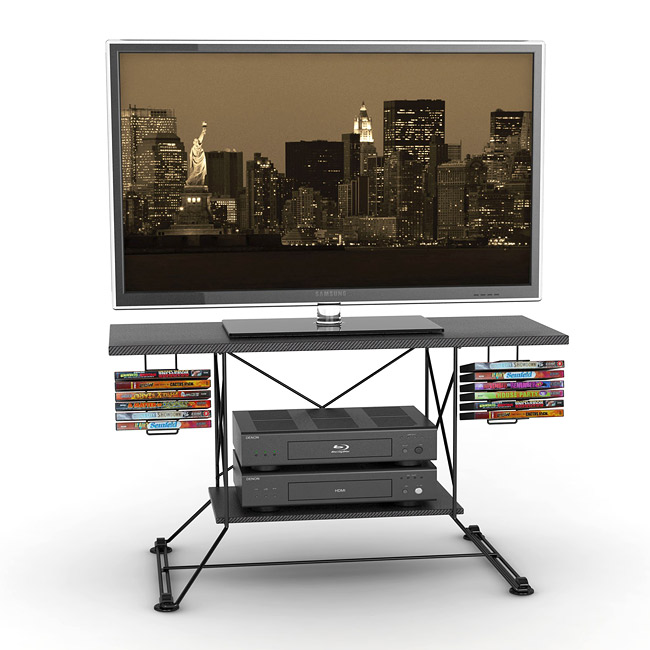 With the rise of technology, the television has become an integral & indispensable part of our everyday life, and so has the T.V stand. A very essential part of your home decor is your television and hence it is required that you have a nice looking T.V stand to compliment it. However, these T.V stands can get very expensive and hence are not affordable for many people. So here we have listed some T.V stands which are here to make your living room more elegant and aren't much heavy on your pocket too.
Evesham Sound Stage X1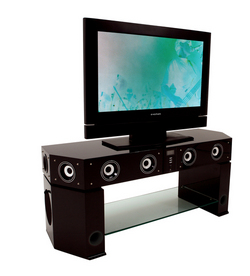 Price: $398.902
This smart television stand serves two roles. It's not only a T.V stand but a surround system too! Now that surely could turn out to be your neighbor's envy. The first outlook of the stand isn't that great, but as the saying goes, "don't judge a book by its cover" is pretty much relevant here. Taking the covers off; reveal 9 speakers which certainly do pack a punch. Included in the package are a 50W subwoofer, two 20W centre speakers, four 30W front speakers, and two 30W rear speakers that together have a frequency responds of 25Hz-20KHz. The whole system is of plug & plays type and is ready to use out of the box. The other features include connection to your portable media player which can come in quite handy. The system supposedly produces 5.1 Surround Sound.
What's Unique:

Here's the best part of the deal, the whole thing comes under affordable price which is quite surprising looking at all that the system has to offer. This is a steal at this price, I say!
Atlantic Berlin Corner TV Stand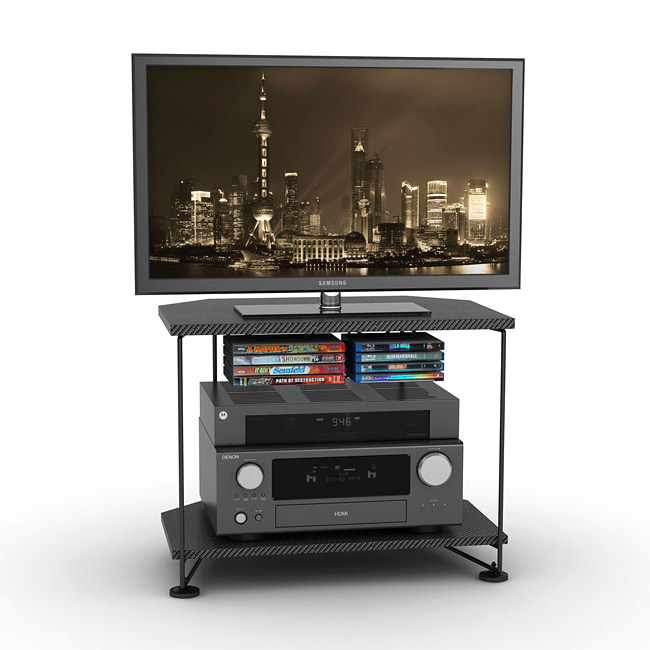 Price: $73.4314
This attractive piece of furniture is bound to grab some eyeballs in your home. Made fully out of steel & wood, this stand is well built and looks neat. The available colors also enhance the particularly good looks of this stand. It has a PVC laminate finish to give it a glossy look. The stand not delivers on the looks & aesthetics part, but is quite compact. It has two shelves, the upper one for placing the television which can handle weights up to 50 pounds and a maximum TV size of 32 inches. Not only this, the stand also has enough space for your DVDs, Blue ray discs etc. The only catch here is that the stand requires self assembly, which is a bit disappointing considering all the good aspects. But this isn't a big deal either, considering the fact that the stand is about 3767.00, which is quite a deal.
What's Unique:
Since it's made of steel the stand is sturdy. The stand is adjustable too; the stand fits well against any wall or corner.
Atlantic Soho TV Stand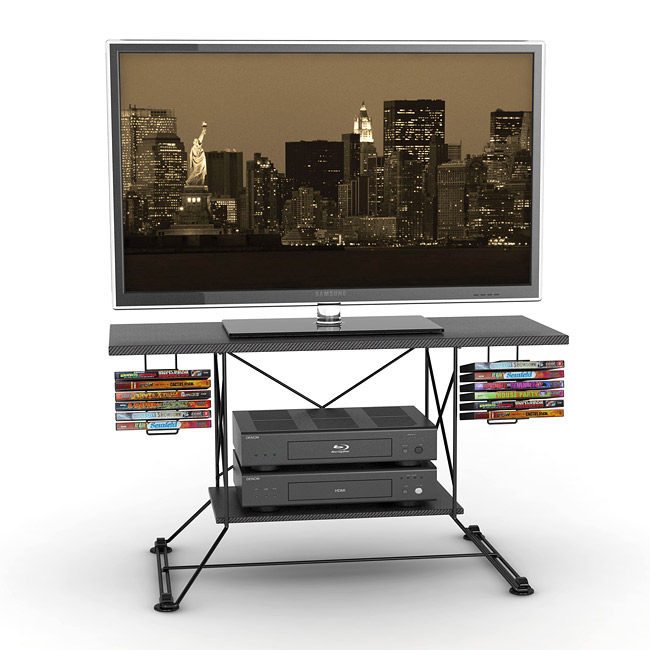 Price: $94.4839
The Atlantic Soho stand is pretty much like an upgrade to the Atlantic Berlin TV corner stand. The soho is built for bigger televisions. It can support Televisions up to 37 inches & the lower shelf can support weights up to 65 pounds. The stand has been built to suit flat panel televisions also. The specifications are pretty similar to the Berlin stand, the only difference being that the soho can hold about 12 DVDs, blue ray discs etc. The stand has been primarily made out of wood & steel and has a glossy PVC laminate finish to it. This is the only drawback in the whole deal. On the whole, however the soho stand is much better when compared to its compatriot the Berlin.
What's Unique:
The stand ships with 1 year manufacturer warranty and offers self-assembly.
Small Beech TV Stand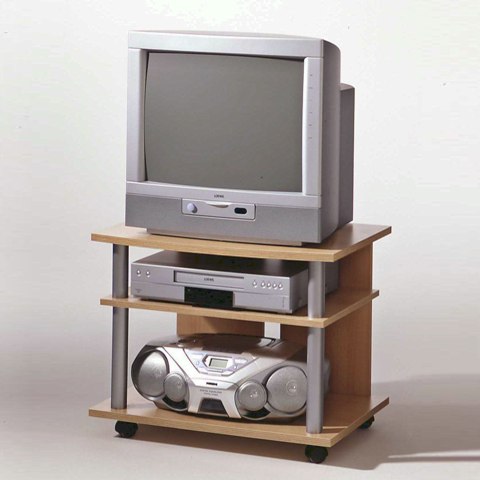 Price: $120.932
The small beach T.V stand is probably a bit "old school" when compared to the other products on this list, but it can certainly hold its own. It's more of a classical T.V stand which has been made for smaller televisions. It has a smooth beech finish & hence the name. It is a trolley type stand which is quite portable, an important feature in today's world. It's a German build stand with superior quality & construction. The stand has been built keeping in mind the space factor & hence the simple but compact design. The stand also features a melamine surface which provides good protection against scratches.
What's Unique:
This stand is meant for people tight on space. This piece of furniture is quite affordable too, making it a perfect buy for smaller homes.
Stil Stand Clear Glass TV Stand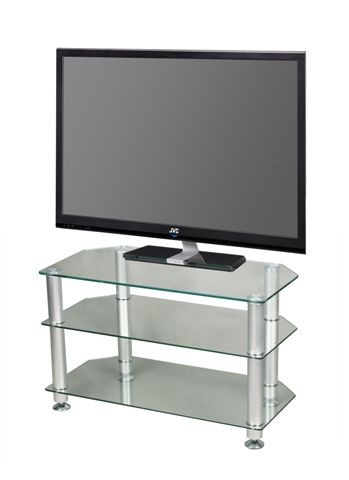 Price: $120.15
Still Stand Clear TV Glass is good quality cheap TV stand made up of tough glass with 4 aluminum stands attached to the corner of three thick glass, one on which you can keep your digital box, remotes and other TV accessories. The middle one can be used for keeping DVD's or just a showpiece to give a good ambiance to the stand. And the top glass can for your LCD or Plasma TV. The TV stand is generally designed for 32'' LCD/ Plasma TV and if yours is a 32'' inch then it is surely going to sport itself well. Its dimensions are 800mm (w) x 400mm (d) x 495 (h) mm. The versatile TV stand is really cheap while maintaining its looks.
What's Unique:
Glass shelves are crystal clear and transparent while maintaining its toughness and safety and therefore the stand can hold a lot of weight. Its legs are made up of aluminum material and stand is designed in such a way that it is compatible with all popular TV brands
Furinno THE Entertainment Center – TV Stand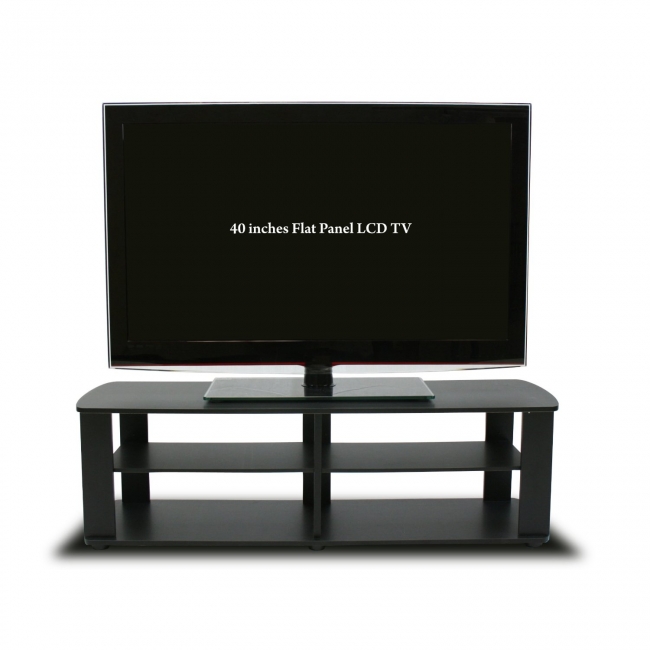 Price: $59.99
The engineered wood particle board with laminate PU paper fits perfectly with the modern décor of your home. The stand is mainly available in charcoal black, though color can be an option depending from whom you buy. It can hold a load of 120lbs and is designed for 40'' panel TV where an edge of the TV is made parallel to the edge of the stand's wood. Its dimensions are 43.3" (l) X 13.1" (h), 13.4" (w).
What's Unique:
It is made up of a really sturdy material and easy during the assembly time in homes, offices or even a student room
IKEA LAIVA TV STAND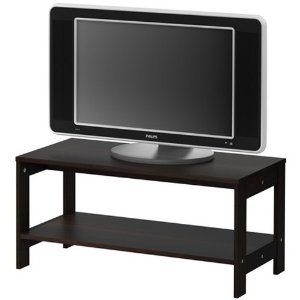 Price: $26
It is categorized in one of the cheapest TV Stand which is available in the market today. It is made up of particle board and foil and this product requires assembling. It's a perfect add-on for small rooms which knows how to sport a 32" TV and hold a weight of 66lbs with dimensions 31.5 (w) x 13.75 (d) x 14 5/8 (h). Its plain look gives your room a vintage look.
What's Unique:
Exceptionally cheap.