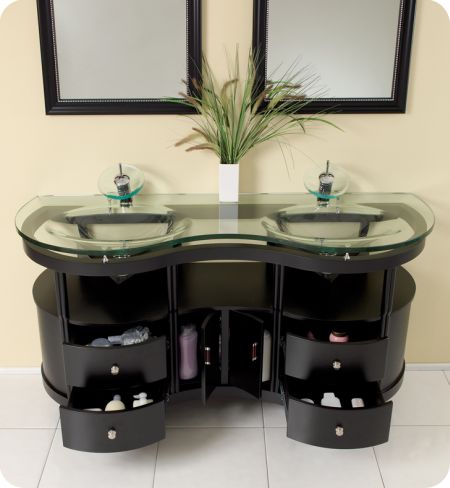 The market is full of bathroom vanities and it becomes quite difficult at times to choose the one that gives you value for your money. This article provides a list of few cheap and beautiful bathroom vanities that will help you find the right match for your requirements. You can choose from double sink or single sink, large or small storage space, antique or modern etc. Vanities are available in different shapes, sizes, styles and materials and you can choose the one which best suits your requirements.
Whirpool Bathroom Vanities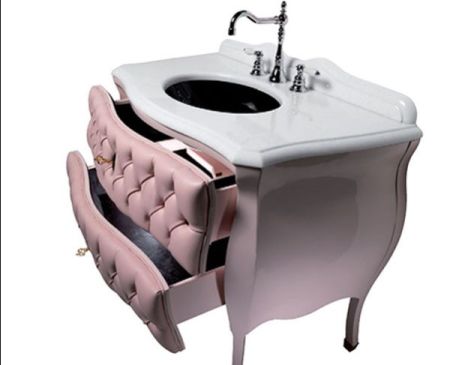 If you associate the word comfort with your bathroom, this piece is for you. This vanity not only adds glamour to your bathroom, but also comfort to your dressing-up hours. This chic vanity is from Comeo and is padded to give a soft look and feel. The pink and white combination looks ideal for a woman's bathroom while the golden drawer handles give it an elegant touch. It has two drawers having enough space to hold all your stuff.
What's unique: Perfect combination of style, comfort and convenience.
Espresso wood double sink bathroom vanity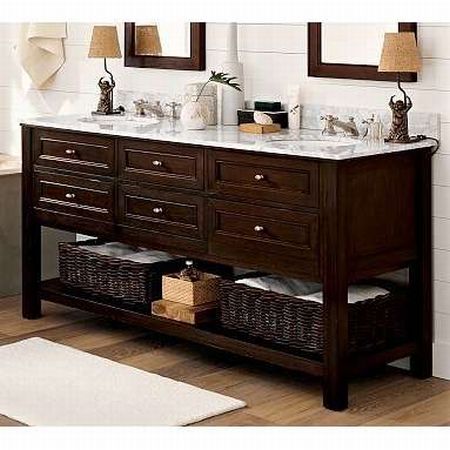 This is a very sophisticated bathroom vanity with double sink. It is a marvelous piece that looks great with any kind of bathroom decor due to its wood finish. There is ample of space in this vanity to hold anything and everything you need. It comes with six big drawers so that you can organize your stuff easily and conveniently and find it immediately when you need it. It also consists of two baskets under each sink to hold towels, etc.
What's unique: The baskets at the bottom add a luxurious feel to the entire bathroom.
Antique Bathroom Vanities Design With Solid Oak Wood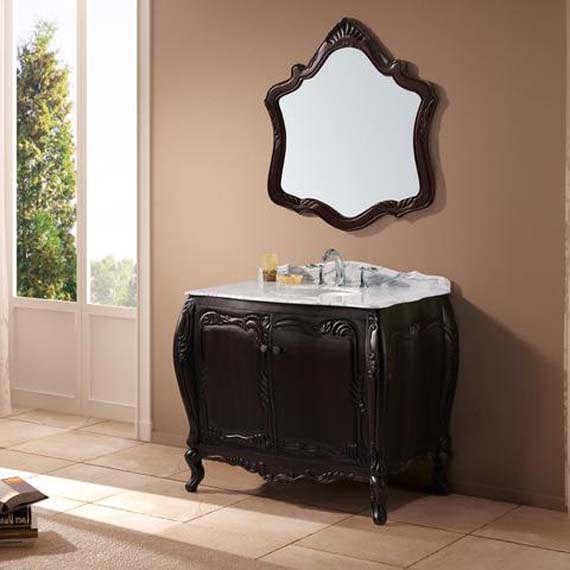 This antique vanity would go well with both modern as well as classic bathroom decor. It is made of solid oak wood with marble top so that any water spillage does not affect the wood. The base material is ceramic which adds beauty to the vanity. It has a storage section under the sink to store toiletries. With an ornate piece of furniture like this one, you will not need much to decorate your bathroom.
What's unique: Antique look with convenience of use.
Vanity Design With Stunning Glass Countertop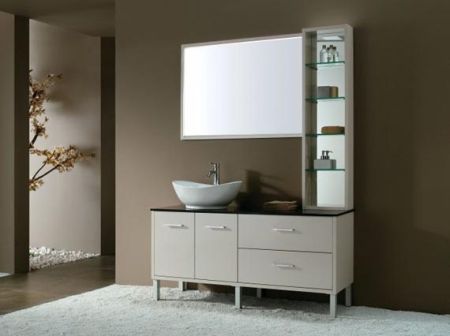 This is one vanity that will suit a modern bathroom well. It is a single sink piece with lot of storage space. It is made up of oak wood with glass top and vessel sink. The wooden part has a twelve step glaze which makes is very durable. There are drawers as well as doors at the bottom and shelves on the side. The storage design is perfect to store different toiletries comfortably.
What's Unique: Modern look with lots of storage space.
Bathroom Vanity Design with Round Shape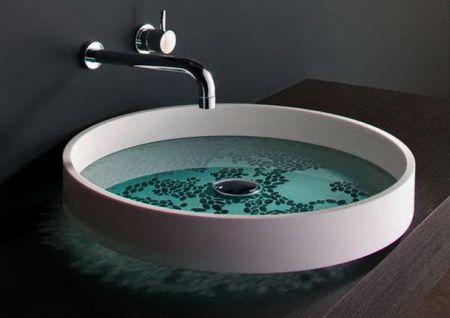 This is another beautiful and modern style vanity. There is lot of space in the wash basin to wash hands without splattering water outside. The sink has a beautiful sea green base that gives it a very natural look. The wash basin is pure white in color and gives a very soothing feeling to the eyes. It is an ideal piece for the bathroom or anywhere outside. A very basic amenity for those who love the minimalistic look.
What's unique: Big size round wash basin.
Double sink bathroom vanity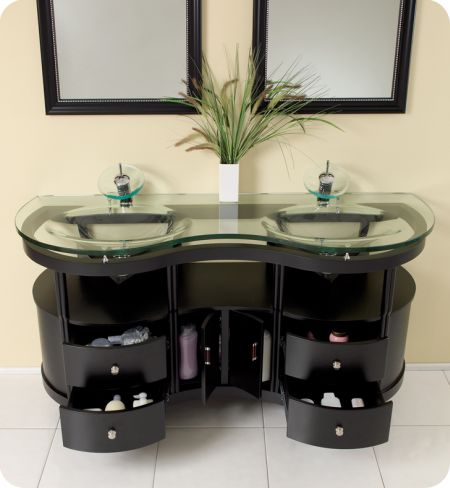 If you are looking for a very practical yet beautiful design vanity, this one is for you. It comes with double sink, black in color with just right storage space to accommodate all your toiletries. These are made up of natural woods like oak, walnut, cherry, etc. Sink can be made up of glass or metal and counter-top of granite, marble or glass. It comes with pre-drilled holes so plumbing does not disturb the look of the vanity at all. Its edgeless design is safe for kids too.
What's Unique: Easy maintenance and practical design.
Beautiful Bathroom Vanities Design by Arte Bagno Veneta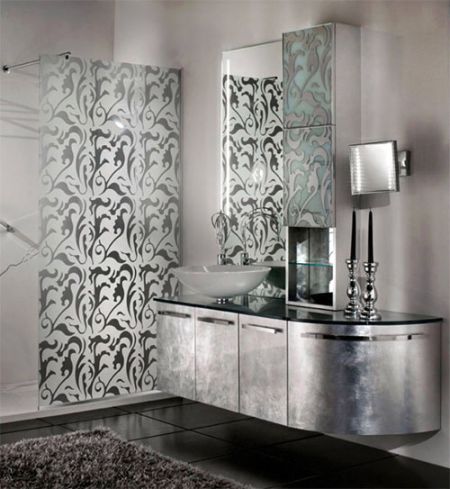 This is a very classy design with a combination of colors like black, silver and white. If you are looking forward to some relaxing time in the bathroom after a hectic day, this vanity might just do the trick for you. This modern style vanity promises an elegant look and classy ambiance that will surely make you feel good as you step in. There is enough storage space at the bottom and on the side too.
What's unique: Classy ambiance.
Dreamline DLVRB-101-WG 17″ Wall-Mounted Modern Bathroom Vanity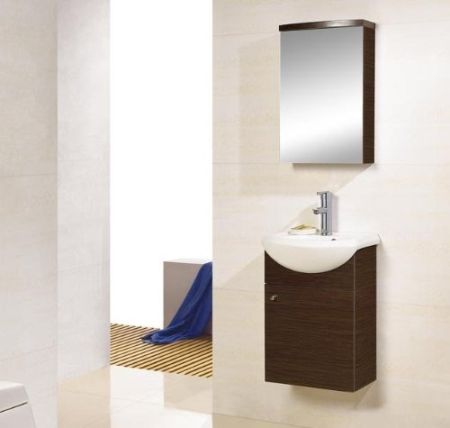 This compact vanity by Dreamline is made up of solid MDF wood. The wooden area is finished with polyurethane and also has a melamine layer on the inside that makes it water resistant. It has a white basin at the top made up of porcelain. The basin is equipped to handle overflows safely. The dimensions of this piece are: 16 3/4″ x 9 1/4″ x 24 3/4″ and it comes in wenge and white colors. It has sufficient space for medicines, first aid boxes and toiletries.
What's unique: Small size.
Madison Collection 60″ Vanity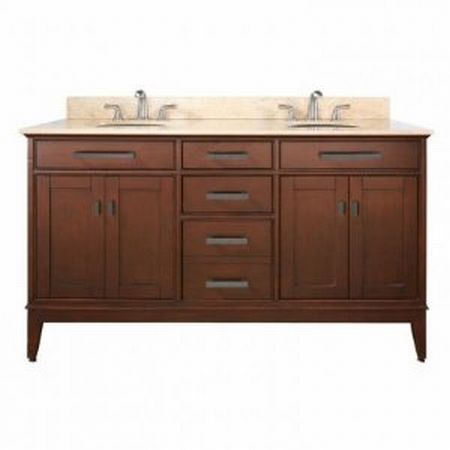 Price: $1140
Description: This vanity has a double sink and enough storage space for two people to store their toiletries and other items. It is of the size 48 x 40 x 68 inches and comes with tobacco finish. There are four drawers in the center, two storage areas on each side with a drawer above them too. This design helps you store different items conveniently and in an organized manner.
What's Unique: Reasonably sized with lot of storage space.
Artisan Bath Vanity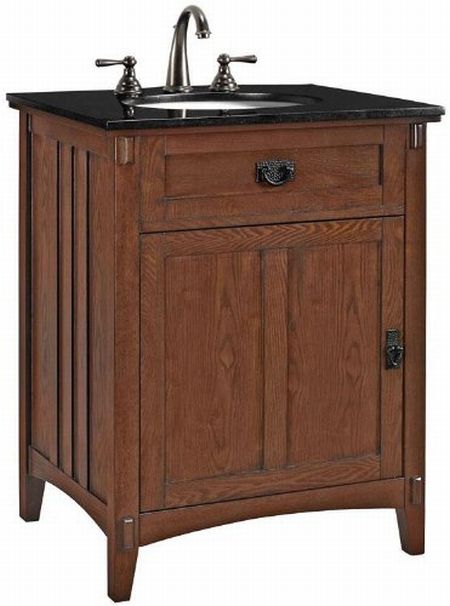 Price: $439
Description: This elegant artisan vanity is made up of oak wood and is of the size 34″H x 33″W x 20.5″D. A drawer with a cabinet under it is enough to store toiletries of all sizes. The body is made up of long lasting oak wood and counter top is of solid granite. A sleek finish gives it an apt look for any type of bathrooms or spaces outside it.
What's Unique: A solid and durable piece.