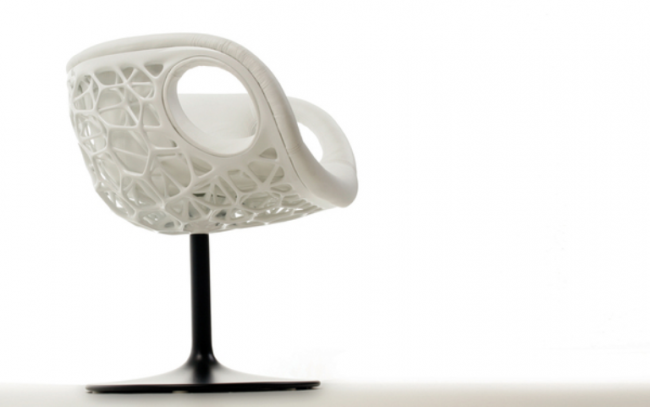 The uber stylish 'Chrisco chair' creation project was commissioned to Freedom of Creation (FOC), a pioneering product design company that specializes in creating 3D printed design products, by a Dutch design company Wetzels Brown Partners (WBP) to suit their interior for the award winning sailing yacht, Chrisco.
About the project
FOC developed this chair for CNB 100 sailing yacht, which was co-developed by Luca Brenta and WBP, based on the provided concept sketch that took the inspiration from Macedonia tray of Janne Kyttanen. Maria Cichy was the leader of this project. Technologies like 3D CAD design and selective laser sintering (SLS) were used. The single piece 3D printed outer shell is one of the largest single pieces ever produced with SLS using 3D printing machine. A high gloss finished metal base is connected to this shell. The resulting outer structure is combined with high quality padded leather.
What's unique
The futuristic design of hard outer shell can match up with any luxury setting, be it that of a yacht or hotel or any sophisticated designer home. The padded leather shell is easily removable and, hence, can be popped in or out of the chair structure. The high gloss finish of the base creates a nice contrast with structure shell and leather shell, making it desirable for any décor.
Via: Chrisco