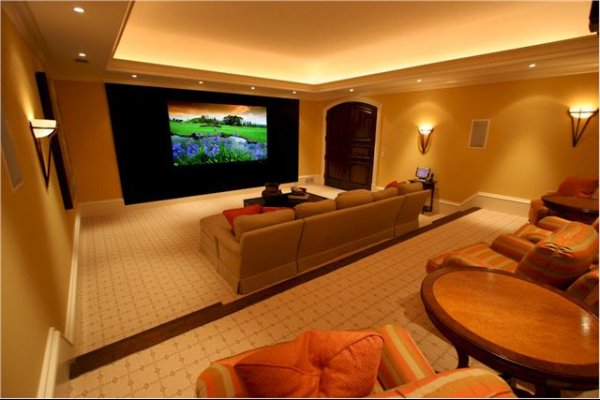 People are used to a luxurious and comfortable experience and private theaters offer it perfectly. Home theater systems have become more high-tech and sophisticated. Although the design of the home theaters is quite complicated, you need to make it look great, provide comfort and make sound and video as high quality as possible. Everything, of course, can be done with investments. Some things you can done without spending money on them. Here are some home theater design ideas that can provide you with such inspiration.
Star Wars home theater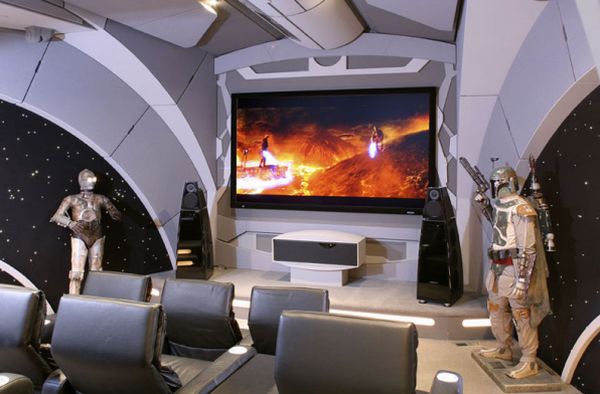 Built as the centerpiece of a spectacular 10,000 square foot Honolulu mansion, the theater makes you feel like Han Solo in the cockpit of the Millennium Falcon. Custom Home Systems based out of San Diego made the theater with all of its electronics and speakers hidden from view, so all you see is the 107-inch screen and the amazing architectural details. There's even a pair of life-sized talking C-3PO and R2-D2, though we really hope this C-3PO isn't one of those droids that jabbers through the entire movie.
Batcave home theater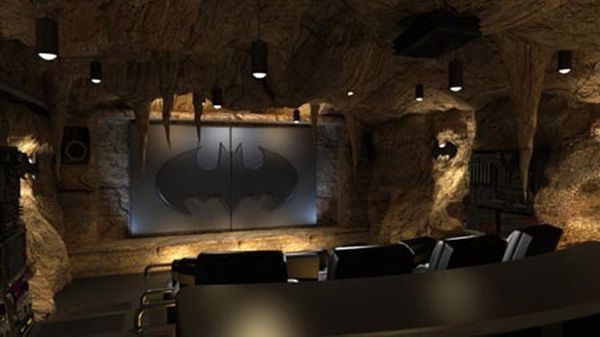 This picture comes from a company called Elite Home Theater Systems which actually sells just chairs, and look like they may just be conceptual. The theatre is integrated with a Runco DTV-1101 video projector that projects onto a 4-way screen by Stewart Filmscreen. Faroudja DVP-5000 video processor and Escient Power Play DVD management system complete the video system highlights. The audio system in this theater consists of a Revel surround sound speaker system powered by eight Linn Klimax mono-block power amplifiers.
Terminator home theater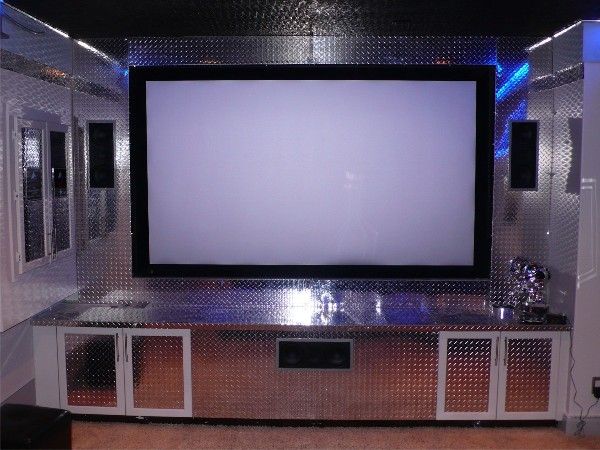 This T2-themed home theater is kitsch, but it's the right kind of kitsch. DJ Gerling, the owner of Vivid F/X Custom Install Services in Edmonton, Alberta, Canada cobbled together a whole lot of diamond plate, fancy home theater components and just the right amount of Terminator memorabilia to create a semi- tasteful Cyberdyne- inspired theater in a 14′ x 21′ basement. All of the acoustic components are concealed behind a stretch fabric system. The low frequency acoustic response of the Terminator Theater is controlled with latest Modex Modules. Modex is fully tested in a 24' long, 7 ton low frequency impedance tube, one of only a handful in North America. For diffusion, cost-effective Class A QRD Formedffusor was used. To provide reflection control without excessive damping that occurs with purely absorptive wall treatment, a unique diffsorptive binary amplitude Home Theater Panel was specified.
Star Trek home theater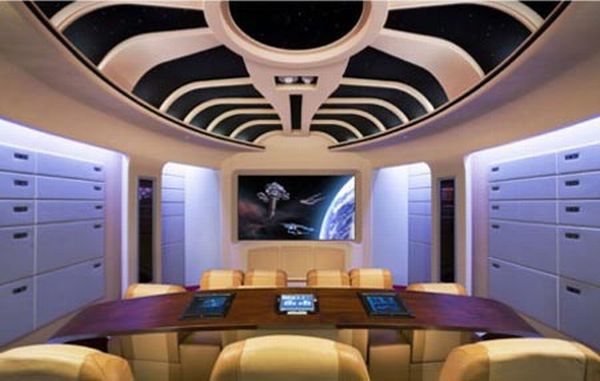 Someone thought it would be a good idea to model their home theater after the Enterprise NCC-1701D from Star Trek: The Next Generation. The result is super geeky, but actually rather cool. Named the best theme theater installation at CEDIA 2007, this Palm Beach County, FL home features motion-activated air-lock doors with series sound effects, and a "Red Alert" button on the Crestron TPMC-10 controller to turn all of the LEDs bright red and flashing. The system also features "one of the largest Kaleidescape hard-drive based storage systems" ever created, amassing eight servers with 3,816 DVDs. Check out more photos after the jump.
Nautilus home theater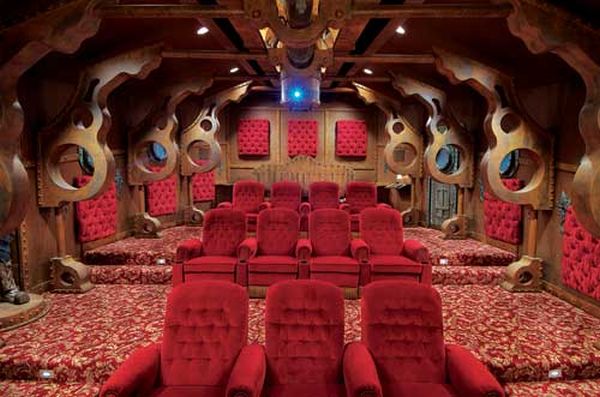 The Nautilus home theater was created to resemble the interior of the submarine of the same name from Jules Verne's classic novel Twenty Thousand Leagues under the Sea. To avoid simply copying from the 1954 Disney adaptation, Dallas based architect Michael Malone deliberately refrained from studying the film, choosing instead to base his design on Verne's original vision of Victorian opulence, as vividly described in his 1870 novel. Working in concert with custom integration specialist Audio by Design, the Nautilus Theater is fully automated using a custom AMX control system.
Indiana Jones home theater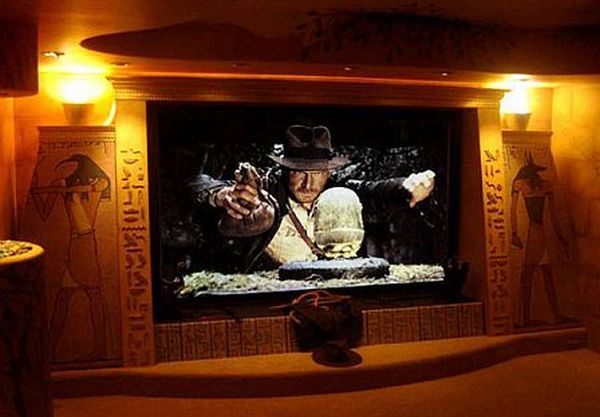 A small number of torches, an idol and a little technology helped turn this Indiana Jones-themed room into theater quality. Although, the set-up doesn't tout very impressive AV gear but it does feature the Nazi-loving monkey from the original Raiders of the Lost Ark, gold idol, and 1/2 scale ark from Raiders, and replicas from Last Crusade such as the Grail, and a set of Indy-ish jacket, hat, whip, and torches. The AV equipment includes Lutron's Grafik Eye system for theater lighting. Also, it has a big screen, NEC's HT1000 projector, and custom painting. Prop replicas from the Indiana Jones movies are present all over.
Titanic home theater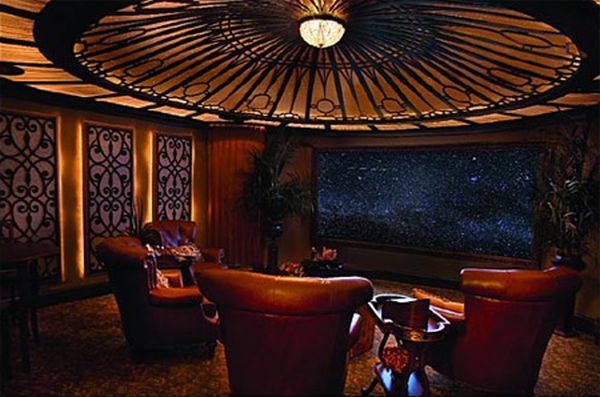 This Titanic-inspired home theater features a 1,230 fiber optic light strands in order to provide the artificial night sky and entry to the luxurious bar next door that can be found behind a motorised bookcase. The room features other luxuries such as a projector and screen that provide super wide CinemaScope pictures like those shown in commercial theaters. In fact, this room boasts the first CinemaScope installation with a Vidikron projector to be used in Tennessee.