It's not a normal love story. After all, how often would you expect to see a pin falling into love with a formica table top? Not often, right? Well, cutting to the chase, we have been seeing a lot of DIYs these days. So this is the perfect example of one table which you can create, sitting right at home.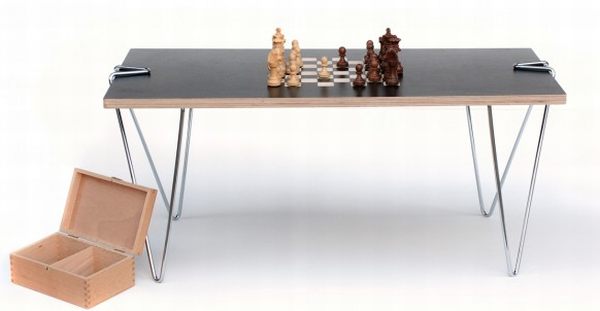 Tick, as the universal table leg system has been titled, is a magnificent piece of innovation. With a capability to convert any piece of junk into a splendid table, the paper pin style of the legs acts as the perfect balance. Acting like a large paper clip, just squeeze the feet, open the top and fit it into the board on top. Lo behold, you have a ready table for yourself. Not only is this concept very easy to understand, but it's also the best project in the DIY series.
With the hairpin leg, you can convert almost any flat surface into a roaring table. May it be any kind of reclaimed hardwood, a flat wooden block or any other kind of surface, all of them can be converted into a ready to use table. Promising a strength and stability all on four legs, Tick by German startup Linie 58 makes everything possible. Available in a multitude of colors, you can choose the color of the pins you want to mix and match with your décor. The pins are currently selling for a price of 79-94 euros per pair. After all, beauty will come at a price, right?
Via: Wired