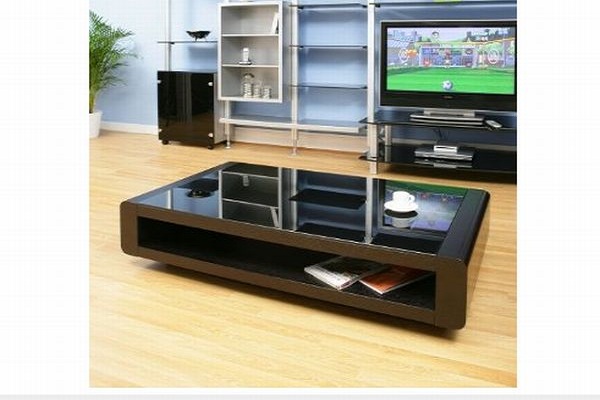 A coffee table needs to be something more than just a coffee table. Most of the families want a coffee table wherein they can not only keep their drinks and food while sitting on the sofa, but can also keep their household utilities and items. They want their coffee tables to effectively utilize and save space. So, here we have combined a list of best coffee tables with storage.
Lift top coffee table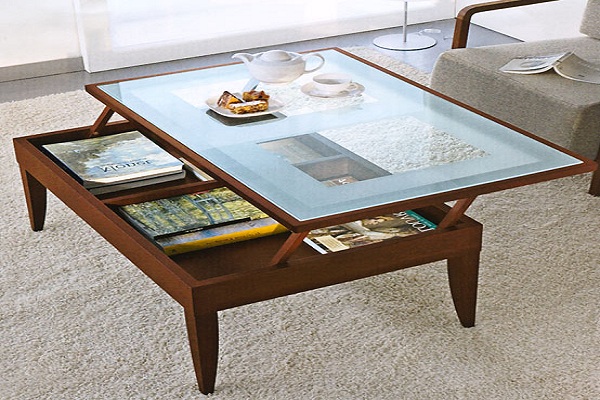 Several people have problems with the height of the coffee table. This is because a low-lying coffee table is difficult to use. Therefore, this coffee table provides you the option of adjusting the height of table top according to your needs. This table has several diverse functions, which allow it to become a TV tray or transform into a dinner table. Some of the customized tables also provide drawers and shelves making them a perfect storage option for all the snacks that you want to serve with tea and coffee. These tables can also provide a break from monotonous work desks as you can use them to work on your laptop or write your assignments.
Modern white crocodile coffee table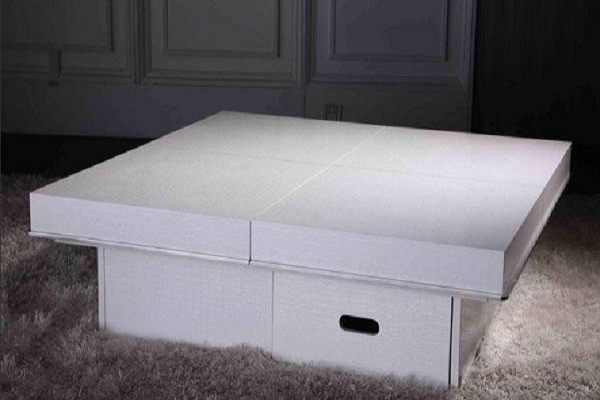 This coffee table is incredibly elegant and stylish. The table is divided into four sections that can be used as separate shelves and can be extended outward to bring the table closer to sofa. The crocodilian texture on the top is unique and appealing. A drawer at the bottom allows you to store several kitchen utilities. The coffee table can be easily extended to become large which allows you to save a lot of space. Your guests will be awed and dazzled by this beautiful, multi-functional coffee table.
Coffee table with four integrated Ottomans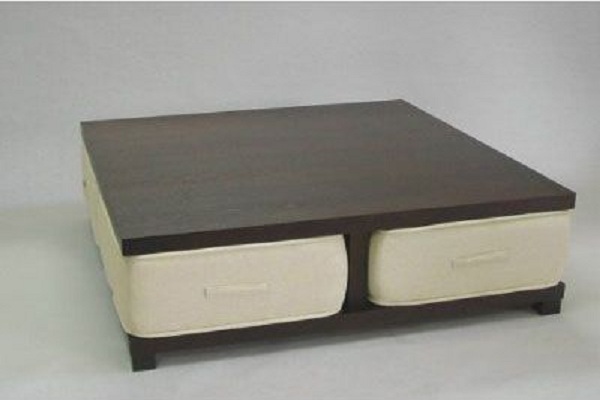 On the first look, this coffee table will look nothing different from several simple coffee tables available in the market. But this is what makes it different. Although, it has simple, elegant look of a normal coffee table, yet it can transform itself into space saver, stylish piece of furniture within seconds. This coffee table from Kyoto is an excellent table for families living in apartments. It has four Ottomans for storage that allows you to keep stuff hidden in your living room. And the best part is that these Ottomans are effectively tucked under the table within the integrated slots. Therefore, the next time you have several guests, just pop the Ottomans and let everyone have some space for themselves.
Coffee table for storing books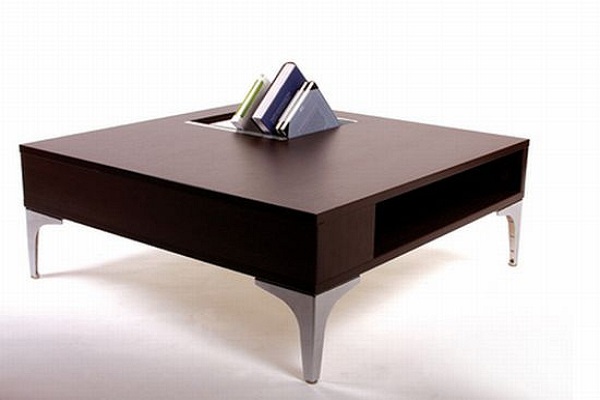 Dining tables are so formal and require you to follow particular codes and etiquettes, but coffee table provides you a more relaxed environment. It is your special place to relax, read and rejuvenate your mind. And if you are a bookworm, then this coffee table from Kaja Nosal can be your hub. This coffee table is designed for readers who love reading but don't want to keep their books back at the bookshelf until they have finished it. The table integrates a special place to keep your books. Great storage option and you won't have to deal with the hassle of finding your book on the bookshelf.
Loto coffee table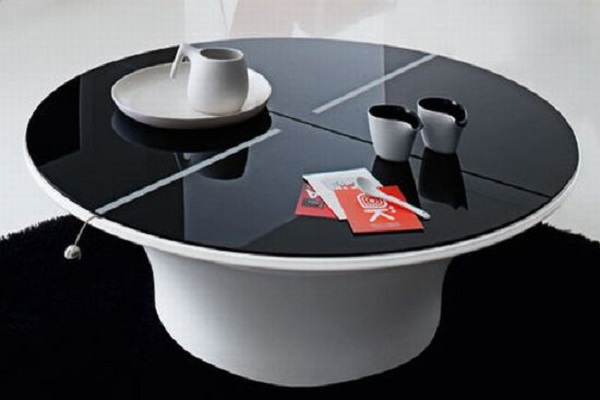 This coffee table has an attractive, chic design thanks to its Italian manufacturers called Com.p.ar. The table lends aesthetic beauty to your room with a touch of modernity. The black table top made from glass is quite strong and makes a bold statement. The looks are glossy, but the table effectively utilizes space with a hidden storage area under the glass which can be easily accessed. A perfect example of function and form.
Wooden coffee table with sliding lid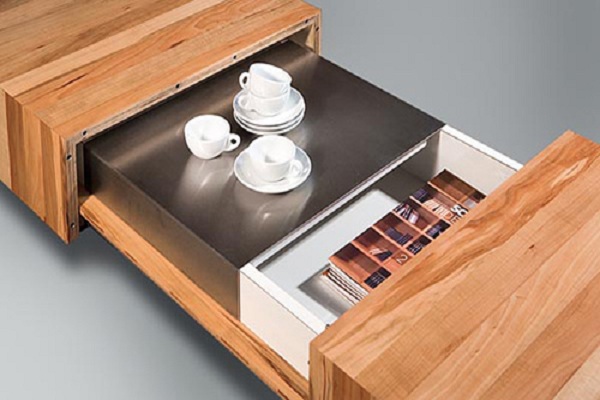 Want a place where you can keep all the snacks hidden away from your kids? Well, if yes, then this coffee table is a must buy for you. Designed by Schulte Design, this coffee table is made from wood and has appealing look and texture. It has a contemporary design, which allows you to slide the table top to make the table look longer and also has a storage option where you can keep your crockery and snacks. Now that's called smart coffee table.
Coffee table with black oak glass top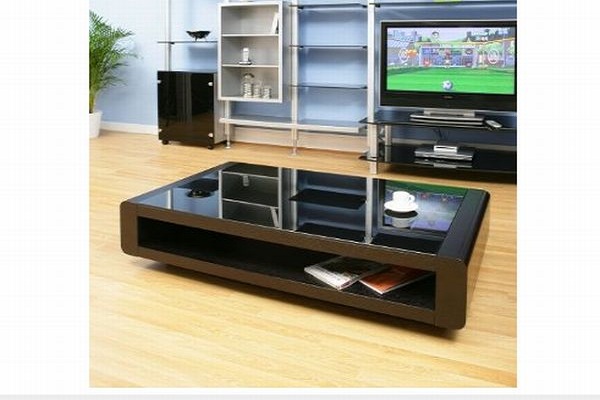 This coffee table boasts of German design that is known for its functionality and comes with a beautiful black oak finish, which makes it look modern and stylish. This table has small drawers for storage where you can keep simple household utilities like sugar packs, snacks, juices or cutlery. This table is quite broad and can easily suit any kind of interiors in living room.
Water Hyacinth coffee table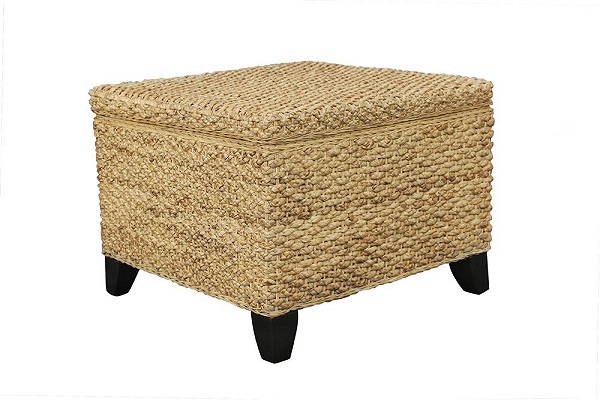 Are you still a fan of traditional coffee tables? If yes, then this one will surely appeal you. This lovely table has a classic cube shape that saves a lot of space. It has a handy opening top that provides you lot of storage and it can also double up as small stool for children. The table can be combined well with traditional looking living rooms and can also compliment Water Hyacinth furniture. The deep storage area comes in handy while the sturdy feet keep the table strong and durable.
Coffee table with storage baskets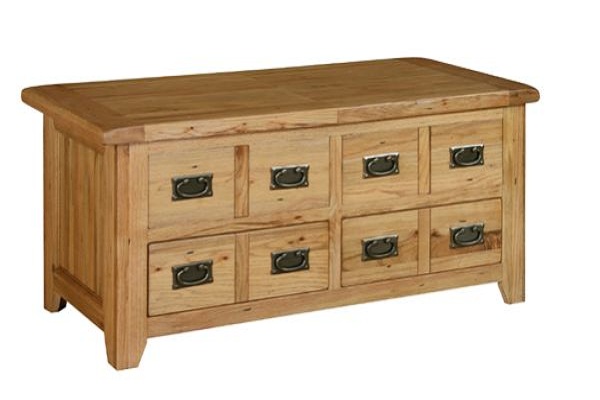 This table has a table top and legs carved from wood, which make it strong and durable. It is eco friendly table as it uses sustainable form of lumber. This coffee table is set apart from the rest because it features baskets woven with rattan. The baskets are a bonus for those who have space issues. It saves a lot of space, is big enough to be used for a variety of purposes and provides you with creative storage options. The look is quite appealing, simple and attractive.
Mobile storage coffee table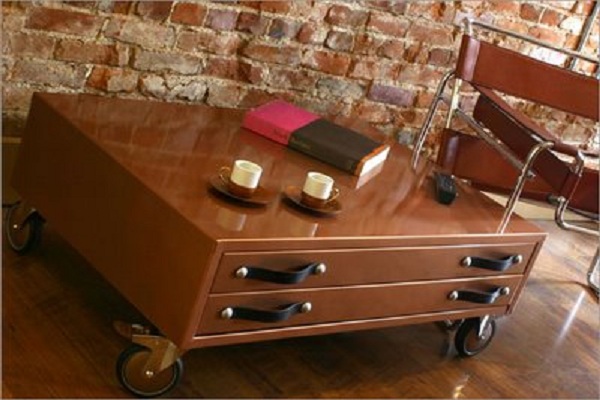 This coffee table is chic and trendy. Manufactured by Hobart Cabinet Company, this table provides you two large drawers, which are an added convenience and provide lots of storage options. You can collect all your magazines in these drawers or use this as a cocktail table. The features and creative ways of using this table are endless. The table top is broad enough to be used for working purposes.