The secret to a beautiful bathroom lies not only in its decor and designing marvels but, also in its smart organization and storage planning. Apart from the color schemes used, a clutter free look too can help in uplifting its appearance and imbibe freshness. Most of the time, we know what to do but fall flat when the question of 'how' crops in. To deal with that 'how to', we have come up with few easy steps for you, that don't require any special skill or money.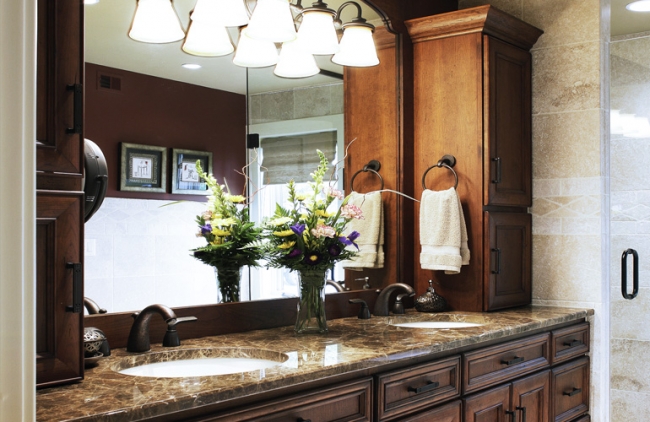 1. First step: Clearing and cleaning come first
This will be your first step to attain the clutter free look. Without getting rid of extra and waste toiletries and objects, you can't even think of a perfect organization. Read on to know about the steps.
a. Your bathroom might contain jars, tubes, bottles etc of used up toiletries. These empty and useless containers occupy ample amount of space of your bathroom shelves. Throw this waste away to make space for useful ones.
b. Check for toiletries that have crossed their expiry date. Dispose off these products as they can cause problems for your body. By doing this, you will also be able to save space.
c. You can store extra bulk of toiletries in cupboards outside the bathroom or organize a special cupboard inside the bathroom to store them.
d. Now, clean the shelves and place necessary toiletries on them neatly. and remember, sometimes it does pay to be picky!
2. Second step: Now comes organization
After clearing the clutter and removing all the unwanted stuff from your bathroom, it is time to organize it. Organizing your bathroom properly can save your time and energy on looking for toiletries.
a. First thing that you need to do is to arrange a place for towels and napkins in your bathroom. You can paint the back of your bathroom door with magnetic paint to stick hooks and towel bars to hang your towels on. Or you can simply fix shelves in your bathroom to fold and organize the towels and napkins.
b. Roller wheel basket is available in the market. You can place your toiletries in it and keep it in a corner. Pull it when you require anything and push it back when not you don't need it.
c. If you want to keep your walls clean, buy inexpensive baskets and use them to keep small and big toiletries instead of going for shelves. These come in beautiful shapes and designs and you can choose the one which suits your bathroom's decor.
d. Buy cabinets for your bathroom. If your bathroom is small you can opt for built in cabinets as they will occupy less space. Organize excessive toiletries, towels and napkins in the cabinets to save on space in your bathroom.
A beautiful bathroom goes a long way in setting your style statement. Try working on these inexpensive tips and we bet you will receive amazing compliments form your guests and friends.