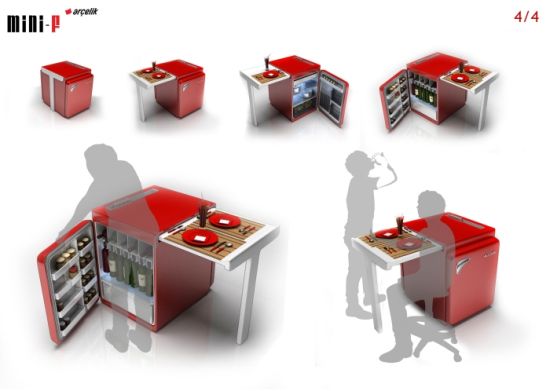 The Designer: Mini F is the brain child of the Turkey-based designer named Aslihan Yilmaz.
The concept: Mini F is the mini refrigerator designed for singles or couples who live and work at their home offices. It's one customizable home product that is perfect alternative for bulky refrigerators that just occupy the space and are not used to the optimum levels.
The inspiration: Space-cramped home offices and single people who are left with no options than to see their gigantic refrigerator empty inspired the designer to come up with compact refrigerator.
What's different? As y'all can see, the Mini F refrigerator is compact and cool. It promises to occupy minimal space possible making place for other home products.

What's in for me: Single people or the couples can make the optimum use of Mini-f refrigerator that can be used as an alternative to existing refrigerators. Also, you can use it as the bistro table. Besides this, it has the hidden surface that when pulled out can be used as the mini dining table to let you dine with ease.
Via: Coroflot