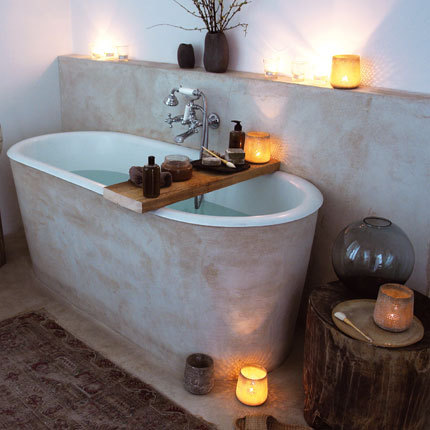 If you are the classic, I-do-things-my-way kind of a person, here is a nice option for the ongoing bathroom renovation. The unkempt hair is in. Then why not try the unfinished look on the fittings of your bathroom?
Using concrete in bathroom is a double-edged sword with some merits and demerits. Concrete is resistant, can be built on the spot, asks for low-maintenance, is light on the pocket and can be tailor-made to your imagination! The disadvantage is that it is heavy material and also semi-permanent, for once you install it, it will be quite a feat to move it around! Clearly, the advantages are far too many to dismiss the idea of putting concrete in your bathroom!

The perforated look, like that of swiss cheese is quite different and looks exotic if accessorized with Mediterranean decorations. You can combine it with glass and wood and make it look like anything you want. Same goes for brushing it up with natural color polish for that even and detailed ambiance.
Who cares about having to move it around, when something looks that beautiful, the more permanent, the better!
Via: Opendeco