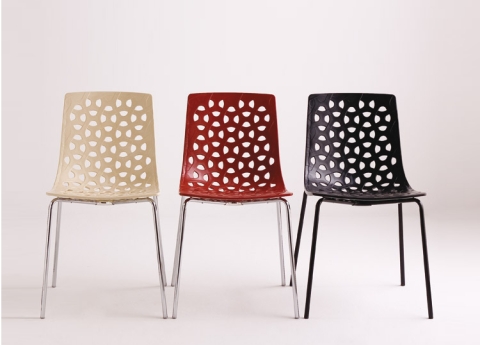 Dining chairs are central to dining room or modular kitchens, be it an apartment or a grand mansion. The way we design our dining hall reflects a lot about our personality, and fortunately there is a wide variety of dining chairs available to suit almost everyone's style statement. Contemporary designs reflect a modern outlook by using lot of smooth curves, glossiness along with minimal designs, which perfectly suits modern hi-rise and apartment life.
To give your dining room a new look or to update it with latest trends, replacing the dining chairs is a fantastic idea. Matching the chairs with your dining arrangement is a bit tricky task. So, we have shortlisted some of the most trendy chairs to help you choose from the wide variety of chairs available.

1. Corona Contemporary Dining Chair
BRAND : Corona
PRICE : USD 287.669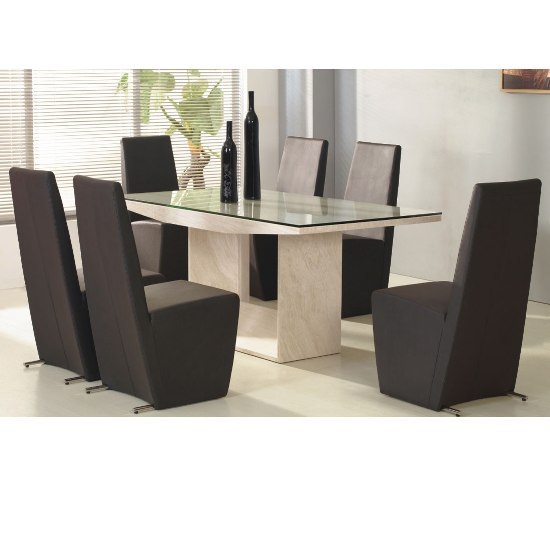 The corona contemporary dining chair features a unique style which gives an elegant and graceful look to your dining room. The refined dining room chairs are designed especially to give your dining room that unique and trendy touch. The chair is high on comfort level and provides great relaxation as well. The chair is available in two colors, black and white from which you can choose the one that compliments your interior.
USP
The chair is richly designed for a modern yet aristocratic finish to appeal nouveau rich
PROS
The chair provides great comfort.
The colors available are suitable for almost any interior.
2. Tess Contemporary Dining Chair
BRAND : Tess
PRICE : USD 240.907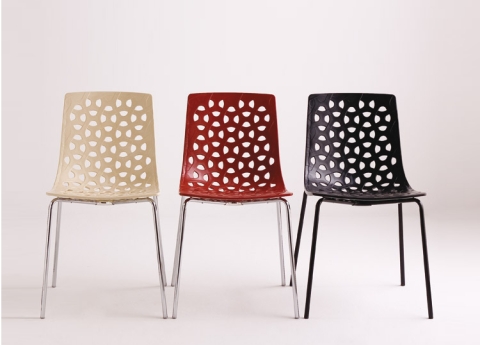 Tess contemporary dining chair is a stylish dining chair made in robust scratch resistant plastic. The dining chairs exhibit great quality and style and prove to be of a compliment to any modern dining arrangement or office. The chairs are also suitable for outdoor purposes or can also be used as a barstool. Apart from giving a beautiful look to the place where you keep it, the chair is very comfortable and easy to maintain. The chair is available in a variety of colors such as white, black, red and sand.
USP
Made in scratch resistant plastic the chair is easy to clean and expected to retain the shine intact for a longer period.
PROS
The chair is not only suitable for your dining arrangement, but also great for office and other outdoor purposes.
Available in a variety of colors.
3. Congress Stacking Dining Chair
BRAND : Congress
PRICE : USD 202.5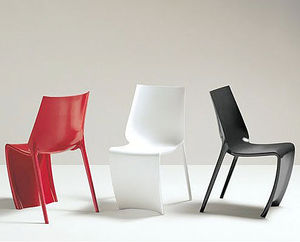 This dining chair has a sleek and vibrant design. The comfortable and easy to handle chair encompass a polypropylene shell that is surfaced on the inner side of the chair and looks glossy from outside. A benefit of these dining chairs is that these are easily stackable and can be stacked up to 6 chairs high. The chair features a 4 leg metal frame. The chairs work great for bars as the design highly compliments it.
USP
The chairs are available in solid candy colors and can be stacked over
PROS
The chairs are easy to clean and maintain.
They do not occupy much space and give a sleek and neat look.
4. Hygena Amparo Black Dining Table and 4 Black Chairs
BRAND : Hygena
PRICE : USD 200.73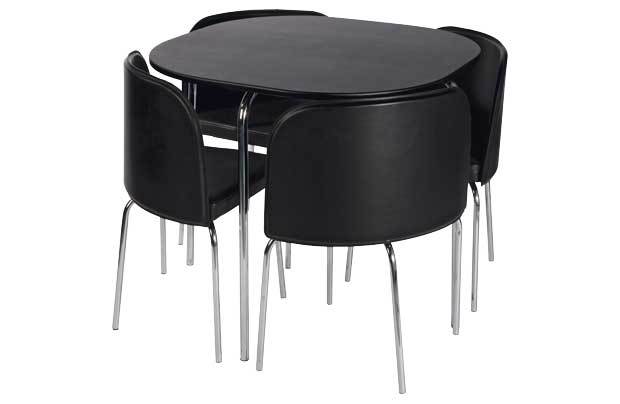 The contemporary dining chairs feature a leather effect and chrome plated frame. The black leather effect seat pad along with back rest makes it a stylish yet comfortable chair. Different than the usual designing the chair attracts attention and appreciation and is a very trendy and elegant option. The chairs are available in 2 colors and have the potential to compliment the interior in a unique style.
USP
This designed which is inspired from Bar stools maintains its charm for dining room as well
PROS
Unique designing.
Comfortable seat pads along with back pads.
5. Elios Contemporary Dining Chair
BRAND : Elios
PRICE : USD 321.215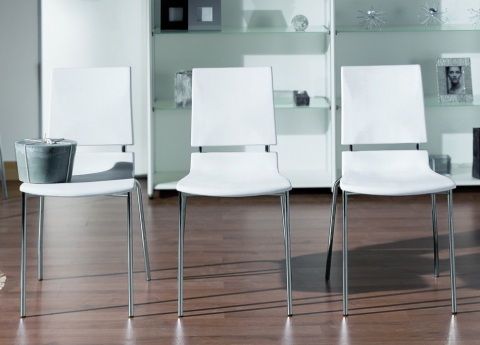 This dining chair carries fantastic quality and suits any dining arrangement. It even compliments workplace interiors and can also be used as an outdoor chair or a barstool. The contemporary dining chair is in glossy scratch resistant plastic which keeps the newness of the chair intact for a longer period and provides a neat well finished look. The chair is available in a variety of colors like blue, red, white and black. The variation in the colors provided helps you to select the best combination for your interior.
USP
Availability of numerous colors helps to matching the chair according to your interiors.
PROS
Glossy scratch resistant plastic makes it easy to maintain.
6. Marriot White Contemporary Dining Chair
BRAND : Marriot
PRICE : USD 107.857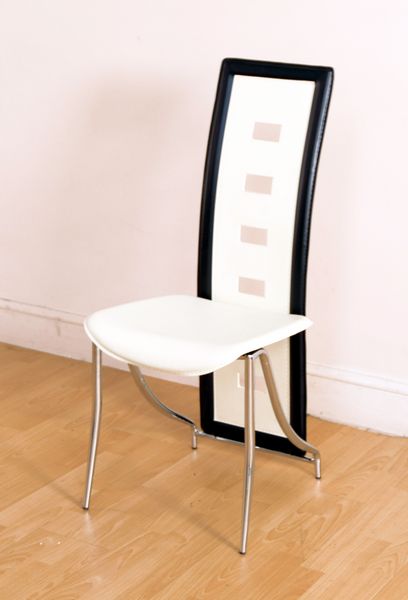 Marriot white contemporary dining chairs hold an elegant and classy appearance. Upholster in white faux leather and black trim the chair is a great one to own. The comfort level provided by the chair is impressive. The well designed chair is pleasing to the eye and sustains on a contemporary chrome frame to provide ample of support. Most suitable for glass dining room furniture but the chair can also be teamed up with other dining arrangements.
USP
This Japanese design which has now made inroads into popular mainstream designs in west can transform any dining space
PROS
The chair is feathered in white faux leather.
The chair holds a unique and elegant design.
7. Millie Contemporary Dining Chair
BRAND : Millie
PRICE : USD 449.72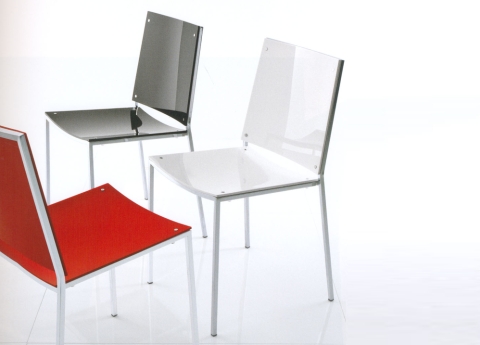 The chair is a part of the extensive Italian contemporary furniture. Millie contemporary dining chair is one of the most hardwearing chairs you can come across. It has a chromed metal base with well finished designing and glossy colored transparent metacrylate. These chairs, apart from holding the feature of being hardwearing and durable are also quite stackable and easily maintained. The colors available for these chairs are in wide variety. You can choose from an option of white, black, red, smoke grey, transparent phosphorescent orange and green. You can also find the option of full transparent finishes.
USP
This chair gloss finish over semi transparent metacrylate is very strong and durable
PROS
The chairs are available in a wide variety of colors.
The chairs look extremely elegant and are easy to maintain as well.