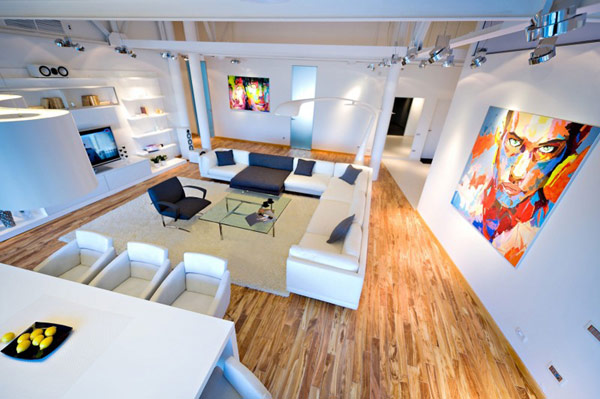 The designer
Chisinau based studio GAS
The Project
This huge apartment created by GAS in Chisinau, Moldova beautifully showcases a contemporary loft design decked with many luxurious, comfortable and artistic features. Its clever usage of the open interior space turns out to be the focal point of this magnanimous apartment. Every room of this loft is connected to each other and its double height and open plan living are the most striking characters of this beautiful apartment.
How to get the look
If you fell in love with the brilliant and artistic design of this loft, then you can also throw in similar beauty and comfort to your home or apartment. You can create a floor to ceiling windows in your home that will let natural light flood in your room, exactly the way it has been done in this lovely loft.
This apartment in Chisinau features walls drenched in white that contrasts well with the patterned wooden flooring. Taking cue from this, you can create such contrasting color combinations to bring out the beauty of your house. You can even create bright and colorful patterns on the walls to throw in an artistic touch.
The exposed pipes run through the house to offer a brilliant industrial look to this stunning loft in Chisinau. Take a hint from this idea and sprinkle your own creativity throughout the house.
via: freshome