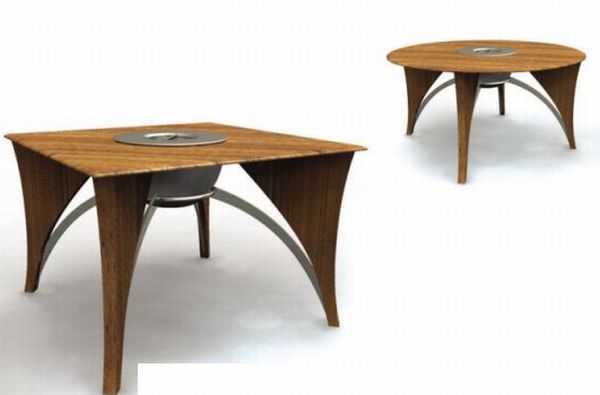 When it comes to furnish our lovely home, we intend to go a step ahead in decorating each room and corner of house with good quality and designer decor items. Of course, no one would like to invite criticism and crooked facial expressions of people coming into their house. And more often we tend to neglect the most important part of furnishing and that is the table priority thinking it as a smaller part of furniture decors. Outdoor parties are just fun but organizing one in your home bothers you for you do not want to get embarrassed in front of your friends for you just want to be a good host, right? Smart choice of stuff obviously makes you a smart host. One important thing in the cocktail parties is the cocktail table. These imposing cocktail tables are here to add to the elegance of your home.
1. Firepit cocktail table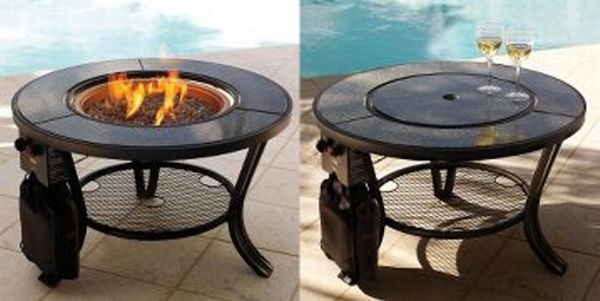 This is the era of multifunctional gadgets and at this time I am going to show you something rather exceptional – a fire-pit that can be changed into a cocktail table when not used. It can also be used as fire pit for cooking. It can burn for 120 minutes on two 16.4 oz propane cylinders without producing any smoke. This is very useful, especially for barbecues. Only a push of the button is required for the burner to light up. When you are done, simply cover it with a deep granite piece. The cocktail table is now ready. It is 24'' in height, 33'' in width and 33'' in length and costs around $399.95.
2. Infinity cocktail table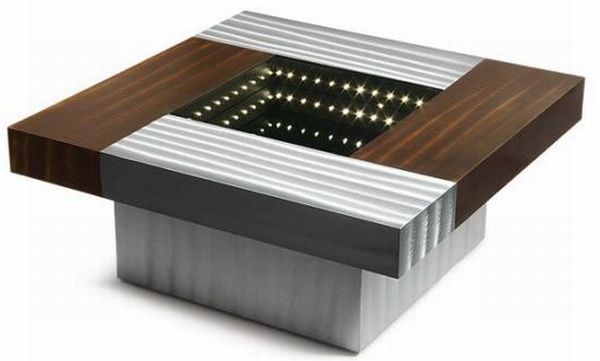 Thinking to go to a bar with friends and give them a real treat? Want to do something special? Well, to do so, you do not need to go to a bar. Infinity cocktail table is undoubtedly going to make your memorable and lively. The infinity cocktail table is made in such way that that anyone can feel jealous to see it at your home. With combination of LED light and mirror, the piece looks so attractive that it can take you to a never ending avenue. It will cost you around £600.
3. LED cocktail table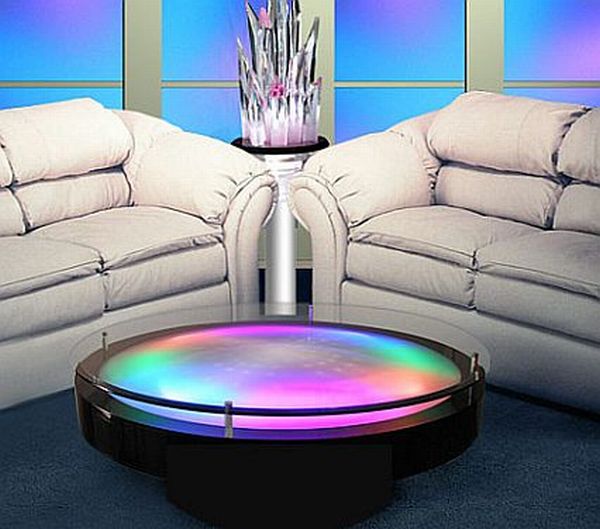 The table has a 2-inch high semi-transparent dome top which is 48 inch in diameter, a white light MR16 effect and an eight NXT LED light strips. It gives a complete look of a hi-tech bar. It comes with a light controller which enables you to choose and modify a range of light effects. It features a glittering fountain of white light that flows in and out from the heart of the screen. It is also available in three options including white, black, or brushed aluminum furnish for your dining rooms. It will cost you around $4695.
4. Aurora cocktail table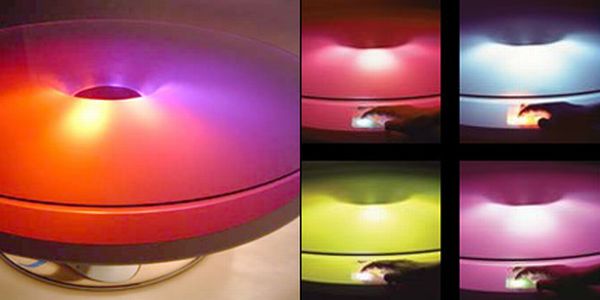 Aurora cocktail table will set your mood for an ideal cocktail night with your friends. The table is 42' in length and has an icy acrylic top which is attached to a tall shiny surface having white body. Designs and colors can be changed with a remote or touch sensor. It will cost you around $3500.
5. Mambo cocktail table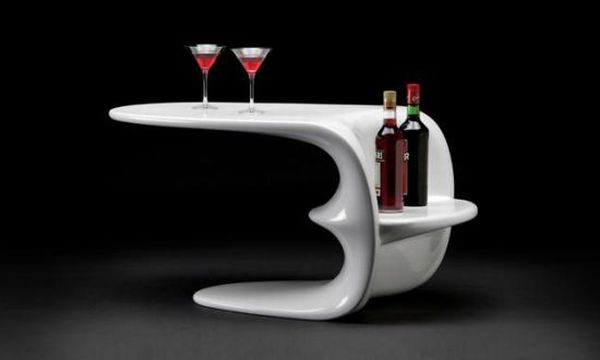 Mambo cocktail table is designed by Mr. Dario Polace. The design of the table is only one of its kinds, generates more place keeping the bottles on the lower incorporated platform. You can talk and drink without getting distracted. You can use it in places like swimming area. It will add a functional element. Moreover, it will give a dashing glamor look. You cannot stop your mouth from uttering the word awesome.
6. Cocktail patio table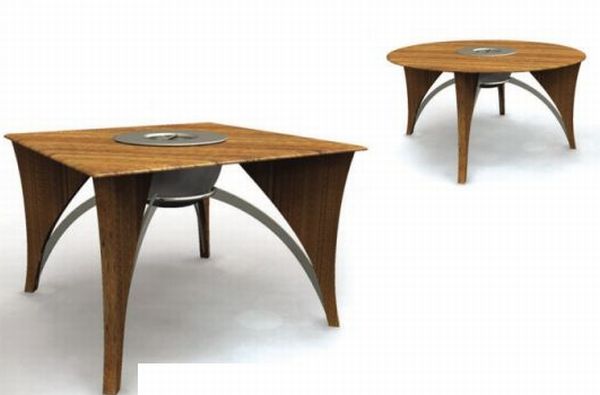 Cocktail patio table is designed by Sophia Voychehovski. The presence of ice-bucket makes it a unique choice. The stylish cocktail table allows your guests to access and help themselves without any difficulty. It may look simple but designing it was not that easy. Issues like balancing use, figuring out correct volume and safe ergonomics had to be kept in mind while framing the cocktail patio table. You can hold the bucket either way. The design lets you to carry as well as extract easily. Smart functionality with elegant design makes it an ideal choice for those who love to organize cocktail parties outside their home.
7. Tap in for birdie cocktail table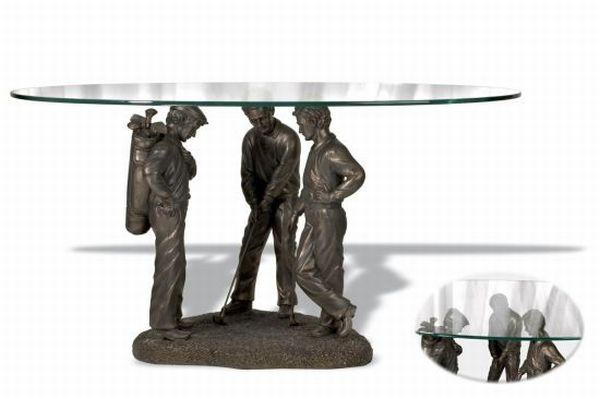 This striking cocktail table will give luxurious and comprehensive looks and undoubtedly going to add classiness to your office or home. Only a fleeting look is enough to make someone impatient to have one. It features finished stand in the company of a bronze acrylic design showing its bronze side-lines. Add to its more features, a top carved out of a 3/8-inch edged glass. Its oval design gives it a classy look. It measures 17 inches in height and 21 inches in width. It is specially made keeping in mind the requirements of the golfers. It can be pooled with golf tables and golf bags without any trouble. It is available with a price tag of $220.
8. Carlick champagne tables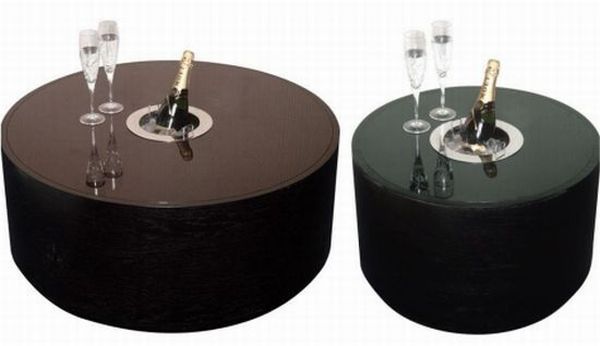 Whether you hold an extraordinary collection of the best champagnes or rarest wines, you would surely not want to serve them on an ordinary table. Carlick champagne tables promises to give a new high to the party. It is available in different sizes, shapes and finishes. Like cocktail patio tables, a carlick champagne table too is provided with integrated bucket in the table surface to serve your bottles of bubbly chill. This table is available with a glossy chocolate cover at drink stuff. It will cost you around $1515.