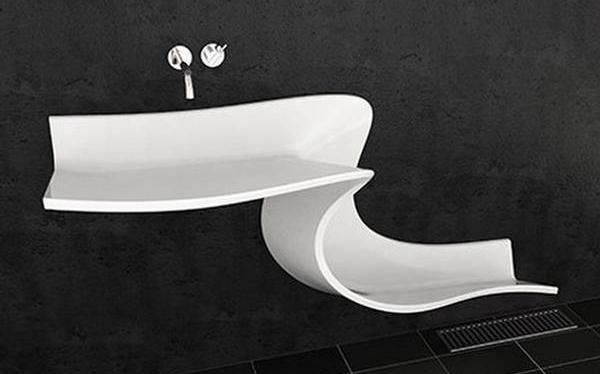 Gone are the days when washbasin merely served as a point to brush teeth and wash hands. People now seek beautiful and creative designs to adorn their living spaces. The washbasin can now become a piece of art. Below are six such cool washbasin designs that will transform your mundane sinks into a masterpiece.
1. Moody aquarium sink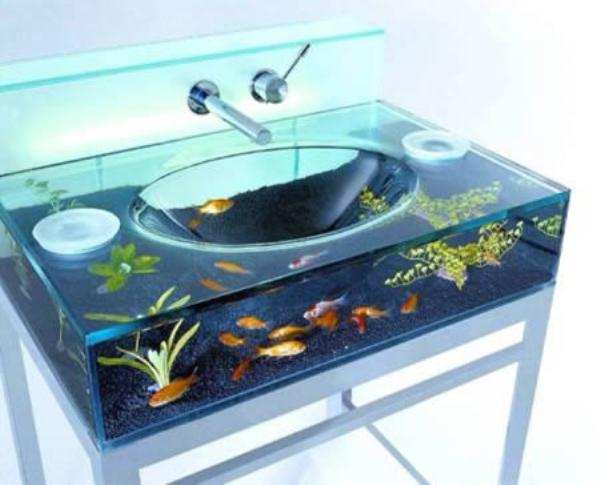 Here is cool concept – washing your hands in a basin with fish swimming underneath. The Moody aquarium sink from Italbrass has a sand bed, built-in lighting, and filtration for the fish. It is a fully functional fish tank and a washbasin. The basin comes with a removable glass top and has soap dishes on either side of the main basin which doubles up as entry points into the aquarium for feeding and maintenance. The entire setup is mounted on an integrated chrome finish brass stand, and will cost you a whopping $4700. If you wanted an aquarium which could be more than just a tankful of fish, this one's for you. Moreover, you get to wash your hands in a live and animated sink.
2. Ammonite sink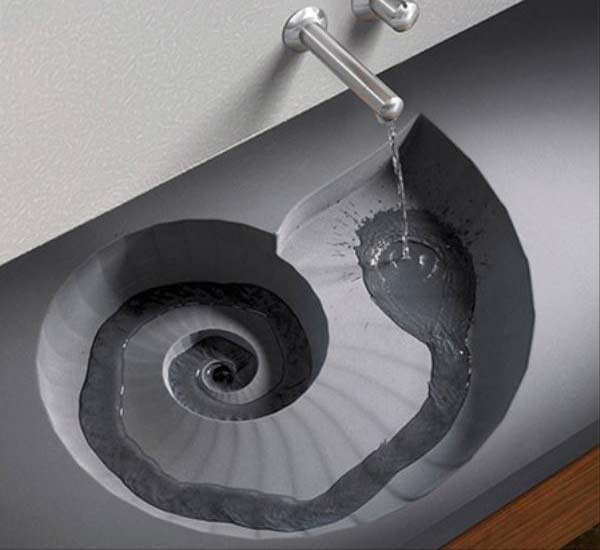 This sink is named after extinct species of cephalopods that existed 400 million ago. Their shells are sought after by many collectors. The shell pattern integrated in the washbasin makes for a captivating design, which will mesmerize you every morning. The ammonite sink by HighTech is made of concrete and is available in 1200-1590 x 560 mm (approx. 47-63 x 22 inches) dimensions with a basin that measures 64 cm (about 25-inches). The sink most likely comes with a hefty prize tag but the eccentric design will add a depth to your interiors, adding some mystery to the setting. In addition, the hypnotic spiral patterns made by the water as it gushes to drain out deep into the sink will make you lose hours as you stare transfixed over the sink.
3. Erosion sink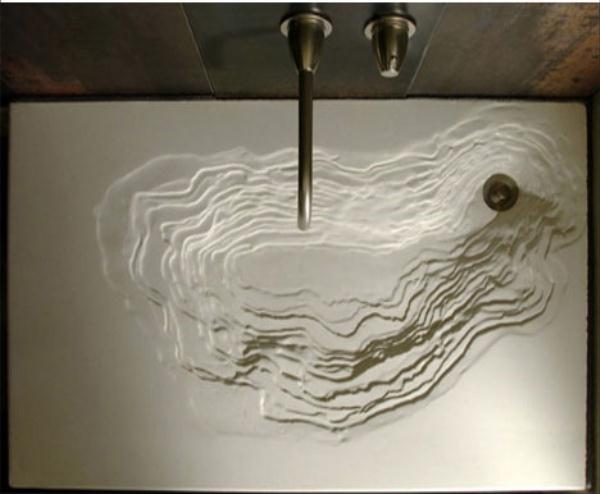 Designed by Gore Design Co., this sink is made from eco-friendly concrete, which is a proprietary blend of reclaimed materials and industrial byproducts they call "Recycrete." The erosion sink takes inspiration from the natural process of wear and tear of material when water flows through it. This is entirely custom made and will cost around $3500. Putting this basin in your home or business place will send out a strong ecological message and would perhaps inspire some people to use water sensibly.
4. Mystic sink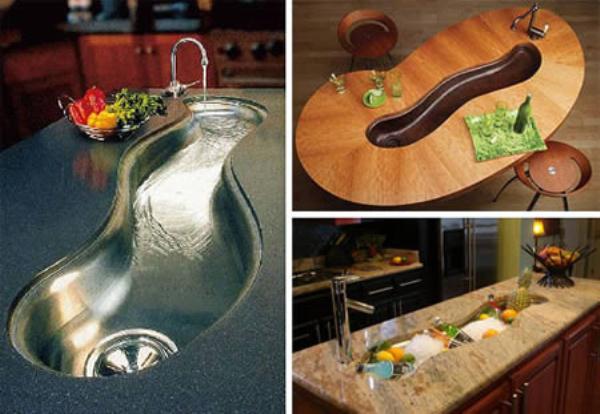 Mystic Sink will add elegance to your home. Elkay has designed a 48-inch-long sink with the faucet on one end and the drain on the other. Water flows along the 8-inch-wide tapered work area much like a babbling brook adding character to your kitchen. Not only can you wash here, the Mystic sink will also double up as a chiller when filled with ice to keep your alcohol cool during parties. Handcrafted from 16-gauge stainless steel, this sink will become the centerpiece of your kitchen. You might have to spend a little extra time to clean this but it is totally worth the trouble. Priced at $1228, this sink is expensive elegance.
5. Abisko washbasin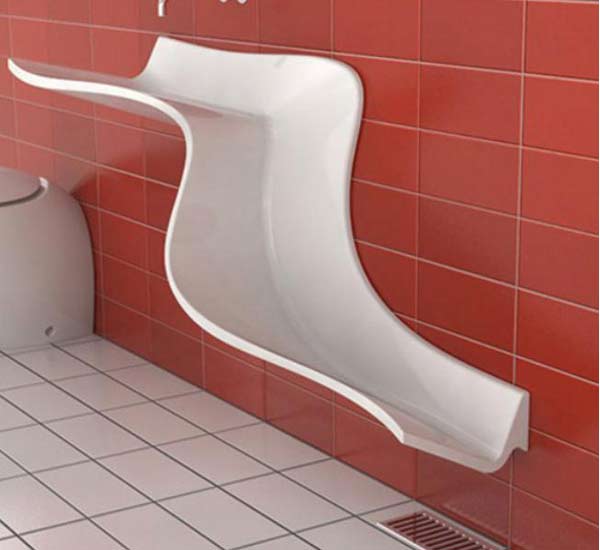 The Abisko washbasin frees itself from conventional designs by capturing water's free flowing spirit in its design. Inspired by mountain springs and rivers, the Abisko from Eumar washbasin focuses on simplicity. There are no drainpipes. The water flows from the faucet, follows an undulating path down the curvy sink, and drains off into a strategically placed grate below. The design is innovative and will surely add the cool effect to your setting. This is also available in several designs including one that turns the flowing water into a waterfall. The price is not available but this piece of beauty is definitely worth every penny spent on it.
6. Follo sink
Another cleverly crafted piece of fitting, the Follo Sink has no visible pipes. Its self-draining surface ensures that the surface is always dry. Every bit of its design serves a function. The slight curve, which forms the basin, ensures there is not much splashing and the groves in the design guide the water to the holes, which then drain it off. The shallow depth might not provide enough room but it will definitely decrease splashing. Designed by Will MacCormac, this unit costs US $2,372.